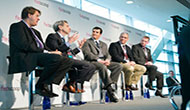 September 15, 2016
The Federal Cybersecurity Summit
National Harbor, MD
September 15, 2016
The Federal Cybersecurity Summit
National Harbor, MD
October 18, 2016
FedTalks 2016
Sidney Harman Hall, Washington, DC
November 02, 2016
2016 Red Hat Government Symposium
Ritz-Carlton, Pentagon City
OPEN FIRST Building a foundation for choice and security
September 15, 2016
Cybersecurity: Pushing Past Compliance
Online Webinar
Cybersecurity experts discuss where to start, how to get your house in order, what to keep and why investing in cybersecurity upfront will save you millions of dollars (and heartache) later.
September 20, 2016
Leveraging Your Workforce in the New Communications Era
Online Webinar
Find out why agencies are investing in lower-cost, higher-quality communications platforms that integrate voice, video and data with the added flexibility of the cloud.
September 28, 2016
Privileged User & Insider Threat Federal 2016 Ponemon Survey Findings
Online Webinar
October 05, 2016
What Hackers Reveal About IT Vulnerabilities
Online Webinar
Federal agencies are spending more than ever before to identify and block attacks. Yet as much as 80-to-90 percent of attacks begin by exploiting known vulnerabilities with the increasing aim of accessing valuable data on servers and in data centers.
SHOW ALL