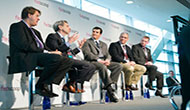 February 08, 2017
Government of the Future Summit
The Ritz-Carlton, Pentagon City
February 08, 2017
Government of the Future Summit
The Ritz-Carlton, Pentagon City
December 07, 2016
Building the Right Foundation to the Cloud
Online Webinar
The need for agencies to innovate faster and improve their service delivery increasingly demands shifting to a more agile, service-oriented IT model. That in turn requires having a roadmap that leads to the right foundation to the cloud that supports software-defined architecture and is capable of delivering enterprise capabilities quickly.
December 13, 2016
Bridging the DevOps Divide for Greater Agility
Online Webinar
Experts discuss the underlying issues preventing agencies from seeing the full benefits of agile development, and offer important lessons to help streamline and automate the pre-production, testing and operations production process.
January 18, 2017
Federal Data Security in Focus
Online Webinar
SHOW ALL