Google's departure from Project Maven was a 'little bit of a canary in a coal mine'
Leaders of the artificial intelligence project failed to be transparent upfront and did not control the narrative, says Lt. Gen. Jack Shanahan.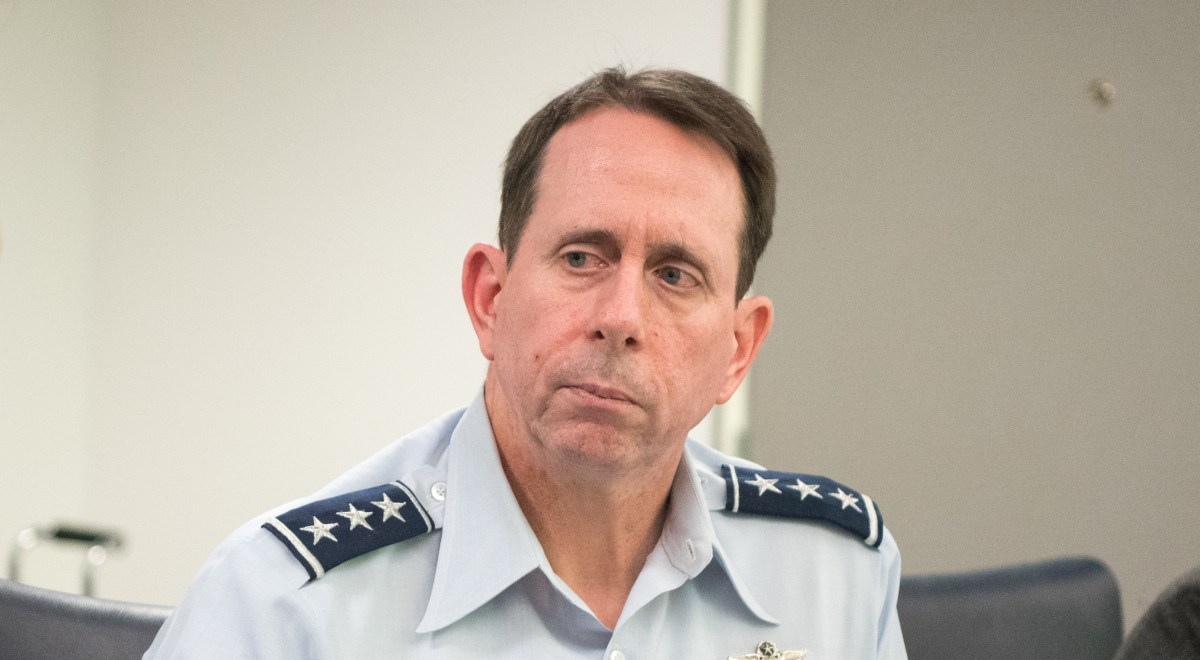 There's nothing controversial about the Department of Defense's Project Maven, if you ask Lt. Gen. Jack Shanahan.
Shanahan, who has led the military's program to use artificial intelligence for full-motion video analysis since its inception, said Tuesday that Google's decision to back away from involvement with Maven came from a lack of transparency around the project. As a result, the DOD lost the narrative around its work, he said.
"This idea of transparency and a willingness to talk about what each side is trying to achieve may be the biggest lessons of all that I took from it," Shanahan, who now heads DOD's Joint AI Center, said of Project Maven at an event in conjunction with the National Security Commission on AI's release of its interim report.
Because Google and DOD weren't minding the public perception what Project Maven was meant to do, "we started hearing these wild stories and assumptions about what Project Maven was and was not to the point where if you Googled it today … the adjective 'controversial' has now been permanently inserted in front of Project Maven, Shanahan said. "It was not controversial to me. It was not controversial to the team. I say it's not controversial to anybody right now beyond some people who just don't like what we're doing."
The project was, quite simply, created to provide computer vision on drones to detect objects from above, Shanahan said. It certainly wasn't "a weapons project" — although the project's official name, the Algorithmic Warfare Cross-Functional Team, does sound very weapon-y.
Those impressions were enough to set off protests by Google employees. Google eventually announced it would not renew its contract. It also stepped out of the running for DOD's Joint Enterprise Defense Infrastructure (JEDI) cloud contract around the same time, reportedly because of ethical concerns centering on the department's use of artificial intelligence.
Lesson learned, Shanahan said. On Tuesday he seemed to almost take a tone of acceptance about the situation, saying that "it happened," and if it didn't happen to his team, "it would have happened to somebody else at some point."
"I view what happened with Google and Maven as a little bit of a canary in a coal mine," Shanahan said. "The fact that it happened when it did as opposed to on the verge of a conflict or a crisis where we're asking for help, we've gotten some of that out of the way," and can now move on.
Shanahan said reports that Google seemingly didn't want to work with the Pentagon in the aftermath were unfortunate, because "some of the software engineers on the project, they got to the point where they almost felt a little bit ostracized because others criticized them for working with the Department of Defense" on Project Maven. "But day-to-day, from the senior-most leaders down to the people working on the Project Maven team, we had tremendous support in Maven from Google" and "got products we were very pleased with."
Google's take on Project Maven
It just so happened that Shanahan was joined on stage at the event by Kent Walker, senior vice president of global affairs for Google, who also wanted to take the moment to clear the air and "set the record straight."
"It's been frustrating to hear concerns around our commitment to national security and defense," he said. Not only has Google been criticized as soft in its support of U.S. defense and national security since its withdrawal from Project Maven, but it's also been condemned for its work providing AI in China.
Walker explained Google stepping away from Maven as "an area where it's right that we decided to press the reset button until we had the opportunity to develop our own set of AI principles, our own work with regard to internal standards and review processes. But that was a decision focused on a discrete contract — not a broader statement about our willingness or our history of working with the Department of Defense."
He said Google continues to work with the U.S. military on countless other efforts and pointed such partnerships as part of "a long tradition of work throughout [Silicon Valley] on national security generally."
"It's important to remember the history of the Valley in large measure builds on government technologies from radar to the internet to GPS to some of the work on autonomous vehicles and personal assistants that you're seeing now," Walker said. "This is a shared responsibility to get this right."
Shanahan agreed, alluding to a necessary equilateral triangle of partnership among the government, industry and academia for the U.S. to succeed in developing and using AI competitively.
Even for those who are "suspicious" of the federal government or have trouble with the fact that the U.S. is in strategic competition with China, Shanahan said, "I would hope they would still agree with us that AI is a critical component of our nation's prosperity, vitality and self-sufficiency. In other words, no matter where you stand with respect to the government's future use of AI-enabling technologies, I submit that we can never attain [ the nation's vision for it] without industry and academia with us together in an equal partnership. There's too much at stake to do otherwise."