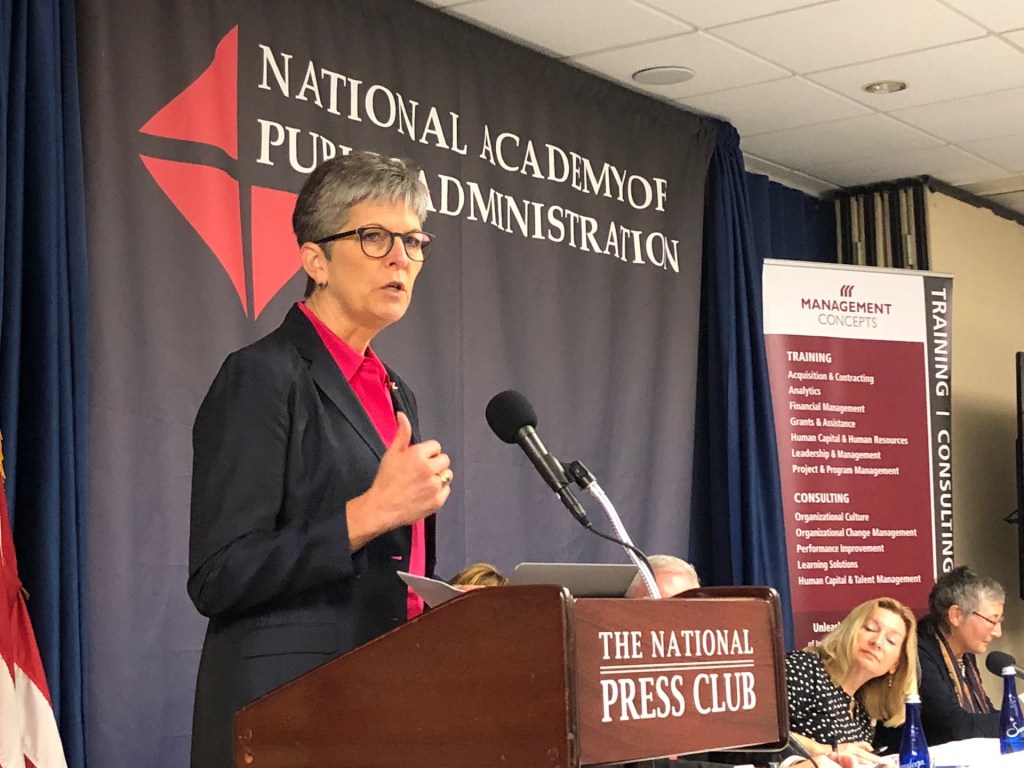 Dan and Danny think big with Terry Gerton
Gov Actually is back with a brand new episode. Hosts Dan Tangherlini and Danny Werfel bring Terry Gerton, president of the National Academy of Public Administration, on the podcast to discuss the academy's Grand Challenges — an agenda of the biggest issues facing American government today, which includes things like social equity, election security, water safety and sustainability, and the adoption of artificial intelligence. Listen to the new episode.
A Message From AWS Educate
With over 1,500 institutions and hundreds of thousands of students who use AWS Educate, we wanted to take you on a trip around the world and highlight how students are learning and innovating with the cloud. Learn more.
DOD transitioning its CDO role
The 2020 National Defense Authorization Act required the Pentagon's Office of the CIO to absorb the department's chief data officer role. CIO Dana Deasy said in a recent memo to Deputy Defense Secretary David Norquist that he is working quickly to make that transition and has "begun considering qualified candidates" for the role who would fit the qualifications set forth in the Foundations for Evidence-Based Policymaking Act. DOD currently has a CDO, Michael Conlin, and it's unclear if he will be among those in consideration for the role now that it's being moved. Jackson Barnett has the story.
GSA helping agencies build out AI use cases
The General Services Administration's Technology Transformation Services is developing a library of artificial intelligence use cases that agencies can refer to as they start to invest in the emerging technology. The GSA-led AI Community of Interest will meet Feb. 12 to codefine "practice areas" where they see challenges adopting AI. "The harder we start to build that repository of use cases and build in a searchable database, if you will, that can sort of blossom into other facets as well — different themes or aspects of use cases," Steve Babitch, head of TTS's AI portfolio, said at a GSA event Wednesday. "Maybe there's actually a component around culture and mindset change or people development." Dave Nyczepir has the scoop.
Interior grounds drones over cyber concerns
Sister publication CyberScoop is following news that the secretary of the Interior issued an order Wednesday grounding all non-emergency drones so that the department can assess potential cybersecurity concerns before operating the devices any further. The temporary move "is intended to better ensure the cybersecurity and supply of American technology of unmanned aircraft systems," according to the order. Part of the DOI's concern is that information on American energy, transportation, and defense infrastructure collected by the department's drones "has the potential to be valuable to foreign entities, organizations, and governments," the order says. While Interior grounded a fleet of approximately 800 Chinese-made drones last October, this order is intended to formalize and expand that grounding, a senior Interior official said. Shannon Vavra has more at CyberScoop.
How the evolution of big data analytics improves agency mission outcomes
As agencies continue to move enterprise workloads toward hybrid- and multi-cloud environments, government executives should look for ways that data can improve performance, avoid unplanned cost overruns and difficulties with IT integration. Harnessing data in motion expands the public sector's ability to make intelligent decisions and deliver services effectively, say data experts from Cloudera. Listen to the full conversation.
IT director shares how USDA is modernizing service delivery for farmers and ranchers
Chad Sheridan says the USDA uses a customer management platform to drive improvements in user experience for both employees and customers through its farmers.gov portal. This has modernized capabilities for its field offices as well as opened a self-service option for farmers to participate in the program themselves. Watch the interview