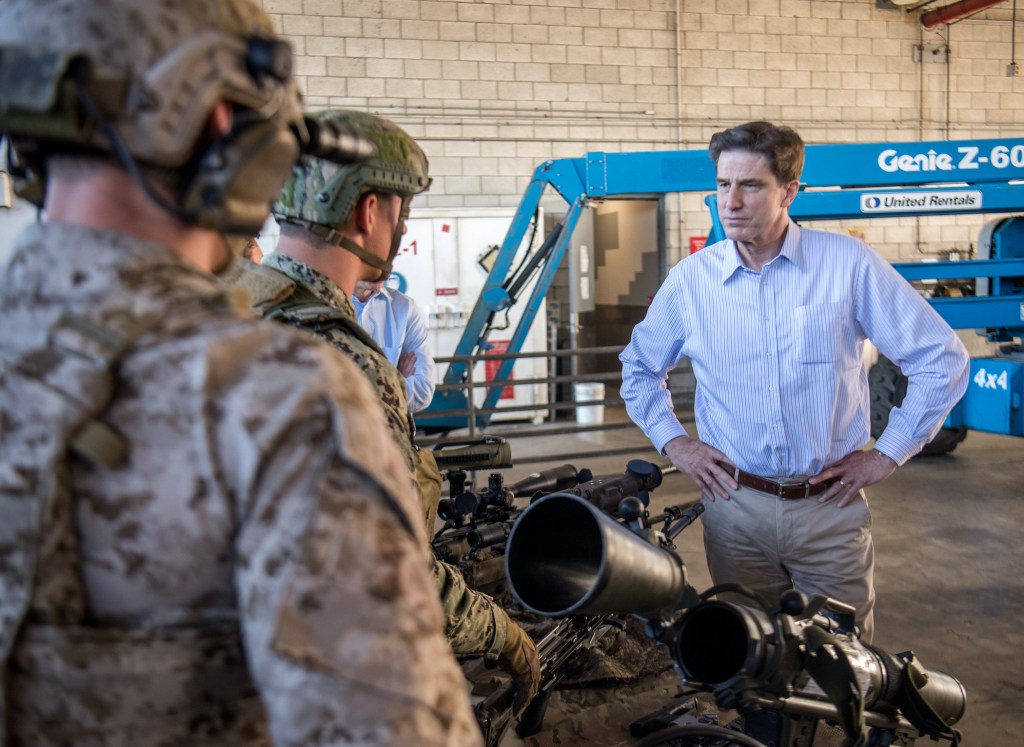 DOD, military CIOs unite around telework
The Department of Defense has created a task force of CIOs and other senior IT officials focused on the military's telework needs during the coronavirus pandemic. The Teleworking Readiness Taskforce is led by DOD CIO Dana Deasy and includes CIOs and IT officials across the services, the Defense Information Systems Agency and other DOD components. The task force meets multiple times per week, a DOD spokesperson told FedScoop, as the department works to rapidly respond to an "unprecedented" strain on its networks brought on by a "maximum telework" policy issued in March. Jackson Barnett has the scoop.
A Message From AWS Educate
With over 1,500 institutions and hundreds of thousands of students who use AWS Educate, we wanted to take you on a trip around the world and highlight how students are learning and innovating with the cloud. Learn more.
White House adds to supercomputing consortium
The White House has added to its supercomputing consortium aiming to help global coronavirus researchers. The chipmaker AMD and graphics processing unit producer NVIDIA joined, along with the National Center for Atmospheric Research's Wyoming Supercomputing Center. The growing group of government, industry and academia members is lending infrastructure and resources to studies on limiting the virus' spread. The COVID-19 High Performance Computing Consortium has already supplied 15 research proposals with the compute power they've requested online since it launched on March 22, said Michael Kratsios, U.S. chief technology officer, in a tweet. Dave Nyczepir reports.
VA pauses work on EHR during coronavirus
Adding to the list of federal agencies who've had to pause large IT modernization projects in recent weeks, the Department of Veterans will also pivot focus away from its electronic health record modernization to support the coronavirus response. VA Secretary Robert Wilkie said in a letter to Congress that the Office of Electronic Health Records Modernization will need to "immediately shift to a non-intrusive posture," without giving any greater detail of that shift. Jackson read Wilkie's letter.
OPM tweaks USAJOBS for easier coronavirus hiring, tracking
The Office of Personnel Management has made a tweak to USAJOBS.gov so agencies can flag positions tied to coronavirus response and track their hiring progress. This new mission-critical code allows agencies to tag COVID-19-related job announcements so potential applicants can easily sort through all related opportunities. "Visitors to USAJOBS can quickly find opportunities that will have a direct impact on the American people and the federal government's response to COVID-19," said Michael Rigas, acting director of OPM, in the announcement. Dave has more.
SBA deals with data exposure amid pandemic
As the Small Business Administration was preparing to ramp up its lending to entrepreneurs hobbled by coronavirus-related shutdowns, a "limited number" of loan applicants may have had their personally identifiable information exposed to others, an SBA spokeswoman told CyberScoop over the weekend. The agency is in the process of notifying affected people and offering them a year of free credit monitoring. Small businesses reeling from disruptions caused by the pandemic have turned to SBA's economic disaster loan program, which offers up to $2 million in lending per business. That raises the stakes for protecting loan applicants' security and privacy. Read more on CyberScoop.
Improve security practices with better data insights
Federal agencies preparing modern cyberdefense plans, can minimize the ultimate impact of the attack with better insights across their networks. That's why IT executives should consider investing in a platform that's able collect, leverage and understand enterprise data, according to a new Splunk report. The report details how modern platform solutions, capable of operating as a "security nerve center," are better suited than many specialized tools at identifying gaps in network defenses. Read more here.