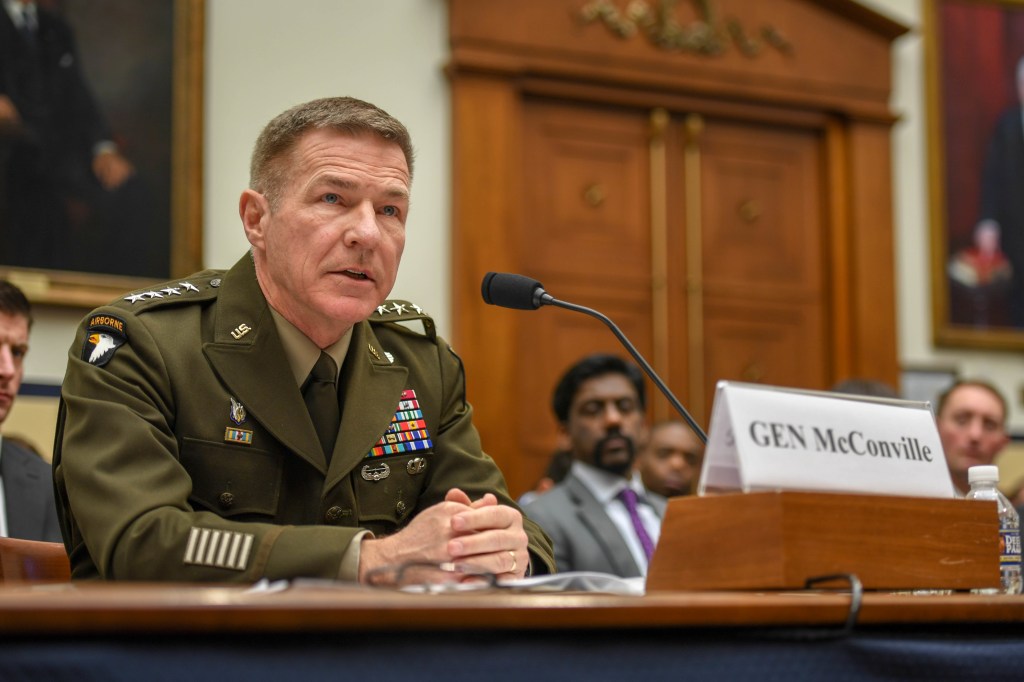 Driverless déjà vu for the Army?
Stop us if you've heard this one before: The Army is embarking on efforts to develop unmanned ground systems to replace humans driving vehicles on the battlefield. The move comes 20 years after the service kicked off earlier failed efforts in the 2001 National Defense Authorization Act to make 30 percent of all Army vehicles driverless within 15 years. But now with recent major developments in artificial intelligence, the Army is intent on continuing toward the goal of saving lives by removing soldiers from the driver's seat. Jackson Barnett has the scoop.
A Message From AWS Educate
With over 1,500 institutions and hundreds of thousands of students who use AWS Educate, we wanted to take you on a trip around the world and highlight how students are learning and innovating with the cloud. Learn more.
COTS suppliers exempt from CMMC
Officials behind the Department of Defense's Cybersecurity Maturity Model Certification (CMMC) made a small but meaningful update Tuesday. Suppliers that only provide commercial-off-the-shelf products will not need to be certified under the program, according to its website, which was updated. The change comes after months of DOD and CMMC officials saying that every single DOD contractor and subcontractor will need certification. The new multi-level cybersecurity standards will require DOD contractors to receive third-party certification to be awarded DOD contracts — but apparently not for COTS providers. Jackson has the latest on CMMC.
GSA delays FPDS transition
The General Services Administration is extending the launch of Federal Procurement Data System (FPDS) reports on its central contracting opportunities website, beta.SAM.gov. The move is attributed to delays from the coronavirus and the negative feedback users had for SAM.gov. It will give GSA time to fine-tune the website before rolling the FPDS reports out later this year. Currently, FPDS.gov tracks all federal contracts of $10,000 or more, and its reporting module uses transactional data from procurements in ad hoc, standard and static reports. Dave Nyczepir has more.
GSA adds an 8th CoE partner
The National Institutes of Health has called on the General Services Administration's Centers of Excellence program to help modernize its systems. Specifically, the Eunice Kennedy Shriver National Institute of Child Health and Human Development (NICHD) will participate in the program to develop an IT modernization strategic roadmap for critical infrastructure, data and applications used by its researchers in the lab and the field. A CoE team of cloud adoption, data analytics and change management experts will assist NICHD with support from the private sector. GSA will make NICHD's services more accessible and efficient with software- and platform-as-a-service solutions. Dave has this one too.
Library of Congress' multi-cloud push
The Library of Congress is now accepting bids for a $150 million multi-cloud acquisition that the entire legislative branch can use. Through a single-award, indefinite-delivery, indefinite-quantity contract, the library wants a managed provider to offer the services of Amazon Web Services, Google Cloud Platform and Microsoft Azure for its own offices and other legislative agencies, like the Senate, House of Representatives, Government Accountability Office and Congressional Budget Office. "This contract will provide the full range of Cloud computing, storage, software and services covering the spectrum of the Library's Information Technology needs," the solicitation says. Billy Mitchell has more on the contract.