Enhancing public sector digital transformation: Unleashing the power of observability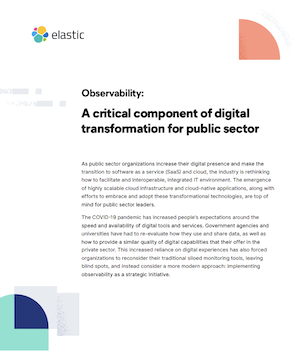 As data volumes, cyber threats and technological complexities increase, achieving comprehensive visibility across the IT landscape becomes imperative for public sector agencies. Dealing with sensitive data and its critical implications demands a robust observability framework. And it's more than visibility and monitoring – in today's complex digital environment, you need the ability to:
Proactively predict patterns across logs, infrastructure, and applications
Swiftly detect and respond to anomalies
Leverage AI and ML for real-time data-driven decision-making.
That's the value of true end-to-end observability. Download the ebook to explore how observability empowers public sector organizations in advancing their digital strategies.