New supercomputer will let nuclear security agency do '1.5 quintillion calculations per second'
Imagine a computer that can do 1,500,000,000,000,000,000 calculations every second. It's coming to the Lawrence Livermore National Lab in 2022.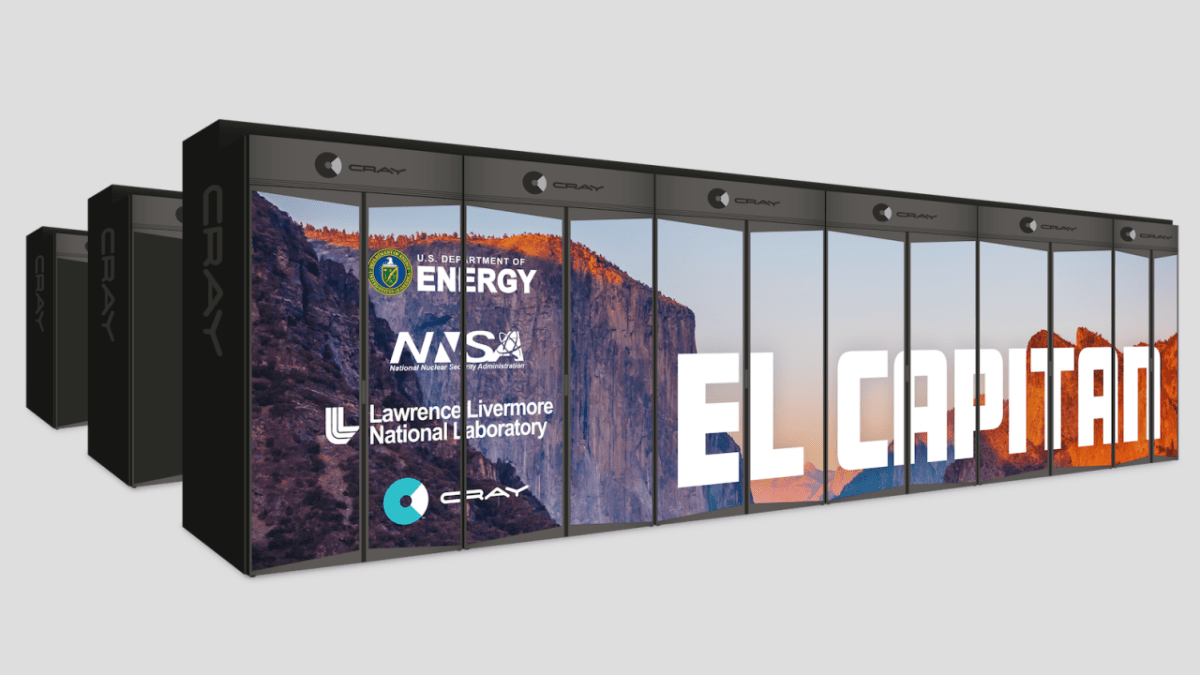 The National Nuclear Security Administration is upping its computing power with the purchase of new supercomputer it says will help drive the development of artificial intelligence to maintain the U.S. nuclear stockpile.
NNSA announced the $600 million deal Tuesday morning with Cray, a supercomputing company that regularly contracts with the government. The computer, dubbed El Capitan, is expected to arrive at the Lawrence Livermore National Laboratory in California in late 2022 and be up and running by 2023.
Cray said the supercomputer will have a peak performance of 1.5 exaFLOPS, or 1.5 quintillion calculations per second—that's 1.5 trailed by 17 zeros—and run some applications 50 times faster than Lawrence Livermore's current system. All that added computing power is critical to ensuring the NNSA's mission of maintaining the nation's nuclear stockpile, NNSA Administrator Lisa Gordon-Hagerty said.
"El Capitan will allow us to be more responsive, innovative and forward-thinking when it comes to maintaining a nuclear deterrent that is second to none in a rapidly-evolving threat environment," Gordon-Hagerty said.
The enhanced capabilities will be especially significant in NNSA's development and use of artificial intelligence and machine learning, said Bill Goldstein, Lawrence Livermore's lab director. The lab will use the supercomputer to expand simulations using advanced statistical sampling in physical and chemical "uncertainties," Goldstein said. The math behind the simulations is ideally suited to be done by machine learning, he added.
The simulations run with the assistance of machine learning are dubbed "cognitive simulations," Goldstein said. With the nuclear stockpile aging, and without real-world testing, NNSA will use cognitive simulations powered by the El Capitan system to better maintain the warheads and radioactive materials.
"Machine learning can be a huge boost to our abilities," Goldstein said.
The threat is growing in complexity and scale. China and Russia continue to field new nuclear weapons and capabilities, Gordon-Hagerty said. Securing nuclear deterrents is at the heart of the U.S.'s national security apparatus as it pivots from focusing on counterterrorism to defending against so-called great power conflict.
"We really think that this is the next generation," Goldstein said.
Last week Cray announced a deal with the Air Force to provide supercomputing power to their weather predictions. That system will be housed in the Department of Energy's Oak Ridge lab with capabilities delivered as-a-service to the Air Force. The El Capitan system will be installed directly in the Lawrence Livermore lab and be air-gapped after an initial general research test period.