State Department officials say they're trying to set the tone globally on AI usage, as lawmakers question if it's enough
"Running faster" than competitors and putting export sanctions on critical technologies is the right course of action for AI usage, State officials tell the Senate Foreign Relations Committee.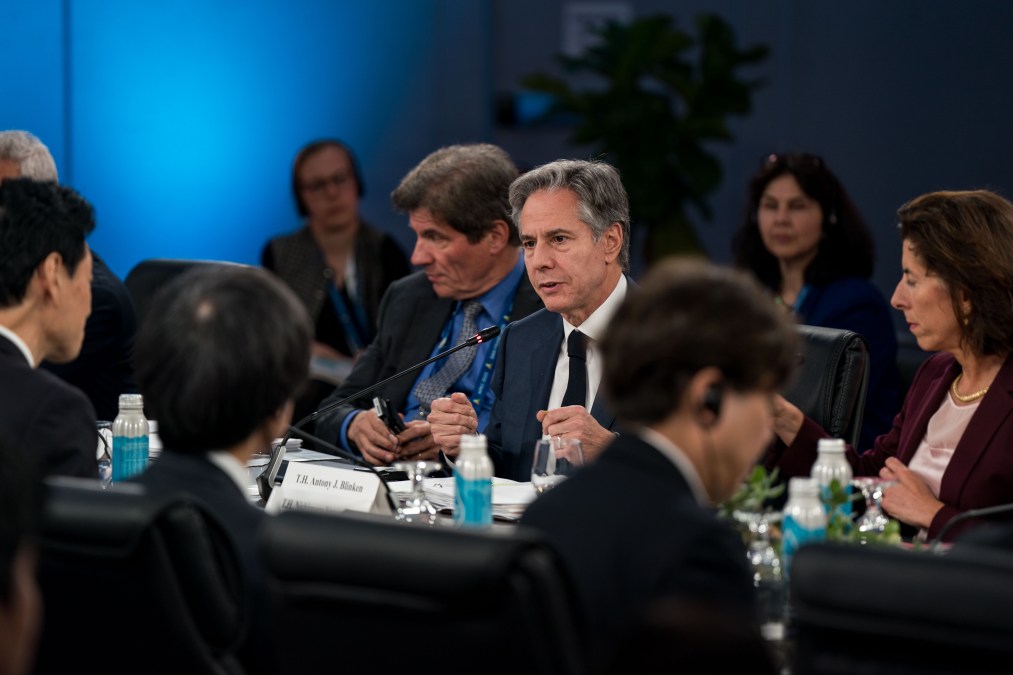 Senate lawmakers this week pressed a pair of State Department officials on how the agency is enforcing global standards for artificial intelligence use, questioning if the department's actions are enough to deter foreign bad actors.
During a Wednesday Senate Foreign Relations Committee hearing about AI during a time of strategic competition, lawmakers questioned the department's efforts to defend against AI and cybersecurity threats from foreign adversaries. Nathaniel Fick, ambassador-at-large for State's Bureau for Cyberspace and Digital Policy, and Matthew Graviss, the department's chief data and AI officer, pointed to innovation and an internal focus as the current answer to the issue.
"When you're running a race, sometimes it's important to simply run faster than your competitor, so that's our innovation prioritization," Fick said. "We are under no naive illusion that our adversaries are going to comply with our norms, but building a broad coalition, setting the normative example at least puts our adversaries outside of the framework. … I do come back to our greatest source of strength being maintaining our reputation."
Sen. Ben Cardin, D-Md., who chairs the committee, questioned if the department is simply leading by example on the global stage or if Congress should expect State to establish international guardrails and borders regarding AI use.
In response, Fick pointed toward the global enterprise voluntary commitments that establish guardrails but do "not constrain innovation." He noted that the nation cannot afford to restrict its current competitive advantage.
Graviss cited the recent release of the State Department's first-ever enterprise AI strategy, which seeks to enhance the department's AI capabilities, encourage a community that embraces AI usage and more. He mentioned in his testimony that there is a departmentwide, "booming demand" for AI implementation that would support initiatives such as foreign policy objectives and operational efficiencies.
"As we promote a vision of responsible AI globally, the department must and will lead by example," Graviss said. "Secretary [Antony] Blinken believes that our workforce is more equipped to lead globally when providing timely and relevant data. AI enhances this data's power unlocking our workforce's utmost potential."
The department has appointed a responsible AI officer and initiated an AI steering committee that focuses on upholding principles and sticking to a commitment to responsible AI use for the department's usage.
Blinken "gave us a clear mission to shape the terms of the technology future and to extend America's industrial and innovation strategy into the international realm," Fick said.
On Monday, the department released a political declaration on responsible military use of artificial intelligence and autonomy, with just over 40 other countries agreeing to work toward globally guiding responsible AI usage with military applications.
"We want businesses around the world to support the commitments and then we want the commitments to become the basis of codes and frameworks for governments," Fick said.
With regard to nations that have a "wildly different view" of AI's role and violate international guidelines, Fick said the department will deal with those adversaries through export controls on the nation's most advanced semiconductors.
Congress, meanwhile, has encouraged administrations to take "affirmative action" against international bad actors through different sanctions.
"It may not be as easy to determine with the use of AI tools, but if an adversary is not identifying the source [of malicious acts] or using [AI] through disinformation, that undermines America's national security," Cardin said. "We're going to have to have more direction on how we can assist or we may have to try and do that on our own."