OSTP director teases upcoming AI executive order as measure to mitigate risks, 'seize huge opportunities'
On the heels of a meeting with President Biden and his top science and tech advisers, Arati Prabhakar said the world is looking to the U.S. for leadership in AI.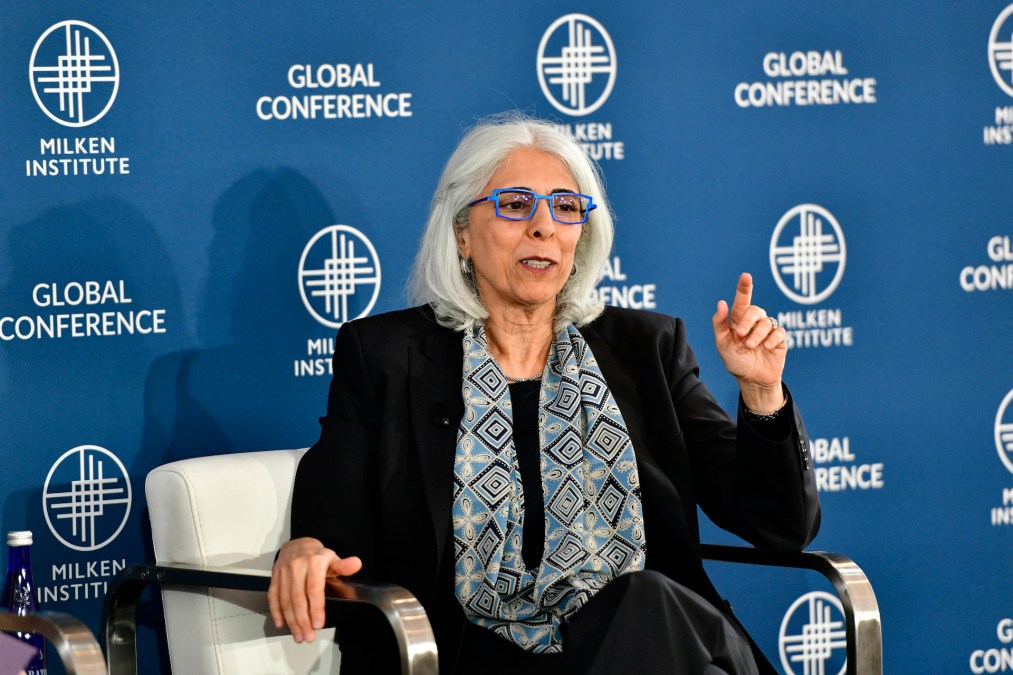 President Joe Biden's executive order on artificial intelligence, which is expected to be released this fall, will determine how the executive branch uses AI to mitigate risks while also "seizing the huge opportunities," his lead adviser on science and technology policy said Thursday.
Arati Prabhakar, director of the Office of Science and Technology Policy (OSTP) and Biden's top technology adviser, spoke at an Information Technology Industry event on Thursday about the upcoming executive order's impact and how the White House has been developing it.
While Prabhakar wouldn't get into specifics about what will be in the forthcoming order, she did say it provides a mechanism for "the executive branch stepping out and doing what we need to do."
"It'll be broad. It really reflects everything that the president really sees as possible under existing law to get better at managing risks and using the technology," she said.
Prabhakar added: "This President is clear that [AI] is one of the most powerful technological forces of our time. He has reflected for the last many years that we're at a pivotal point in history, and that the choices that we make are going to shape the decades ahead in some very powerful ways."
Her comments come just a day after joining President Biden for a meeting with the President's Council of Advisors on Science and Technology, where talk about AI "was the bulk of the conversation," Prabhakar said.
"We used that meeting with PCAST really to step back from the body of work that the Biden administration has been driving," she said. "AI has been a top priority for this president. He's really got the White House and the whole administration cranking on it … We wanted to give the president a chance to step back and really look at all the huge opportunities ahead."
She continued: "That's really why we're trying to wrestle with the risks and the problems that come with AI because we want to seize the great power that this technology has to solve some of our hardest problems. So we talked to him about how AI helps us model extreme weather in very practical, pragmatic ways as the climate changes. We talked about the kinds of new materials that are going to be possible with properties no one's ever seen before. And we even talked about how we can understand the origins of the universe better with AI."
In his remarks opening the PCAST meeting, Biden highlighted the companies that recently voluntarily signed on to assist in the safe development and distribution of AI, as well as other work the administration is doing to mitigate the risks of the technology.
"I have a keen interest in AI and convened key experts on how to harness the power of artificial intelligence for good while protecting people from the profound risk it also presents," Biden said. "We can't kid ourselves, the profound risk if we don't do it well."
Prabhakar said Thursday that it's "remarkable" how AI has openly become a topic of discussion among the world's leaders, and many are looking to Biden and the U.S. for guidance.
"I think the theme that the president reflected on is countries looking to him for leadership and looking to America for leadership as these rapid changes are taking place," she said.
Prabhakar continued: "I think the one thing that we are all very clear on is none of us wants to live in a future that's shaped by technologies that have been driven by authoritarian regimes and that's why we are at a moment where American leadership in the world requires American leadership in AI and that is what is behind everything that you will see."
"When we come to work for all the different missions that the government has, national security and every public mission, we need to be able to harness the power of AI," Prabhakar said during the conference. "That's those two elements, mitigating risk and then seizing these huge opportunities for public purposes. That drives everything that we do."