Transportation Command developing new dashboard for better data fusion
The Global Mobility Nodal Posture Dashboard is expected provide a quick, real-time view of Transcom's workloads worldwide.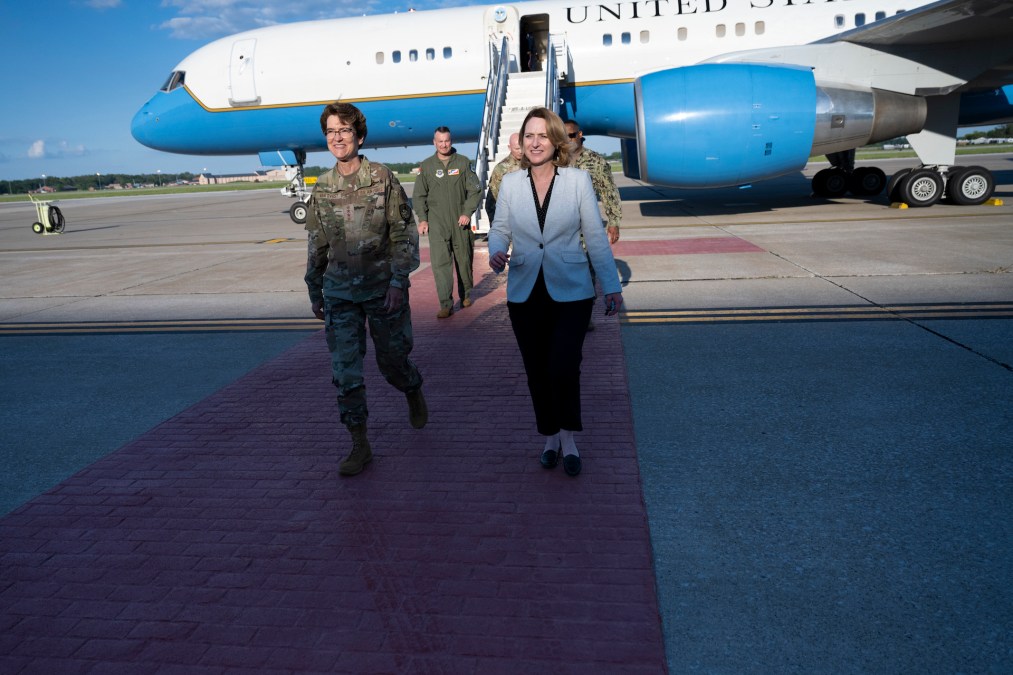 SCOTT AIR FORCE BASE, Ill. — With support and resources from the Pentagon's nascent Chief Digital and Artificial Intelligence Office (CDAO), U.S. Transportation Command is developing a new dashboard to advance data-informed decision-making and provide a better common operating picture.
Transcom is a functional combatant command responsible for the Defense Department's integrated global mobility operations via land, air and sea in times of peace and conflict. The CDAO, established in December by Deputy Secretary of Defense Kathleen Hicks, was created to enable a stronger foundation for data analytics and AI-enabled capabilities to be developed and deployed at scale across the department.
During a visit to Transcom on Thursday, Hicks heard firsthand how information gleaned from the CDAO is enabling members of the command to better apply data and predictive analytics when carrying out its missions.
"This is about an end-to-end movement from a depot on a train or a truck to an airport or seaport to an airport or seaport — linking up with a theater sustainment command," Transcom Commander Gen. Jacqueline Van Ovost said in a briefing with Hicks.
Hicks said: "This is where the data fusion has a significant amount of promise to give everybody a common picture book to be able to see ourselves and sort of plan ahead with what we see."
Officials at Transcom are now developing a new tool called the Global Mobility Nodal Posture Dashboard to provide a quick, real-time view of the organization's workloads worldwide.
"This is an upgrade from our current [assessment tool], which is only able to be updated weekly," Brig. Gen. Charles Bolton, chief of the command's global operations center, said during a briefing. "And the new dashboard will provide details and enable additional analysis compared to the current system."
Additionally, the dashboard will have the ability to drill down into targeted combatant commands to also focus on what Transcom is providing to them.
"You could drill down to a specific airport or seaport to see what's going on there and display the accusative efforts of individual force movements," Bolton said.
He and his team are working with CDAO components to gain access to datasets necessary to build their envisioned solution. Next steps will involve curating and fully making sense of all that data to provide the best, overarching views via the dashboard.
At Transcom's global operations center, officials highlighted one of the key transportation hubs being used to send weapons from the United States to Europe for Ukrainian forces — and they displayed the posture, capacity and throughput at that individual node. New data analytics capabilities are expected to provide additional tools to support planning efforts for mobility operations.
"This rapid notification and nodal flexibility will be critical during contested logistics environments. While these functions and datasets are still in the works, due to the iterative development of the dashboard, we believe it will be extremely beneficial to Transcom and … our decision-makers in the future," Bolton said.