2019 will be the year of hybrid cloud, feds say
"There's going to be more hybrid cloud solutions out there. Given, done," Maria Roat said.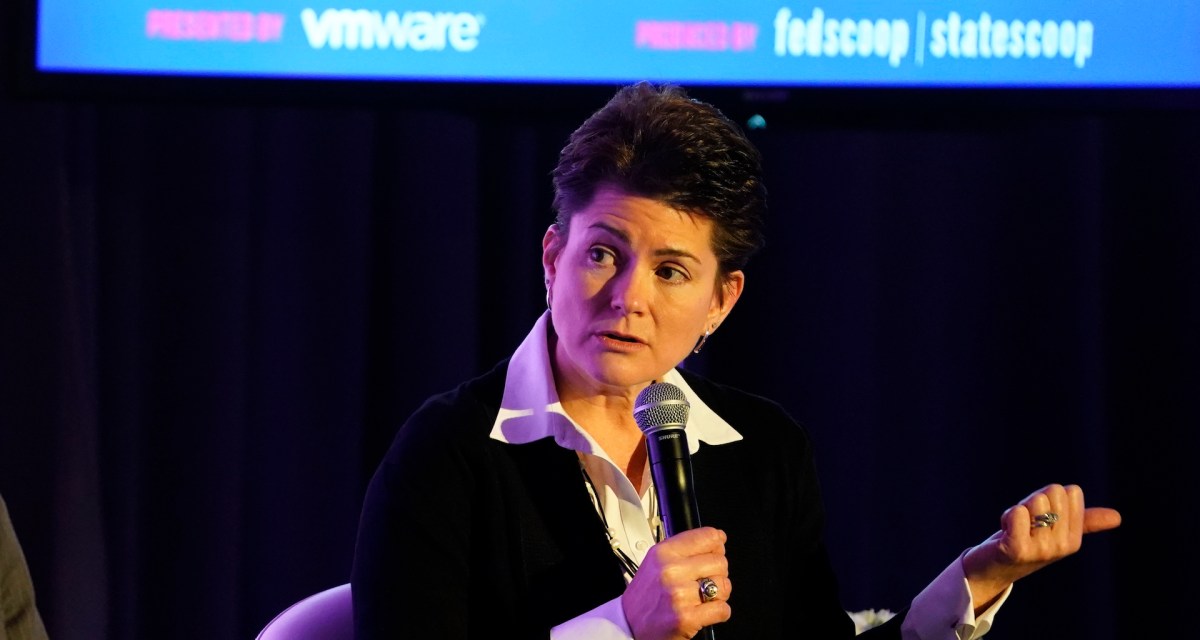 Cloud computing will continue to be the premier topic in federal IT in 2019, but officials expect the former fervor for all-cloud, public solutions will shift more toward hybrid cloud infrastructures.
Federal executives said Tuesday at the VMware Public Sector Innovation Summit, sponsored by FedScoop, that they anticipate the complexity of agency networks will continue to make integrating cloud solutions with on-premise legacy systems an attractive option, as opposed to the costs of a complete cloud migration.
"There's going to be more hybrid cloud solutions out there. Given, done," said Maria Roat, CIO at the Small Business Administration. "We're already working on an option at SBA. So while there's hybrid solutions, we are already managing our entire on-prem [facilities], as well as all three of our cloud environments from cloud-based tools. So we are doing all of that now."
The White House's recent shift from the 2010 Cloud First plan — which favored an accelerated adoption of cloud services — to the Cloud Smart strategy, which encourages federal agencies to utilize those services in a way that best serves mission, reflects the challenges federal leaders face in transferring the totality of their IT infrastructures to a new environment.
Francisco Salguero, deputy CIO at the Department of Agriculture, said with considerations such as regulatory compliance and security concerns for the data federal agencies must maintain cloud adoption has taken longer to mature in the public sector.
"Looking at the adoption of cloud, it's something that took some time," Salguero said. "It took the government some time to understand how do we leverage that [technology] securely. We've got all of these regulatory requirements, security and a lot of requirements we also have to abide by, depending on the mission, to make sure we do that smartly."
Hybrid cloud can help bridge that gap, he said, as offices like the Federal Risk and Authorization Management Program (FedRAMP) continue to promote wider cloud adoption and other agencies share their best practices on migration.
"Part of the reason it's been so slow to adopt is because some of those legacy applications aren't built for the cloud. So that's where the hybrid and having the connection of multi-cloud becomes very important," he said.
Salguero continued: "As we see applications and application rationalization really come into play, we start saying, 'Okay, do we refactor, do we rebuild?' When you start rebuilding, that multi-cloud type of environment becomes important so they can take advantage of not only cloud technology, but also the change in business process."
Because agencies will continue to leverage cloud computing on their path to IT modernization, industry is meeting the demand with hybrid options, acting FedRAMP Director Ashley Mahan said. She expects that 65 cloud products could receive FedRAMP authorization in 2019, including a mix of hybrid solutions to help more agencies on-board more compatible capabilities.
"I truly believe that cloud is becoming that new normal across the board," she said. "I'm really excited. I'm hearing a lot of hybrid cloud approaches, strategy from some different government organizations, as well as some multi-cloud approaches."
Roat said while agencies may have security concerns about the move to the cloud, she has tried to encourage her staff to embrace creativity in addressing them because her agency's mission demands new solutions.
"Figure it out because I need to get the right solutions for my business," she said. "That solution could be a multi-cloud, hybrid approach, whatever that might be, but getting to the right solution and doing it securely. We've got 30 million businesses' worth of data at SBA, we have to do it securely. We have to have those solutions in there and if it's a multi-cloud approach or a hybrid-cloud, great."