After zeroing out procurement, Army now finding aerial jammer to be critical enabler for multi-domain operations
The Multi-Function Electronic Warfare-Air Large jamming pod is expected to play a diverse role for the Army on multiple platforms.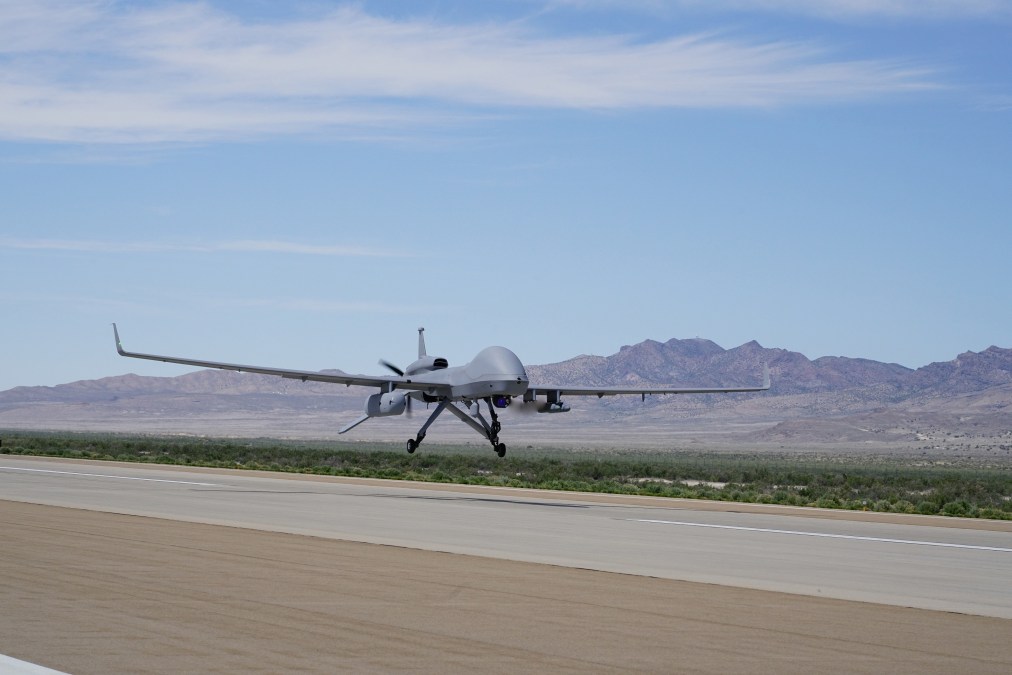 ABERDEEN PROVING GROUND, Md. — After facing procurement cuts last year to the Army's aerial jamming pod, top officials are pleased with the development efforts and are even looking at the platform to be a key part of the service's so-called deep sensing priority.
"I'm really impressed with the MFEW program that the Army has," Gabe Camarillo, undersecretary of the Army, told reporters Tuesday at Aberdeen Proving Ground regarding the Multi-Function Electronic Warfare-Air Large program. "I got to see one of the prototypes out in the field today from [Program Executive Office Intelligence, Electronic Warfare and Sensors] and came away really impressed," he said.
MFEW is a pod capable of serving as the first brigade-organic airborne electronic attack asset and providing limited cyberattack capability. The fiscal 2022 budget saw a cut in what previous budget plans had forecasted would be $12 million in procurement. The Army added back $3 million for MFEW in its fiscal 2023 budget request.
Camarillo was at Aberdeen Proving Ground to witness progress on a variety of network and electronic warfare capabilities the Army is building.
Officials from IEW&S explained to reporters that MFEW had to "prove it" following the loss of procurement funds, but ultimately, through testing, realized incredible return on investment.
"We needed to be able to produce the data, have confidence in the data [and] we got to that point where the milestone decision was covered in the data that we had," Col. Ed Barker, the deputy program executive officer, said.
The testing allowed the program office to go back to Army officials and articulate what it can do, which in turn, led to the procurement of six pods, William Utroska, deputy project manager for PEO IEW&S, told reporters.
Given the system is now going to be platform agnostic, officials described a wide range of capabilities and uses across the Army depending on the mission set, making it extremely versatile. Provided a platform has an Ethernet port and power, the pod can fly on it, officials said.
"That's why this is multifunction. Depending on the mission, this can be — if you want something more precise, there are other platforms, but this is multifunction, gives you a range, deep sensing," Utroska said.
The pod is designed to do electronic attack — jamming, electronic support and sensing — as well as limited cyberattack through radio frequency-delivered effects. The latter also allows the pod to perform military information support operations by delivering information or messaging via radio frequency.
Despite initially being designed to fly on unmanned systems, which against sophisticated adversaries can be vulnerable, officials said the pod itself makes the platforms it is mounted on more survivable in that it can find targets and attack them, which in turn, protects the aircraft.
Officials said it will be tested with the High Accuracy Detection and Exploitation System (HADES) program — a jet that is part of the Army's overall plan to modernize aerial intelligence systems. In this role, it would primarily be an electronic or communications intelligence (ELINT) asset used for deep sensing. There could be some limited electronic attack, but officials have said that would be more challenging at those higher altitudes.
"Electronic attack, I would say no. I think we're still in the learning phase and still understanding what type of capability would be effective at that altitude, especially HADES at 40-45,000 feet is a challenge for electronic attack," Mark Kitz, program executive officer for IEW&S, told FedScoop in an interview at the TechNet Augusta conference last week. "But for detection and ELINT capability, absolutely."
Officials noted that at those high altitudes, some adjustments might need to be made to the pod given it is meant to fly between 15,000 and 25,000 feet but can go as high as 42,000 feet before needing to do extra cooling.
"We got to figure out where's the sweet spot," Barker said.
There has been interest from the Army's future vertical lift cross-functional team for the pod as well.
"We're working with the future vertical lift CFT because they have EW requirements and they know we've already done a lot of the work upfront," Utroska said. "We just have to determine what form factor and what [size, weight and power] is required … For other platforms, we can provide a smaller form factor if there's a requirement."
The Army is betting MFEW underpins several service priorities.
"The other takeaway here too is between the long-range precision fires, those interdependencies, future vertical lift, across the Army's priorities — this is one of those enabling functions, enabling capabilities that's going to allow the Army to address a wide range of our top priorities between long-range precision fires, future vertical lift," Barker said.
Officials also said the Air Force is interested in the pod, or at least the underlying capability. The service expressed interest in mounting it on A-10s and is working with the Army to buy down risk on requirements development for a new payload system based on open architectures.
The open architecture nature of the pod is its secret sauce, officials said.
"I will say that one of the things that's great about it is the adoption of modular open system architectures. I think that's one area where I think the Army is heading in the right direction," Camarillo said. "Giving us the ability to not just look at sensor payloads and EW payloads, but how they fit in certain components, how we can plug and play over time, to give us an opportunity to do that tech insertion and to stay ahead of what the threat might be and also have the latest generation capabilities. I walked away today very impressed from that perspective."