HP wins $1.4B first piece of Navy hardware NGEN-R contract
HPI Federal LLC will receive up to $1.4 billion to provide new hardware under the first piece of NGEN-R.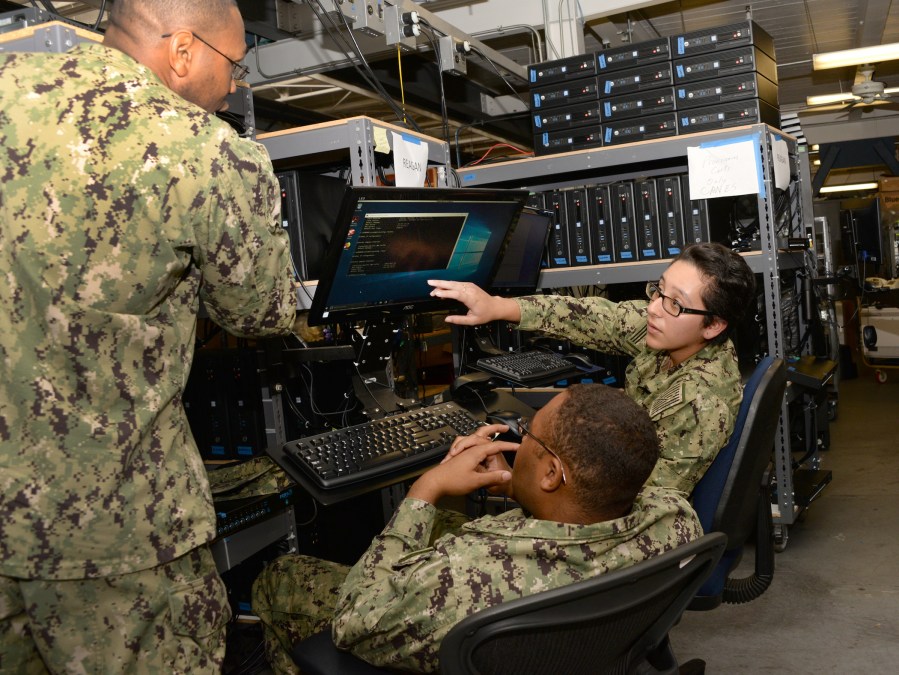 The Navy has awarded an HP subsidiary the end-user hardware portion of its massive Next Generation Enterprise Network Recompete (NGEN-R) contract.
HPI Federal LLC — HP's arm to sell equipment and software to the federal government — will receive up to $1.4 billion to provide new hardware used on the Navy Marine Corps Intranet, the OCONUS Navy Enterprise Network (ONE-Net) abroad and the Marine Corps Enterprise Network, according to a Department of Defense contract announcement.
Under this first contract, the Navy will mostly procure hardware devices "as a service," meaning the vendor will lease them out on a temporary basis. This includes "laptops, desktops, tablets, virtual desktops, zero/thin client devices and associated peripherals such as keyboards, mice, monitors and docking stations," the announcement says.
The award of the hardware contract "is the culmination of several years of hard work towards moving from a single service contract to a multi-sourced contract model," Capt. Ben McNeal, program manager for the Naval Enterprise Networks Program Office, said in a Navy media post. "Multiple contracts foster competition amongst bidders in price and services delivered while allowing the DON to leverage best-in-class service providers through various contract segments."
McNeal also emphasized the contract's evolution to automated provisioning of devices and services. "With automated provisioning, we will deploy new devices using pre-defined procedures executed over the network," he said. "As a result, the user can set up or update their device without the human intervention of a technician, which allows us to ship out-of-the-box devices direct from the vendor to users. The device will arrive and all you have to do to make it work is to plug it in to start the auto-provisioning process. It will not need to go to an imaging facility. It won't need to be set up or re-imaged by someone else."
The hardware contract has a three-year base period, worth $358 million, with options that extend until 2029. During that base period, the Navy hopes to "refresh" more than 400,000 pieces of hardware.
Two other companies bid on the contract, DOD said.
This is one of two contracts under NGEN-R, which is the follow-on to the service's original five-year, $3.5 billion Next Generation Enterprise Network contract to modernize and maintain Navy and Marine Corps networks. HP held that original contract prior to spinning off its Enterprise Services team, now part of Perspecta — which has gone on to receive multiple extensions of that contract.
"The NGEN-R family of contracts will streamline DON migration to the cloud while providing access to the latest technology available," said the Navy release. "Sailors and Marines will have tools they need to maintain a warfighting edge in the modern digital landscape."
The other NGEN-R contract, likely to be the larger of the two, is for service, management, integration and transport (SMIT), which will be responsible for the operation of the Navy and Marine Corps networks. An award should be coming soon as well.
Although the Navy built the contract specifically for its needs, all of the DOD can order from the NGEN-R contracts.