Hurd debuts revised IT modernization bill
Rep. Will Hurd, R-Texas, Friday introduced the Modernizing Government Technology Act, with Reps. Robin Kelly, D-Ill. and Gerry Connolly, D-Va.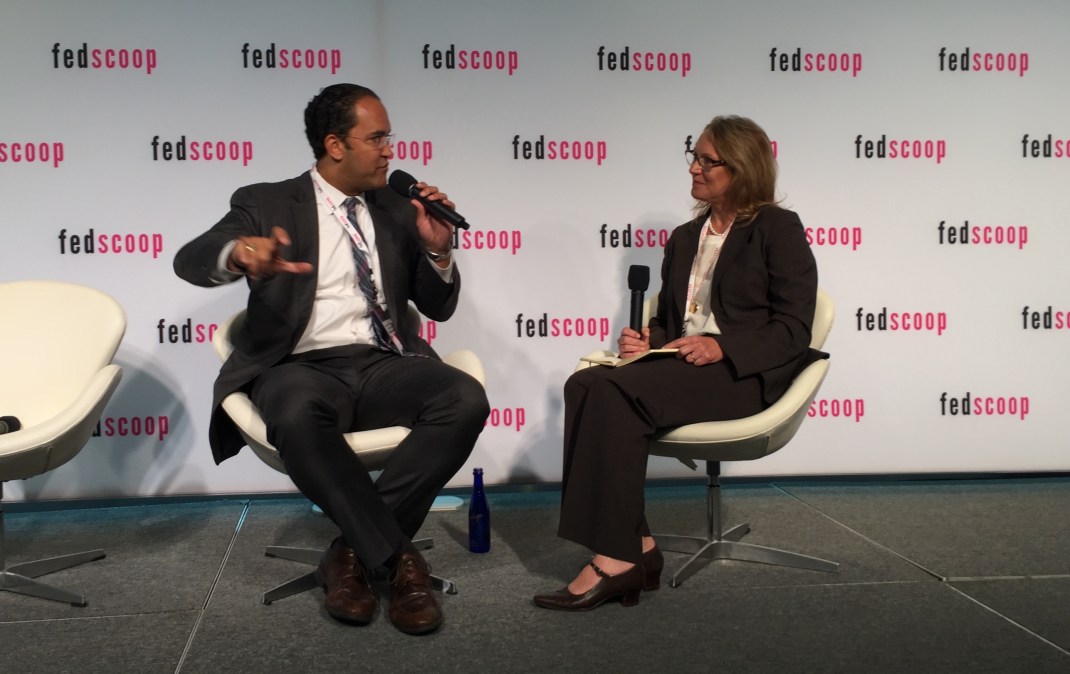 This story has been updated to reflect the bill's official introduction.
House members said Friday they are ready to take another crack at winning passage of legislation to make it easier for agencies to use money they save on IT spending to modernize their systems.
Rep. Will Hurd, R-Texas, introduced the Modernizing Government Technology Act with Reps. Robin Kelly, D-Ill., and Gerry Connolly, D-Va. It's a revision of the bill Hurd introduced last year under the same name.
The new bill proposes again to allow agencies to put money they have saved into working capital funds, which can be accessed for up to three years, to fund efforts to modernize their technology. It also would create a centralized fund agencies can tap into for modernization.
"We've been fighting to get this bill signed into law because the American people deserve better from their government," Hurd said in a statement Friday. "A move towards modern technologies can keep our information and digital infrastructure secure from cyberattacks, while saving billions of taxpayer dollars. This legislation is an innovation solution and another step forward in strengthening our digital infrastructure."
Among the updates is a notable alteration to make the commissioner of the General Services Administration's Technology Transformation Service the administrator of the centralized fund, Hurd told FedScoop. Former Pixar executive Rob Cook was named in October to TTS commissioner.
"I think TTS have proven the ability to be innovative, and I think it's a great place to have this new tool," Hurd told FedScoop.
Majority Leader Kevin McCarthy, R-Calif., said in a statement that he would schedule the legisltion for floor consideration "as soon as it advances from the Oversight and Government Reform Committee."
The 2016 bill passed the House by voice vote Sept. 22, but it eventually hit a snag in the Senate when Congress' budget analysts said the bill would cost billions of dollars to implement over the 2017-21 period.
One of the things lawmakers did to address the Congressional Budget Office score was cap the amount that can go in the centralized fund for year one and year two at $250 million per year, Hurd said. And money for the centralized fund still depends on appropriators, Hurd said.
"And that's why the meat of this is still the working capital funds at the agencies," Hurd said.
The CBO score for the 2016 bill was based in part on former President Barack Obama's budget request for $3 billion for modernization, the CBO said at the time.
When asked about the appetite from appropriators for funding a central IT modernization fund, Hurd said "there is continued interest from the White House in having the centralized fund, and there being an appropriation."
"In the FY18 budget from the White House, there's likely to be a line item for the ITMF," Hurd said. "There is interest from this White House."
Some structural changes in the bill are to help the CBO score, Hurd said, adding that the Government Accountability Office also talked to the CBO about modernization.
"GAO has had a number of conversations with CBO on talking about modernization, and how GAO has seen modernization work in other instances, to help with CBO's understanding of how the bill actually saves the federal government money," Hurd said.
They have also discussed the bill and potential tweaks with appropriators in the House and the Senate, he said.
The bill is scheduled to go to markup Tuesday, Hurd said.
Sens. Jerry Moran, R-Kan., and Tom Udall, D-N.M., introduced a companion bill in the Senate Friday as well.
Support from the White House?
"We were pleased to see continued support for this bill from both industry and the executive branch," Connolly said in a statement. "Moving forward with MGT II, we hope that the Administration will join Congress in making long overdue investments in federal IT and modernization efforts."
Indeed, President Donald Trump has already made a commitment to federal technology modernization through his recently-launched White House Office of American Innovation.
Spokesman Sean Spicer has said the office would initially focus on issues such as federal technology modernization, technology procurement and overhauling systems at the Department of Veterans Affairs.
"Their office has been incredibly helpful, and being involved and engaged," Hurd said. "And some of the tweaks we made was to help facilitate how the White House envisions using this once this becomes law."
Reed Cordish and Chris Liddell, assistants to the President and members of the new office, said in a statement they were excited about the introduction of the bill.
"This important bipartisan work," they said, "will enable significant progress to be made towards creating a more effective, efficient, and accountable government for all Americans."