Moving to shared services retains appeal, but it's still 'hard,' officials say
"Everybody's talking about shared services, and everybody has identified this as what I think is a key tool to being able to achieve this outcome of a more efficient government. But it's hard," said Beth Angerman.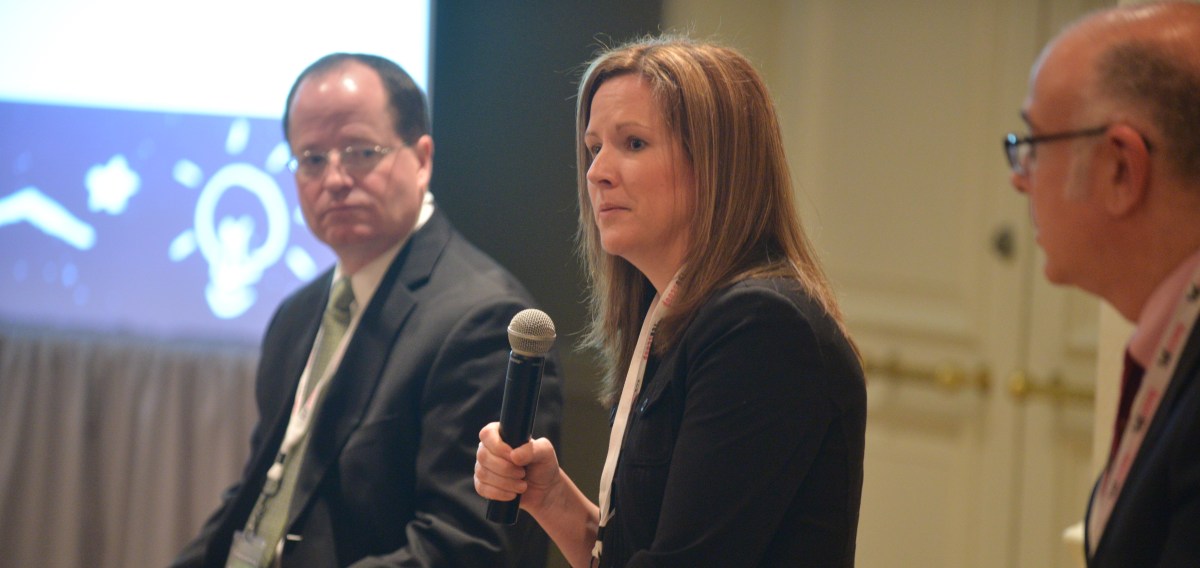 The White House has emphasized federal adoption of shared services in its recent plans for IT modernization and agency reform. But in trying to gain those efficiencies, agencies shouldn't blindly jump into using another provider's back-office systems without some planning, one of the government's leading shared services officials warned Tuesday.
"Everybody's talking about shared services, and everybody has identified this as what I think is a key tool to being able to achieve this outcome of a more efficient government," said Beth Angerman, executive director of the Unified Shared Services Management office within the General Service Administration. "But, it's hard."
She continued, explaining that "while it's really great that agencies are identifying these things as opportunities, this is where my office becomes really, really important" because agencies often fail to assess their readiness internally for such a move. To save time and avoid common pitfalls, the USSM created a shared services playbook, most recently updated in August. The first part of the playbook is "the most important part that we skip the most often, and that is: 'Are we ready?'" Angerman said.
For many agencies, she said, this often starts with consolidating services internally so that the different offices or divisions are working with the same standards and governance structures.
"It's great that we identified shared services as a tool, but we need to look at some key things within the agencies that are lessons learned that indicate whether shared services is likely going to work or not for that particular agency," Angerman said. "Everybody wants a better outcome by going to shared services, but they have to understand where they're performing today."
Angerman pointed to change management as perhaps the most difficult part in determining of an agency's readiness to embrace shared service. "Is an agency ready to actually tackle what it truly means to adopt a shared service? And that is, you're going to use somebody else's process — somebody else's system. And that's hard."
It's also extremely important, Angerman explained, to define what the success of sharing a service would look like.
"What are you expecting from this service provider? And what is it that that outcome is going to do to better enable you to deliver your mission?" she said. "So often we don't make the connection between how we do these administrative functions and how they actually will make mission better. We don't think through that."
But even the Office of Management and Budget, the purveyor of the movement to shared services to drive modernization and efficiency, isn't quite sure how it will measure success.
Sometimes OMB measures things just to measure things, and that can drive behavior in the wrong direction, admitted, Karen Pica, a policy analyst with the agency. So it "depends," she said.
"We have to measure the right things," Pica said. So that means "we're essentially waiting until we look at the [agency] reform plans, and looking at what activities we're going to undertake, to figure out what those measure will be." Those plans were due at the end of September.
Depending on what comes out of those agency reform plans, there will probably be "a graduated set of metrics that will look at the different elements — the people, the process and the technology," Pica said.
This can't be limited to simple measures like technology acquisition and dollars spent, she said. "We can't just measure the dollars spent on systems, the up time or the number of things that have moved from one agency to another. There has to be an outcome for those measures."
"We're focused on what the delivery is to the end user…we need to make sure what we're measuring is enabling the services those people who pay our salaries," Pica said.