Mulvaney touts R&D increase, but some accounts would take cuts
The OMB director extolled proposed increases for research & development, but some agencies tasked with technology development are taking a hit.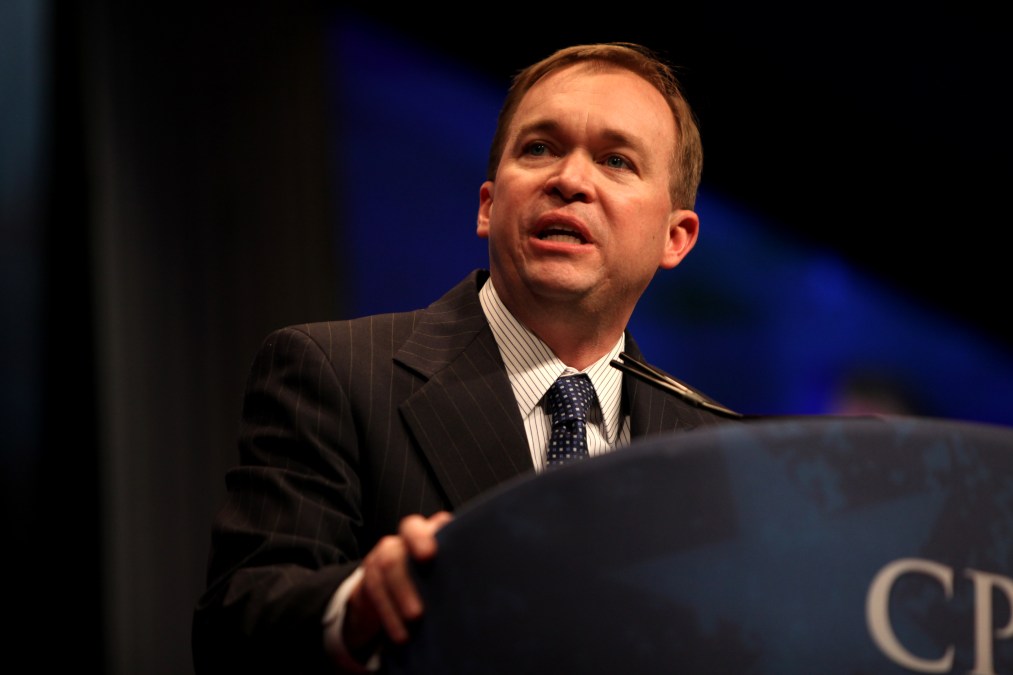 Editor's note: This story has been updated to clarify the National Science Foundation figures based on the budget addendum from the Office of Management and Budget.
Office of Management and Budget Director Mick Mulvaney touted the proposed increases for research and development in the fiscal 2019 budget request released Monday by the White House. But after taking a closer look, FedScoop found that some agencies at the forefront of federal technology development efforts could take a hit next year.
There's "a big plus-up in R&D," Mulvaney said in a press call. "In fact, when we talked last year — we'll talk about it again for 2019, for this year — total R&D spending actually increases in both of our budgets. Our 2019 budget is bigger than 2017. Our 2018 budget is bigger than 2017."
The budget calls for $156.8 billion for overall R&D spending — using OMB's former budget definition of R&D — a 1 percent increase compared to fiscal 2017. Applying a fiscal 2018 definition that excludes pre-production development and other costs lowers the figure to $118 billion.
Because Congress has still yet to finalize the 2018 budget, Mulvaney stressed that the fiscal 2019 request figures should be compared to the fiscal 2017 budget in terms of increases and note that they don't include the continuing resolution from Feb. 9.
To account for the recent budget agreements, OMB tacked on an addendum to the request that added back some of its funding to reflect the deals.
But even then, agencies known for technology R&D, like the National Institute of Standards and Technology, would receive cuts.
NIST — which sets technical standards for civilian agencies for things like the cybersecurity framework and electronic identity verification — would see its R&D budget fall 25 percent, from $750 million in 2017 to $564 million next year, if this budget were passed as-is.
The National Science Foundation, which supports a range of technology and cyber-infrastructure research, initially saw its research funding slashed by the request, falling 28 percent from $5.3 billion to $3.8 billion. The addendum added $2.2 billion back to the proposed overall budget, bringing it back to the enacted 2017 budget level.
So who does get the gains? One of the big winners was the Defense Department, which would see a 19 percent increase in research, development, test and evaluation funding over its 2017 numbers, jumping from $47.2 billion to $56.3 billion
"The Department of Defense will invest more than $84 billion in research, engineering, and prototyping activities in 2019 to maintain technical superiority and promote U.S. national security innovation" the budget documents said. "DoD is the centerpiece of a government-wide effort to out-innovate competitors and bolster the U.S. engineering and design communities in the area of trusted microelectronics, semiconductors and future computing."
The Department of Homeland Security's National Protection and Programs Directorate would see its research funding request greatly increase to $48 million for 2019, up from the $6 million actually spent in 2017. The money would go toward strengthening its cybersecurity R&D capabilities. The Transportation Security Administration also would get a bump, moving from $5 million in 2017 to $21 million in 2019.
The Department of Energy saw significant requested increases as well, including $40 million for the creation of its new Office of Cybersecurity, Energy Security, and Emergency Response.
The Trump administration touted a push into artificial intelligence research, including a partnership with NSF and the Department of Transportation to work on autonomous vehicles. DOE will also utilize its Advanced Scientific Computing Research Program to research supercomputing capabilities.
Mulvaney said repeatedly during Monday's press conference that the budget was a guiding document for Congress and represented a realistic path to fund the government.
"I'm going to deal, up front, with the question that everybody wants to ask — and I don't know who would've gotten a chance to ask it first — is this dead on arrival? And the answer is absolutely not," he said. "It simply highlights the fact that this is a messaging document. The executive budget has always been a messaging document."