OMB's shared services effort will take years to yield results
Planning around transitioning agencies to modern grants management systems is already delayed.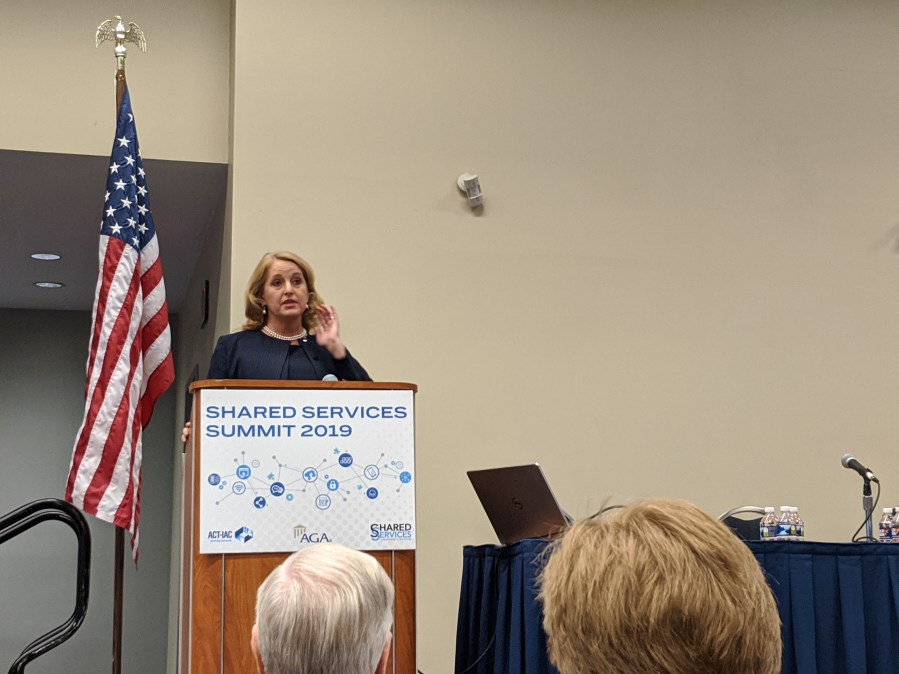 Don't expect results from the government's efforts to standardize shared services for a few years, especially when it comes to grants management.
That was the message from officials at the Association of Government Accountants' 2019 Shared Services Summit on Thursday.
The Office of Management and Budget designated four initial agencies as Quality Services Management Offices (QSMOs) in an April memo, which launched the planning phase.
All 24 CFO Act agencies have designated a point of contact that is working with the Shared Services Governance Board to establish a standardization process. But planning around grants management is delayed into the first quarter of fiscal 2020, said Suzette Kent, federal CIO.
"There are a lot of things that we like to do really fast and do a pilot and see results in six months," Kent said. "We're going to see results, but that long-term goal, and checking off every box, is a longer journey."
QSMOs have done "tons of work" since the summer, despite the Department of Health and Human Services — the grants management QSMO — needing more time to engage customer agencies concerning impacts, Kent added.
Officials have said all along that grants management would take longer because it lacked a preexisting shared services model like the others.
"We also have money that agencies have requested during the 2020 budget process that is still kind of hanging," Kent told reporters after her speech. "So they're developing the detailed plans, those types of things, and as we move over to the beginning of the year, detailed sets of activities."
QSMOs must make organizational changes and have already begun hiring new roles, but work on transitioning agencies from aging payroll systems to Software-as-a-Service solutions — called the NewPay Initiative — is first up in the move to shared services, she said.
The General Services Administration awarded a governmentwide, blanket purchase agreement for NewPay in September 2018 with the goals of reducing payroll costs and information technology risks. A year later, GSA awarded the first two, multi-million dollar task orders.
"These are not short-term projects, and I would say that's probably the biggest challenge because we know we've got a process," said Earl Pinto, deputy associate administrator of the Office of Shared Solutions and Performance Improvement within GSA. "Standards first … and that has taken, for several mission-support functions, well over a year to get to standards — some over two years."
The acquisition timeline "can be long" and implementing and integrating systems "even longer" — a few years, Pinto added.
Funding, personnel and pace resources must align between QSMOs and customer agencies, Kent said.
Agencies like the Interior Business Center remain unclear on whether they'll fund NewPay or that will be done through existing providers, GSA or one big appropriation.
"That is a much longer discussion, but right now we're using the current model where consuming agencies pay for the services that are delivered," Kent told reporters. "As we go longer term, there may be opportunities to streamline."