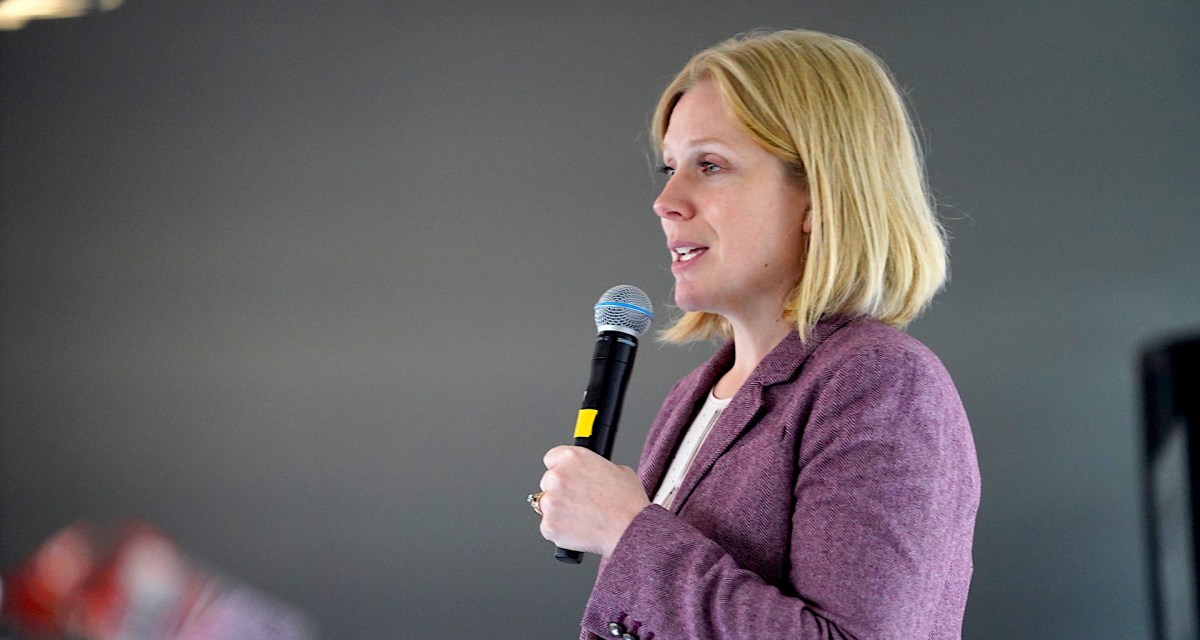 Let's Talk About IT Ep. 19 — Unleashing Automation in Government, ft. Air Force CIO Lauren Knausenberger
One of the Air Force's top IT priorities for the next year, according to CIO Lauren Knausenberger, is to "ruthlessly attack manual process." With programs like "Operation Flamethrower," and "armies of bot minions," the service is looking to automate a number of its legacy systems, software and processes to save time and money and let airmen focus on higher-value work.
"We're at the point where we've shown that we can do [automation] very effectively and where we have a lot of our new projects naturally leaning toward more automated processes," Knausenberger says in a new episode of FedScoop's Let's Talk About IT podcast. "And you get more automated processes organically, of course, by adopting cloud environments with built-in services that help take away a lot of the manual work of maintaining an environment the way we've done in legacy infrastructure."
Likewise, new software helps promote this adoption of automation "because unfortunately, a lot of our older software, you're entering the same software multiple times or you're entering the same information in multiple databases. And even the simple act of being able to pull data from another place is really incredible automation when you realize you're entering it so many times."
Automation might seem simple, especially for those that have come to expect it in their personal lives or that work for an innovative firm in the private sector. But for the Department of Defense, this is revolutionary, Knausenberger explained.
"Across the department, there are a lot of things that are manual that shouldn't be," she said. "And a lot of people that are not in the Department of Defense, or even those who are but are maybe in a different type of job, can take for granted the type of automation they have."
Knausenberger continued, talking about innovative, automated apps like Uber: "In our personal lives, we're already used to the Uber coming. We're already used to oftentimes getting software for free that's completely automated. You enter your data once in Amazon, I'm not going to enter my address again. I'm not going to enter my credit card again…We take the automation for granted, and in the Department of Defense, we've been left behind."
Shaleen Braley of GDIT, the sponsor of this podcast, also joins to discuss how agencies that may be farther behind in their journeys can start to unleash automation on their legacy processes. By automating repeatable tasks, Braley tells FedScoop, agencies can "gain efficiencies, streamline processes and ensure secure delivery of services across their enterprises."
The big issue with why agencies haven't been as successful with automation, Braley says: Because many agencies haven't taken full advantage of commercial cloud capabilities and instead keep their services on-premise, "there's misaligned policies and objectives that exist with those commercial clouds and government security requirements."
If you want to hear more from the top leaders in the federal IT community, subscribe to Let's Talk About IT on iTunes, Spotify, Google Play, Sticher and SoundCloud. And if you like what you hear, please let us know in the comments on those platforms.
This episode was sponsored by GDIT. Visit GDIT's website for more on its offerings.
This podcast is part of a FedScoop special report on Automating Government Services. Read the rest of the report.