Staropoli wants to run DHS CIO's office like a hedge fund
New CIO Richard Staropoli is restructuring the Department of Homeland Security's Office of the CIO to operate more like a hedge fund.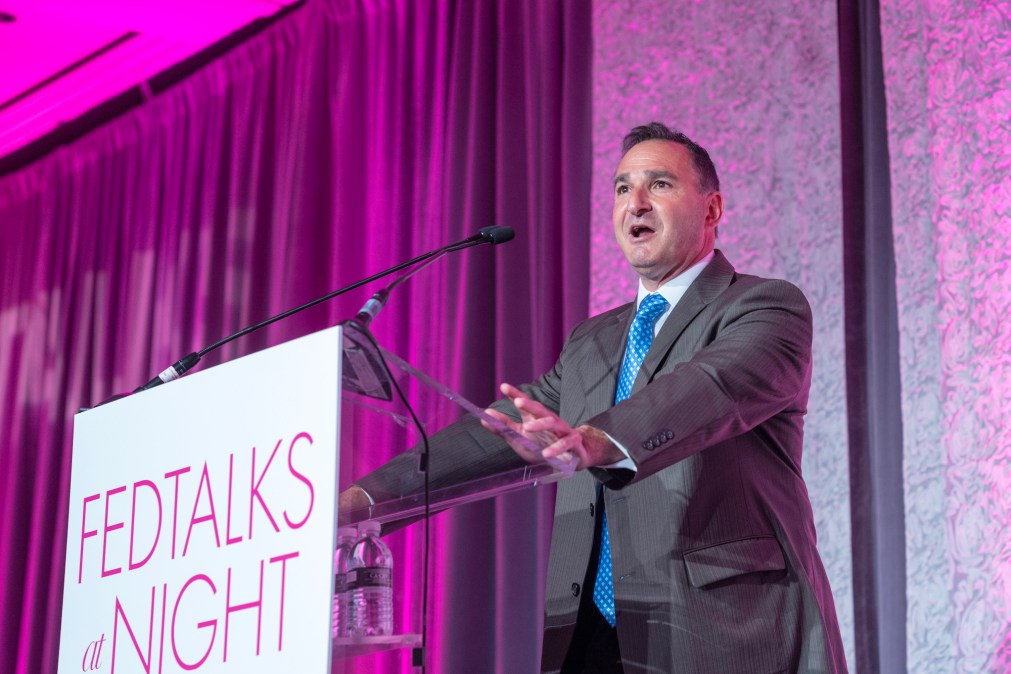 New CIO Richard Staropoli is restructuring the Department of Homeland Security's Office of the CIO to operate more like a hedge fund.
A veteran Secret Service agent under the President George W. Bush administration who spent the past eight years as managing director and chief information security officer of billion-dollar hedge fund Fortress Investment Group, Staropoli isn't ready to give up the pace and dedication to success he experienced in the financial sector.
"The pace at which you operate, not just in New York, but at a hedge fund in New York, is unlike anything else," he said at Thursday's FedTalks at Night, his first public remarks since taking the role in April. "And that's the pace with which I plan on moving DHS along with respect to IT."
Staropoli described Fortress as "the hedge fund to be at" and aligned its success with its ability to close a deal with the "maximum benefit possible as quickly as possible" by tapping into "the best resources we could lay our hands on and not get tied up in the minutiae."
Technology, he said, share more in common with the hedge fund and financial world than it does with typical government operations. "It changes so often, so quickly — you've go to move at the hedge fund pace."
To reflect the pace he wants his IT shop to emulate, Staropoli has physically reorganized it to operate like a trading floor.
"We've moved out all these deputies and all these directors from their offices located all over these different buildings that DHS occupies," he explained. "We now occupy one floor, once space in a trading floor concept, so when I need to get something done or a vendor needs to come up and we need to address a problem, I've got every entity I need in one spot. That cuts down on bureaucracy and allows me the maximum benefit of maximizing my time, so we can achieve results."
Indeed, the new CIO doesn't believe all of the answers to DHS's biggest problems will come from department itself.
Staropoli wants to "open the doors to the private sector … to see what's going on, because i cannot continue to operate at the pace at which we're operating. I view the job at DHS as a customer service," not only got the people who work at DHS, but also the "300 million Americans that are depending on us to do the right thing."
Likewise, the federal government as a whole is too big not to take advantage of, he said.
"There are almost 300 federal agencies out there — we would be crazy not to meet with all of these people, see what they're using, see what the best practices are, and bring them over to DHS and get rolling on this," Staropoli said.
He even signaled that there may be changes coming to the 500-strong staff of DHS's CIO's Office.
"I don't necessarily think you need 500 people." Quoting Herb Brooks, the storied Olympic ice hockey coach whose team defeated the Russians for the gold in 1980, he said, "'I don't need all these people. I just need the right ones.' And that's what I'm looking for. So I am going through the entire organizational structure in my shop, and we're going to find the right guys and put them in the right positions so we can achieve the maximum possible results."
The political appointee Staropoli's penchant for a Wall Street management style matches that of the new Trump administration that hopes to run government more like a business than a bureaucracy. He doesn't have time for two-hour meetings or "40-page PowerPoints."
"You want something done? You've got 45 seconds to explain to me what you need and what I can do to help you resolve the situation, overcome your hurdles and get around your obstacles," he said, adding that he believes in the "four-day week," meaning "you don't have the luxury of that extra fifth day. Get it done now and let's get moving along."
He also plans to be stringent on IT spending, calling his style "cigar box accounting."
"We will spend money, but we're going to spend it smartly. If a project has been started and it's not working, we're going to move on to something else," Staropoli said. "If a project needs to get started, I'm not going to get caught up in the minutiae of looking for the 100 percent solution. The diversity of DHS is so great…there is no one-size-fits-all solution for all of these things."
That said, he does have some immediate targets identified to boost DHS's technology operations, including moving to Microsoft Windows 10 and Office 365, and improving mobile device management.
"I want to bring DHS into the 21st century," he said. "I want to be able to provide the employees of DHS the same things they've got at home, because that's what they're comfortable with, and that's what they're used to using."
Cloud is another concern. Some DHS systems and applications "are perfectly cloud-ready," and some never will be, he said. But that's not going to slow his office from chugging along at hedge-fund pace.
"Why do we want to continue with months and years of debate about whether something is cloud-ready?" Staropoli questioned. "I am not going to let that percentage of things that aren't cloud-ready hold up DHS moving along and transitioning the things to the cloud that we use every day, which will result in greater productivity, more stability, greater security, and a tremendous financial savings in the long-run."