2016 in review: Progress made implementing FITARA, but still 'not enough'
Standing out from the crowd, NASA came back from two "F's" in a row to get a "C" on its latest FITARA scorecard.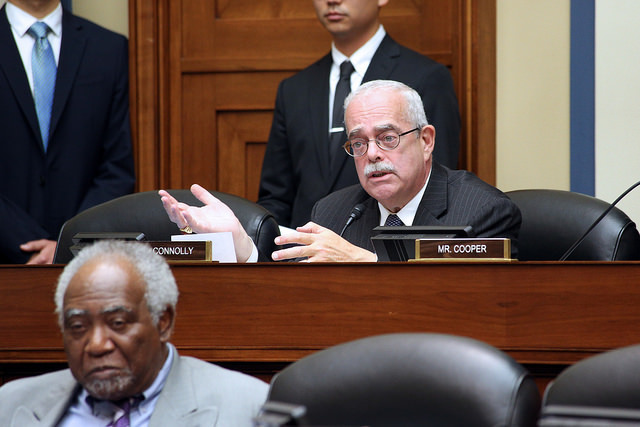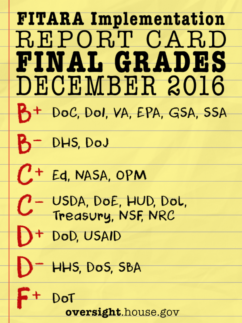 By year's end, twelve agencies had improved in congressional ratings designed to hold them accountable for meeting the savings and other benchmarks set by the Federal IT Acquisition Reform Act.
There is still work to be done, though, House Oversight and Government Reform Committee members were quick to note in their last hearing on the subject for the year.
In particular, FITARA was, above all else, designed to give chief information officers the authority they needed over IT projects so Congress could hold them accountable. But it became evident in a December House hearing on implementing the law, and the third round of issuing a FITARA scorecard, that several agencies still have a way to go toward finding a structure that satisfies congressional intent with the legislation.
Agency IT heads should be reporting directly to officials at the top — a department's secretary or a deputy secretary, or the equivalent in other agencies. But half of the agency CIOs subject to FITARA do not have that reporting structure, according to the committee's latest scorecard on implementation of the law. That third round of grading included a new metric on reporting structure.
"I find it unacceptable for any of the agencies to be working against the intent of FITARA, secretaries of agencies and division heads and likewise ignoring the critical role of CIOs in FITARA implementation," said Rep. Gerry Connolly, D-Va., at the hearing held by two House Oversight and Government Reform subcommittees. "We found that some agencies are struggling to elevate the CIO position to its appropriate management level."
Connolly is one of the authors of FITARA.
Some agencies in particular have made a lot of progress on FITARA implementation since the last rating in May. NASA, for example, moved from the only agency to receive a dismal "F" to a "C."
This was due in part to the space agency raising its Portfolio Review Savings grade from an "F" to a "B" and improving its data center consolidation grade from an "F" to an "A." NASA still has an "F" in risk assessment transparency.
From the second scorecard released in May to the most recent scorecard, only the Transportation Department fell in scoring, dropping from a "D" to an "F." It was also the only agency to fail in the third round of scoring.
"Richard McKinney at DOT is one of the best CIOs that we have. But he has a situation there at the Department of Transportation that's very difficult that he inherited, but it's not from his efforts," said David Powner, director of IT Management Issues at the Government Accountability Office, at the hearing. "And even though he has an 'F' he deserves a lot of credit for what he's done."
When agencies entered 2016 they were trying to improve poor ratings from the first scorecard released in November 2015.
In that scorecard, a majority of the 24 agencies whose purchasing of IT equipment and services FITARA covers earned a "D" grade or lower overall, with the Education Department, Energy Department and NASA earning an "F." No agency earned an "A" overall, and only two got a"B" — the Department of Commerce and the General Services Administration.
But even as 2016 closed, still no agencies garnered that coveted "A."
"We are seeing progress, but it's definitely not enough," said Rep. Will Hurd, R-Texas, chairman of House Oversight's IT Subcommittee, in a December interview with FedScoop.
Contact Samantha via email at samantha.ehlinger@fedscoop.com, or follow her on Twitter at @samehlinger. Subscribe to the Daily Scoop for stories like this in your inbox every morning by signing up here: fdscp.com/sign-me-on.