Air Force CIO says role 'has become much more prominent' as he prepares to retire
Government chief information officers are becoming more prominent on both the business and mission sides, and they're finally getting their work directly in front of decision-makers, says the Air Force's chief information officer, Lt. Gen. Bill Bender.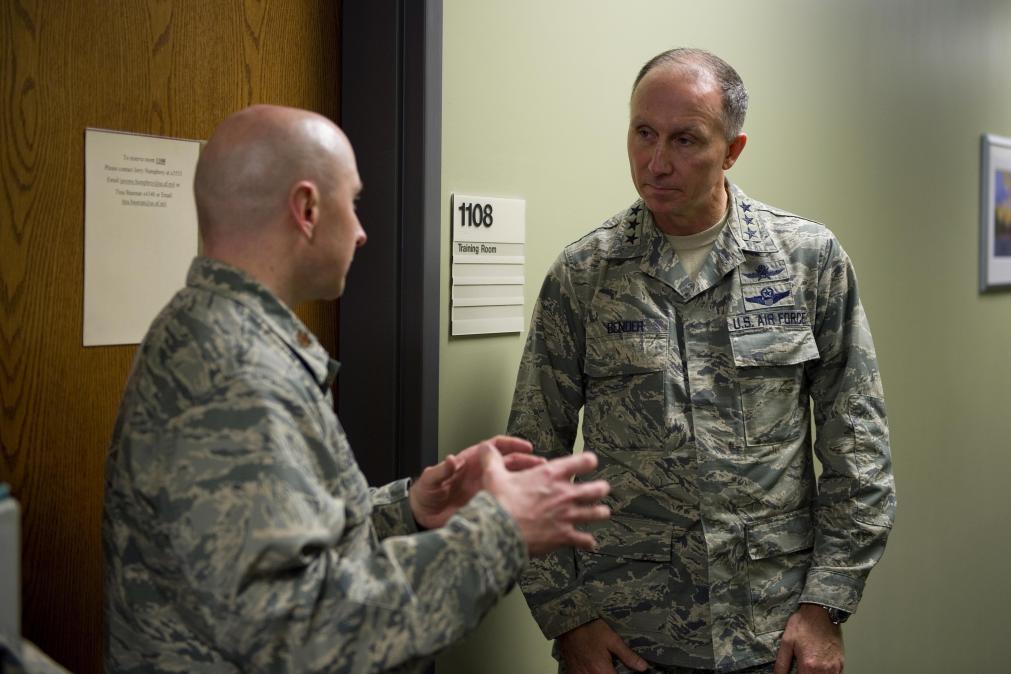 Government chief information officers are becoming more prominent on both the business and mission sides, and they're finally getting their work directly in front of decision-makers, says the Air Force's chief information officer, Lt. Gen. Bill Bender.
That's been one of the biggest changes Bender says he has seen during more than two years as the Air Force's top IT chief. As he prepares to retire, he took a look back with FedScoop at how his role has evolved.
"The role of the CIO has become much more prominent by virtue of the fast-changing, information-everything type of world. And I think that transition had happened already on the outside, in industry, but it was a little bit slower coming along in government," he told FedScoop. "But in my two-plus years in the job it's significantly more pronounced, in terms of being a part of a lot of discussions."
An example: Bender was told coming into the job that the measure of merit was getting to a "Corona briefing" once in your tenure, "when you do a briefing for four-stars and get a decision related to your portfolio." CIOs can expect those more often now, he says.
"Early on it was old habit patterns, meaning I would take meaningful work and try to get it in front of the four-stars and the decision-makers, or take it to a corporate planning-choices type of forum and invariably it would fall off as, 'Oh we're not going to get to that, we have more important things,'" Bender said. "And more recently, it's like they can't get enough of us, right? We've been to the last five Coronas in a row, having decision-level briefings, and it's a sign of the times. The CIO has become more prominent in the business side and the mission side, and that's one of the things that I'm proud of."
Prior to serving as the Air Force's top IT chief, he served in roles such as the deputy chief in the Office of Security Cooperation-Iraq in Baghdad, Iraq.
With a retirement ceremony on May 19, Bender he doesn't know what he is doing next. But he does know he will be staying in Washington, D.C. His last day in the office is June 2, though his official retirement is Aug. 1.
"We're going to stay in D.C., which is fantastic," he said. "I'm excited about that because there's a lot of opportunities to continue to work on these big strategic issues, not just for the Air Force but for the government more generally and even beyond that, I don't think industry gets a pass here. There's a lot of work that has to be done for all of us."
When asked what he was most proud of, Bender said: "Generally being a driver of innovation, thinking and acting different for a world that has really changed significantly, and will continue to change." Part of his advice, then, for the next Air Force CIO was to not settle for the way it's always been done, "because that is arguably a failed strategy."
Innovating on procurement
Asked what he wishes he had more time to accomplish, Bender noted the Air Force's ongoing journey to implement a more "innovative IT procurement process." He said his office identified the problem, built a framework and is moving down a path to hire someone to implement the changes.
"But I don't have the time remaining in my tenure to then bring it into the Air Force and really shape it and breathe life into it in a way that I would like to have had," he said.
Bender fretted in his interview that his replacement may have different priorities — or that there is not enough of a foundation to ensure the effort continues.
"I think that there's some risk there, because we're still at the vision and very, very initial stages, and it takes putting the foundational pieces in for any big organizational effort on the size and scale of the United States Air Force," he said. "To transition something that doesn't exist means it really takes personal leadership and involvement. And if I had six months to a year, I would say that I would leave with confidence that we put the initial work out there that is going to sort of make sure that that program develops, and proceeds in the direction that it needs to go."
He called it "premature" to say the initial work is out there to satisfaction, but added that "there's a coalition of willing people built, and that's probably the biggest thing I think I brought."
The Air Force needs to get better at buying instead of building information technology — a fundamental culture shift, Bender said.
An example: the Air Force procured a tool from cyber security company Tanium, which Bender called a "game-changing" capability. And he says his office did the process in such a way that "Tanium would tell you of all of their worldwide customers, the Air Force was their largest, and their fastest."
Tanium, he said, is "allowing a tremendous amount of automation and reduced workloads for our network operations people significantly, meaning things that used to take them months is now down to seconds, or minutes." That is allowing people to just work on solving big problems, or work on things that weren't even being dealt with before, Bender said.
In buying Tanium, Bender said the Air Force spent less time creating a typical major acquisition development program with a well-defined set of requirements documents, and instead "put operators and vendors together and started to build out a military-use assessment."
"Instead of, 'It's a requirements document,' it's actually a problem that we actually need to solve, and you have a tool that can help us do that, so let's go learn together," he said.
Keeping people in mind
Crucial to the effort to make the Air Force's IT procurement more innovative is the hiring of someone to lead the charge, Bender said. And the prolonged hiring process has shrunk the time Bender gets to work with the new hire, he noted.
Indeed throughout the chat with FedScoop, Bender kept coming back to the importance of people to his mission, in having the right leaders in place, for example, or in educating the Air Force workforce on cybersecurity.
"Perhaps my number one accomplishment in my tenure will be having hired my deputy, Bill Marion," he said. "I consider him … a thought leader in the federal government, and a real critical leader at a critical time for our Air Force, and I invested seven-and-a-half months in making that hiring action."
But he noted that while the time spent was worth it to hire Marion, it shouldn't be that difficult to make good hires.
"My hope would be it doesn't come to something really bad happening before we get the idea that we're going to have to change some of these arcane rules and processes that are in place," he said.