CACI wins $880M task order for Army personnel and force management
The company's Agile Solution Factory is key to the military's plan to develop software continuously and proof the government is starting to take the approach more seriously.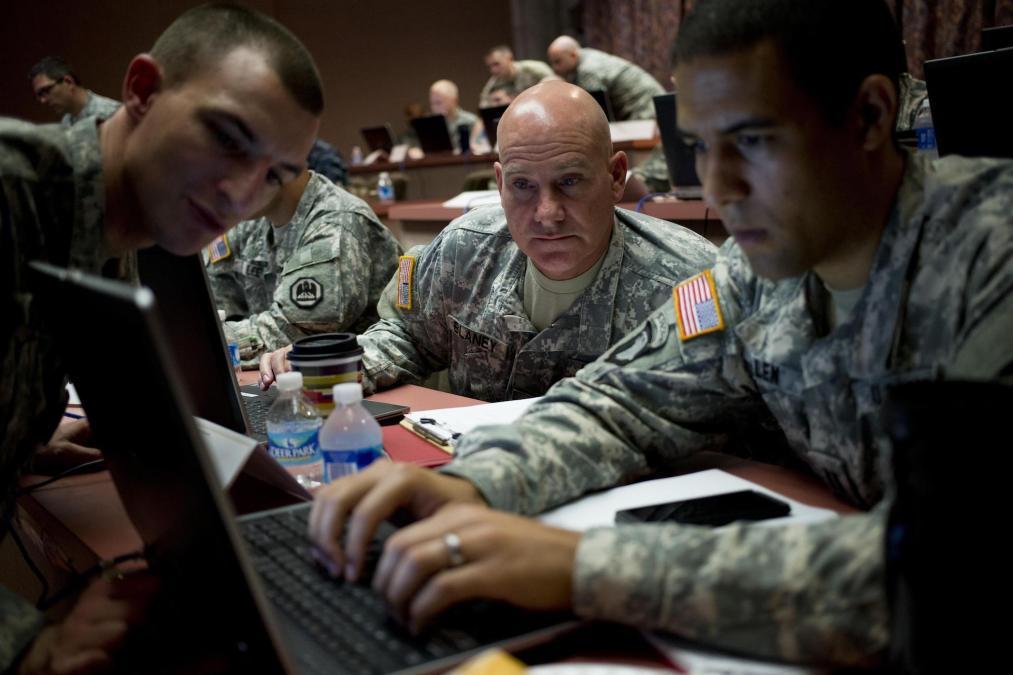 CACI International Inc. won a seven-year, $880 million task order expanding its information technology and engineering services for the Army's personnel and force management efforts.
Specifically, the IT company will support Global Force Information Management, a set of standards and protocols the Department of Defense enacted to make it easier for military branches to share data on personnel and equipment across disparate systems for planning purposes.
Central to the work will be CACI's Agile Solution Factory in Ashburn, Virginia — nicknamed "data center alley" — where more information is processed than in London, Paris and Amsterdam combined. There the company aims to develop software more quickly for Army personnel and force management systems.
"CACI's Agile Solution Factory has set the standard for continuous software development on an enterprise scale through its iterative and transparent approach," Ken Asbury, president and CEO of CACI, said in an announcement. "Under the [Information Technology Enterprise Management Systems Solution] contract, CACI's ASF will help the Army implement multiple personnel and force management systems, including [the Reserve Component Automation System] and [Force Management System], two of the most efficient large-scale personnel and force management systems in the world."
The task order covers hardware and software design, sustainment and modification, cybersecurity, and military construction services and was made under the General Service Administration's Alliant 2 contract vehicle.
How the government is embracing agile
About 90 percent of commercial software development projects used some form of agile in the past decade, but only in the last five years has the method permeated the federal marketplace, Robert Reid, agile solution factory executive program director at CACI, told FedScoop.
"Agile is a software approach where you're developing capabilities incrementally — typically in two- or three- or four-week sprints," Reid said. "After each one of those sprints, you demo the product to the government … and the stakeholder community can look at the software that's being built and give you these slight course corrections."
That way a product is typically delivered faster and maps to the customer's requirements better, he added.
The National Defense Authorization Act for fiscal 2018 (NDAA) included language driving government projects toward agile and away from legacy methodologies like "waterfall." Waterfall establishes detailed requirements up front, hands the project off to a company that works for six to nine months, and then comes a demo of a product that is generally not quite what the customer wanted or needed a requirements change along the way, Reid said.
In April 2018, the Defense Acquisition University, in conjunction with the NDAA, called for a course on agile that could be taught across DOD and approached CACI about optimizing the approach at an enterprise scale.
That same year, the Defense Science Board spent time with CACI before issuing a report on acquiring software that found agile should be a key consideration, and the Department of Homeland Security began its own transition to the method.
CACI's approach to agile pulls a number of best practices from a variety of methodologies, like waterfall, scrum, combine and XP, and focuses on delivering the minimal viable product — what minimally the customer needs to get functionality out of the software. Generally, only 20 percent of a software application's features are used otherwise, Reid said.
The company's product teams work in three-week sprints within "neighborhoods" at its factory. Each product team supports a suite of applications and stays together throughout the factory's life cycle, so they mature and become more efficient as a unit. Their productivity, quality and cybersecurity posture are measured regularly.
The factory assigns all incoming work a certain number of story points, called its "T-shirt size," detailing its level of complexity, effort and risk, as well as cost. The larger the project, the larger the T-shirt size, and the more story points there are to measure.
Government customers can view CACI's progress on story points in the company's portal and know the same day if developers are behind schedule, Reid said.
"With our customers, one of the biggest challenges that they have is scaling and taking it to an enterprise level," Reid said. "And the biggest impediment to scaling is consistency."
Rather than waiting until the end of a release for cyber scans, the factory scans software daily to ensure developers haven't introduced new security vulnerabilities. Deploying a release starts a 60-day clock where users identify defects — which are mapped back to the user story to see how many story points are associated with the problem — and then release quality is calculated.
"This factory becomes predictable," Reid said.