Collaboration is key to sustained modernization, Trump aide Lira says
The White House Office of American Innovation hosts weekly meetings to focus on the biggest issues facing federal agencies, Matt Lira says.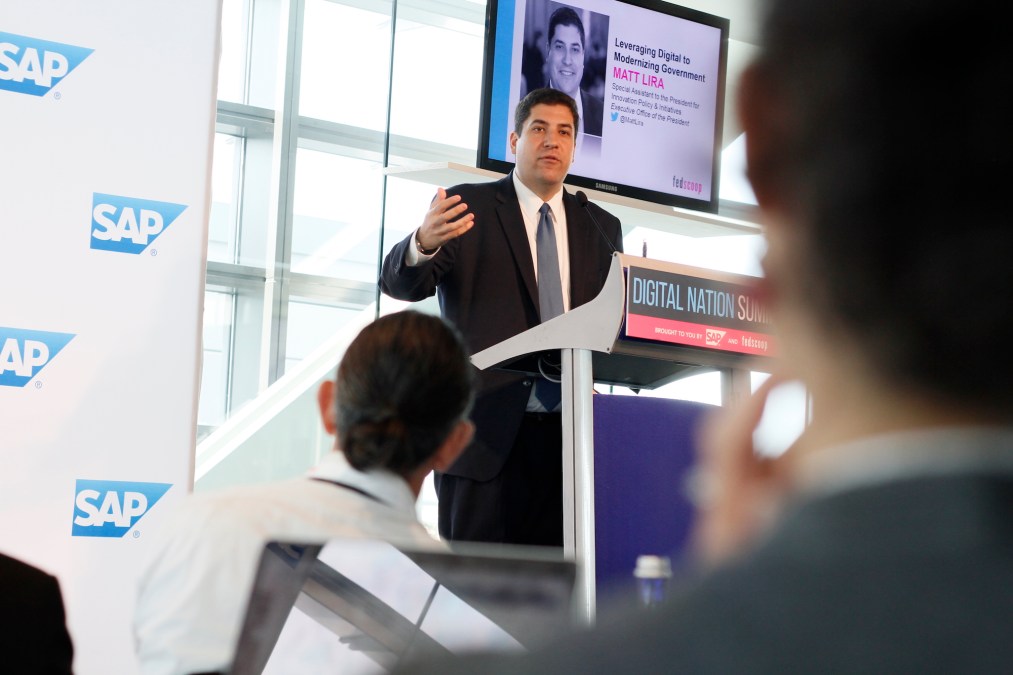 Modernizing government services is a "relay race," and the key to sustained progress is collaboration, the president's special assistant for innovation said Thursday.
"We view modernizing government not really as a sprint or a marathon but as a relay race," Matt Lira, special assistant to the president for innovation policy and initiatives, said during a speech at the 2017 Digital Nation Summit presented by SAP and FedScoop. "Because even if we were able to wave a magic wand and truly modernize the government in an afternoon — which we of course can't do —within six months we'd have to modernize something [again] because technology is always changing."
The way to begin to tackle the problem, he said, is to "bring people together, do some structural reforms, build great consensus and communities around the policymaking space, and have those systems work in an ongoing basis to continually modernize government systems in light of technological changes."
So, the new White House Office of American Innovation hosts weekly meetings, Lira said, with stakeholders from industry, academia, nonprofits and inside government, including personnel from the Office of the Federal CIO, and the "incredible" 18F and U.S. Digital Service teams.
In those "inclusive" meetings, he told reporters after his keynote, "they genuinely are collaborating."
"Some of these folks have, frankly, never talked to each other on an ongoing basis. The most exciting thing for me is the connection of policymakers with engineers, so there's a connection between policy and ground truth, which I think is really helpful for both," said Lira, the former senior adviser to House Majority Leader Kevin McCarthy, R-Calif.
He wouldn't detail specific topics the group has been addressing, but pointed to "front-end citizen experiences and underlying policy" as the broad areas.
"I understand a lot of times why these teams that come in, they want to hack around problems," Lira told reporters. "But we are also looking to hack at the problem itself. If there's a process that's broken and they have a great hack around it, that's valuable information. But it's also [necessary] to look at why is the process itself flawed."
Indeed, much of Lira's role in the White House so far, he said, has been eliminating the disconnect "between policy implementation and operational reality," which can cause "rising frustration in the American people, because they say 'I voted for X, I'm not experiencing X. Why is this not happening?'"
Collaboration is the way to get things started down the right path, even if the many parties working together don't always agree, he said.
"We're seeing a really exciting collaboration between people who don't always agree, but they're able to come together and work on these problems," Lira said. "Frankly, the conversation are that much stronger, not in spite of those difference but because of them."
He pointed to the Department of Veterans Affairs recent decision to modernize its electronic health record system as a model of how collaboration can lead to successful modernization.
"The community in this room and the communities around the country are going to be how this sustains itself from 'That was a great six month project' to a true cultural transformation in the federal government," Lira said.