The U.S. military is trying to figure out how to talk about data
Leaders think the adoption of AI, among other things, will help services learn to talk about and embrace data.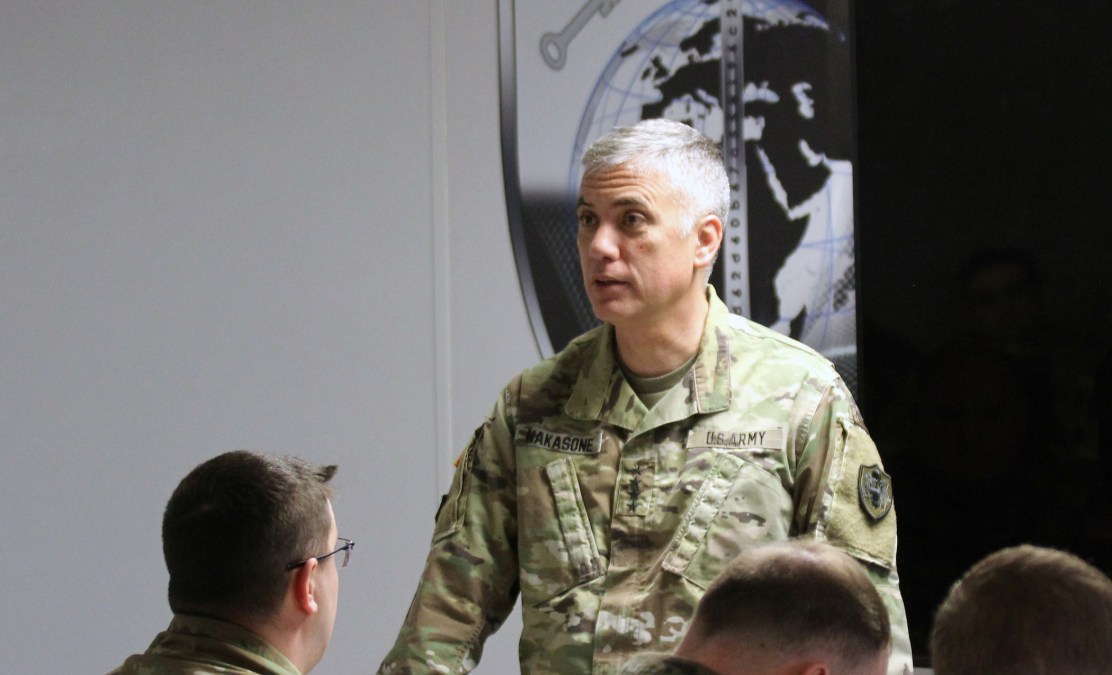 As things like 5G and artificial intelligence go mainstream, the U.S. military is poised become a force that's as reliant on data to drive mission outcomes as it is on things like weapons and ammunition. But before getting to that point, the services must learn to better communicate the importance of collecting, storing and integrating that data, a pair of top defense IT and cybersecurity officials said Tuesday.
"I think we are on the verge of a data explosion," said Gen. Paul Nakasone, head of U.S. Cyber Command and the NSA. "The data is so critical for us now to not only discern insights on the intelligence side but understand on the Cyber Command side our options and opportunities. This data, being able to move through it, particularly as we move to the Internet of Things, 5G, a broader capability and capacity for us to store that data is tremendously important."
Already, there's a huge demand among the services for "much more integrated, interoperable data," Department of Defense CIO Dana Deasy said at the 2019 AFCEA TechNet Cyber conference in Baltimore.
As it stands, the Department of Defense doesn't do the best job of managing its data or even just talking about it, Deasy said. But the Pentagon's adoption of modern and emerging technologies — namely cloud and AI — will give it an opportunity to frame just how important data can be to national defense and "will scream out" the need for better data access and management, Deasy said.
"It will be the accessibility to the data, the formats of the data, how we ingest the data, how we get intelligence out of that data," he said. "And I think sometimes that's what you need, you need an event to occur where you can put a spotlight on the problem in a way that it's accessible to people to work. I think AI is going to be one of those big problem sets where it's going to put a big spotlight on this data conversation, that's going to get the department to think about it working in a different way."
Emphasis on outcomes
Deasy explained how difficult it is now to convince military leaders of the need to place more emphasis on collecting and using data. "If all you ever said to the Department of Defense leaders was 'We need to focus on data management,' people's eyes would glaze over, roll into the back of their heads," he said.
Instead, the department must demonstrate specific and meaningful outcomes that good data management can lead to.
If you say, "'The reason we haven't been able to solve for this particular AI problem is getting access to this type of data, and the reason that it's so hard to get access to this type of data is XYZ,' people can work that problem," Deasy said. "They can't work a problem called 'We need to solve for data management.'"
DOD's new Joint AI Center is one such organization that has the potential to do that because data is so critical to its work, Deasy said. "I think it's going to be the place that it really spotlights this problem of data and I think it's going to make it accessible to people to have a conversation in a way that historically" hasn't happened.
The technology isn't the issue. It's getting enough CIOs and other IT types into the military who can make a case to senior leadership on why good data is to next-generation warfare, Deasy said. "It is finding enough people who can actively engage in this conversation in a way where they can kind of move things forward."
A classroom issue
Deasy and Nakasone both pointed to inserting data management into the critical coursework men and women must take upon entering the military's leadership.
"When we look at our military planning process, we identify named areas of interest and targeted areas of interest," Nakasone said. "Data could well be one of those named areas of interest that we have to focus on, that we have to watch, that we have to have an understanding of how it's changing. We didn't think of that when I was going through the military schools and now we need to."
Deasy said he talks regularly with service secretaries and undersecretaries about the importance of "introducing some new skill sets into people when they're very young and coming in."
"Show me the curriculum that a young cadet takes that start to teach them to think about data and the importance of data, and data as an offensive, defensive [capability]," he said. "There's a lot more we could be doing there that I don't think we're doing enough of, frankly. I think this is a really big opportunity." He added that people on the other end of their military careers should be part of the process, too: "We need to make accessible these conversations that may be uncomfortable or not natural with some of the flag officers around this topic … we have to attack both ends of the spectrum in terms of providing that education and awareness."
Nakasone explained it as a need for military leadership to become more aware of the departure from a time of kinetic warfare to one now when defense is becoming more digital, or "non-kinetic," as he put it.
"We have to ensure that we understand how do we apply non-kinetic power in a way that we haven't done before," he said. "We're very, very familiar with understanding the planning process that goes to kinetic operations. Non-kinetic operations I would tell you sometimes are as important and needs to be done, and we are working our way through that right now."