Tech accelerator Dcode evolves to meet government need for training
Dcode started as a tech accelerator helping companies do business with government. "But we realized we were only solving half the problem," said its CEO.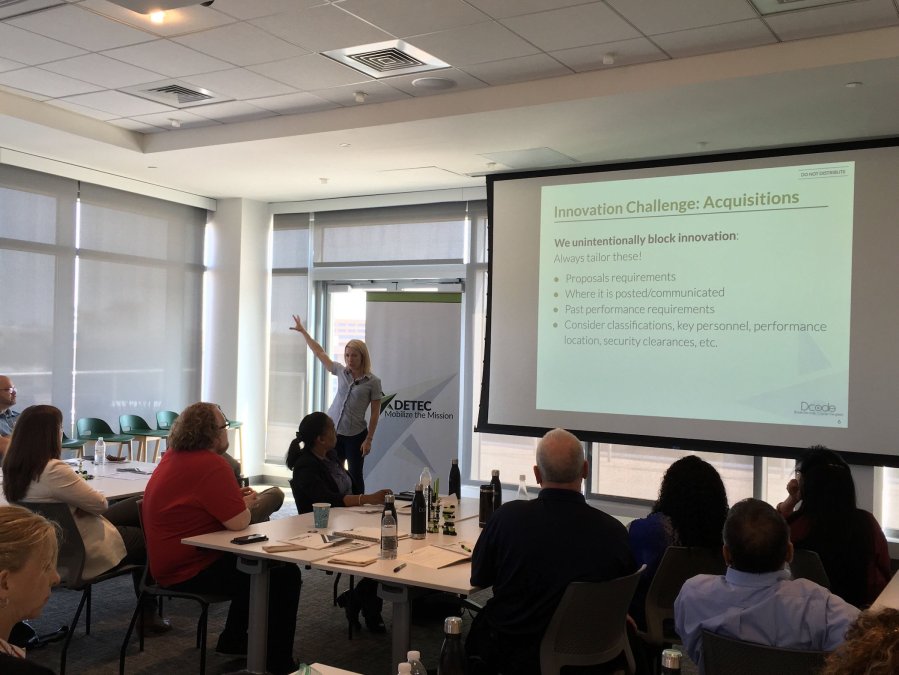 Large federal agencies like the Department of Defense face a bureaucratic crisis. They require dynamic, innovative technologies abundantly found in the commercial sector, but things like acquisition, policy and budget stifle their ability to procure them in a timely manner.
It's not a new problem. In fact, there are entire organizations like the Defense Innovation Unit (DIU) and the Defense Innovation Board (DIB) created to help solve it. But so often, the attention is focused only on what can be done to break down barriers for small, innovative companies to provide their products to government — yet, that's only half the battle.
Dcode, a Washington, D.C., company that started as an accelerator to help nontraditional tech startups do business with government, realized this about 18 months ago. Their thinking: You can help companies be better partners to federal agencies, but what about the senior officials within government who don't understand how to work with those companies? You must have both, Dcode posits, to successfully bring commercial emerging technology into government.
That's why a newly rebranded Dcode is now focusing just as much of its effort into training federal personnel, both from defense and civilian agencies, to be effective partners in the digital age as it does helping tech companies navigate Washington and its acronyms.
"You're seeing such an uptick across all of government on their need to work with nontraditional technologies," CEO Meagan Metzger said of the company's development of Dcode Innovate, the training program. "There's not an understanding of how to connect government and technology effectively."
"The thing that we hear time and time again is we find technology, we understand the emerging tech landscape, but at the end of the day, we still have to figure out how to get it in the door," she said.
The DIB pilot
It all began with a 2018 training pilot with the Defense Innovation Board, the Pentagon's advisory committee created to drive innovation throughout the department. The DIB issued a recommendation that called for better training of Department of Defense senior officials so they could better adopt commercial technologies in a rapid manner and inject innovation into their organizations.
"Are we setting up our senior leaders for success?" Josh Marcuse, executive director of the DIB, said of the recommendation and the need for training. "What can the department do to prepare senior leaders to lead the kind of organizations that can be agile, that can move at speed, know how to do software, can embrace these new technologies, knows how to talk to commercial industry, including emerging technologies?"
The board discovered Dcode through an acquisition vehicle and identified it as "a company we knew had extensive experience bridging the divide between tech companies and the department and asked them to turn their analytical lens on this question," Marcuse told FedScoop.
Metzger explained that Dcode hadn't necessarily settled on the idea to train government officials yet, but the idea naturally evolved from its ongoing accelerator offering. The DIB, she said, "wanted to understand all the stuff we had to teach tech companies because the DOD was not a good consumer of technology. From there, we said why don't we flip it and almost create a reverse program because everything we teach the tech companies stems from our understanding of the acquisition process, all the bureaucracy the companies have to navigate. So we're just teaching the reverse."
In the pilot, "18 general officers, flag officers and [senior leaders] from every service of the DOD … workshopped problem statements, and we taught them everything they need to know about the emerging tech landscape, understanding the clash of the cultures," Metzger explained, as well as "how do you leverage innovative procurement, how do you get the data scientist in the door, and how do you use the waivers and exceptions that already exist that we're just not using effectively?"
She said she knew it was a success because more than half of the trainees went back to their services and immediately began prototyping a solution.
Marcuse, who called the training an "intense innovation bootcamp for leaders," emphasized the DIB's focus on bringing "near-term impact" and exploring "commercially mature technology that currently is working in industry and DOD can adopt right now." The hope is, he said, leaders will "walk out knowing there's something they can do the next day."
"It's that key group of leaders in the middle that set the tone for what we do, and we want to give them all the tools and skills and exposure they need to fulfill the innovative vision of the National Defense Strategy," he said.
Dcode training today
Since then, Dcode has hosted more than 15 training sessions of varying sizes and profiles. Typically, they're three-to-four days, and an organization like the DIB purchases the entire class for participants. Dcode has also hosted training for the Air Force's AFWERX team and a one-day course for NATO leadership. The company has also has "pretty strong representation across" the intelligence community and has worked some with civilian agencies, the latter of which is a big target for 2020, Metzger said.
No matter the partner, the challenges are almost always the same, she said. "They all have the same problems. They all can't figure out how to get past the frozen middle and the bureaucracy."
But the Dcode training gives them exigency to do something about it. Metzger said participants have created at least 80 prototypes "that we've gotten our fingers on after the training."
"We can really bridge the gap from people want to do something and people want to improve the government to how to actually get that done," said Megan Vorland, chief strategy officer of Dcode.
With the success of the training program, Dcode has no intention of slowing its accelerator offering, which has helped 77 companies in find partners more than 60 programs and agencies across government. With each now in full stride, they tend to inform one another on the challenges and solutions in brining commercial tech and government together.
"We realized we were only solving half the problem," Metzger said. "We can teach the companies all day, but we're just pushing a rock up the hill."
Vorland echoed that: "We've seen both sides of the equations, so we have the tools to help them break down the barriers."