DOD unveils enterprise cloud strategy with preference for JEDI
The DOD Cloud Strategy document lays out the current IT operating environment, the department's strategic objectives, approaches and guiding principles, and how it will implement.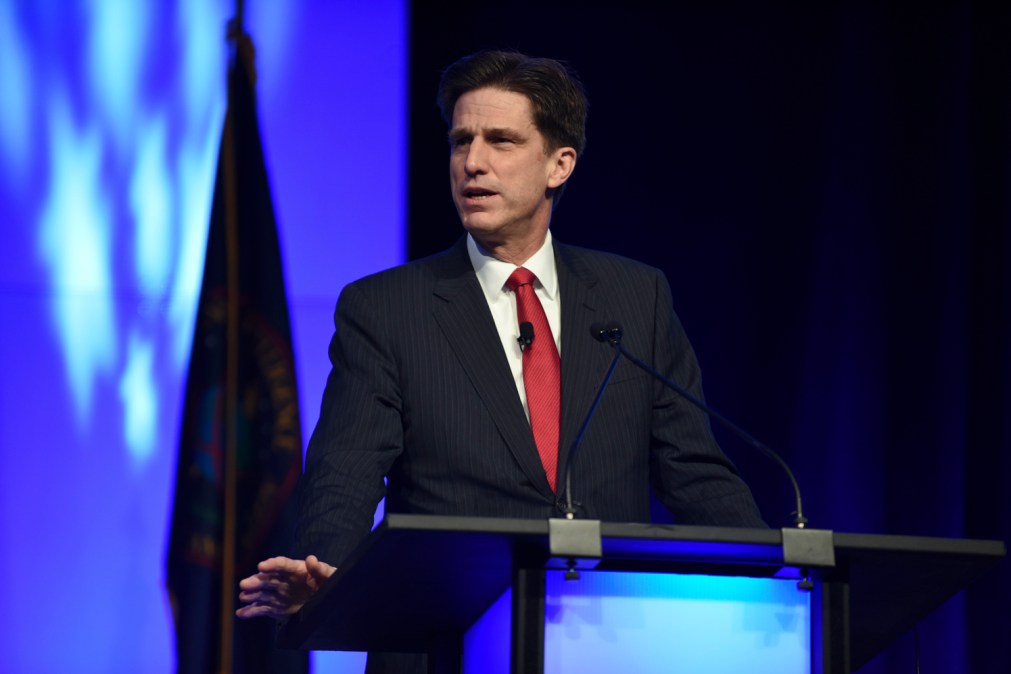 The Pentagon has published its long-awaited enterprise cloud strategy and sent it Monday to Congress.
The new strategy refers to the cloud as a department priority and "a fundamental component of the global infrastructure that will empower the warfighter with data and is critical to maintaining our military's technological advantage." The document lays out the current defense IT operating environment, the department's strategic objectives, approaches and guiding principles, and how it will implement.
"The DoD Cloud Strategy reasserts our commitment to cloud and the need to view cloud initiatives from an enterprise perspective for more effective adoption," says the foreword, signed by acting Secretary Patrick Shanahan. "It recognizes our experience over the past five years and identifies seven strategic objectives along with guiding principles to set a path forward. It emphasizes mission and tactical edge needs along with the requirement to prepare for artificial intelligence while accounting for protection and efficiencies."
Moreover, it emphasizes unity of effort across the DOD as the military increasingly adopts cloud. According to a release from the DOD CIO's Office, "The department will gradually consolidate the disparate networks, data centers and cloud efforts and manage them at the enterprise level. Consolidation will enable the DOD chief information officer to provide increased security and reliability of the department's digital infrastructure while achieving greater efficiency and cost savings."
"This marks a milestone in our efforts to adopt the cloud and also in our larger efforts to modernize information technology across the DOD enterprise," DOD CIO Dana Deasy said in a statement. "A modern digital infrastructure is critical to support the warfighter, defend against cyberattacks and enable the department to leverage emerging technologies like machine learning and artificial intelligence."
The strategy comes amid several high profile DOD cloud procurements, such as the $10 billion Joint Enterprise Defense Infrastructure (JEDI) cloud and the $8 billion Defense Enterprise Office Solutions (DEOS) cloud, both of which are single-award contracts. Despite the Pentagon's plans to award those contracts to a single vendor in each case, which has led to criticism from industry, the new strategy paints a picture of a multi-cloud DOD, but with a preference for JEDI first.
"The enterprise cloud strategy introduces concepts for both general purpose and special purpose clouds for specific mission needs," the release says. "DOD will remain a multi-cloud environment because the complexity and scale of DOD's mission requires DOD to have multiple clouds from multiple vendors."
Essentially, JEDI will be the general-purpose cloud around which other special purpose clouds are built. "The primary implementation bias for DoD will be to utilize General Purpose cloud computing," the strategy reads. "Only when mission needs cannot be supported by General Purpose will Fit For Purpose alternatives be explored. In such a case, a mission owner will be required to submit for approval an Exception Brief to the Office of the DoD CIO describing the capability and why the General Purpose cloud service does not support their mission."
Congress too was critical of the JEDI contract during last year's National Defense Authorization Act conference process, requesting a complete DOD cloud strategy.
In the strategy, cloud appears to be a stepping stone to other next-generation emerging technologies, particularly artificial intelligence. "An enterprise cloud will provide the common data and infrastructure platforms that will enable Al to meet the full promise of warfighter advantage," the strategy says.
Deasy echoed that sentiment. "Cloud in itself just gives you compute capability," he said. "It's what you choose to build on top of that that matters. And in this case, I believe what DOD is going to want to focus on — really embrace and accelerate as fast as we can — is how we adopt and bring artificial intelligence into the organization."
Additionally, an enterprise cloud environment will also modernize the department's command, control and communications (C3) and improve cybersecurity, the strategy says.
"I always like to say if you put a great enterprise cloud in place, you then can use that as an enabler to do great things," Deasy said.