DOD's reskilling overhaul starts with an OPM platform
USALearning will create a common course catalog and common learning record repository to curb the more than 50,000 disparately managed, often redundant courses across the department.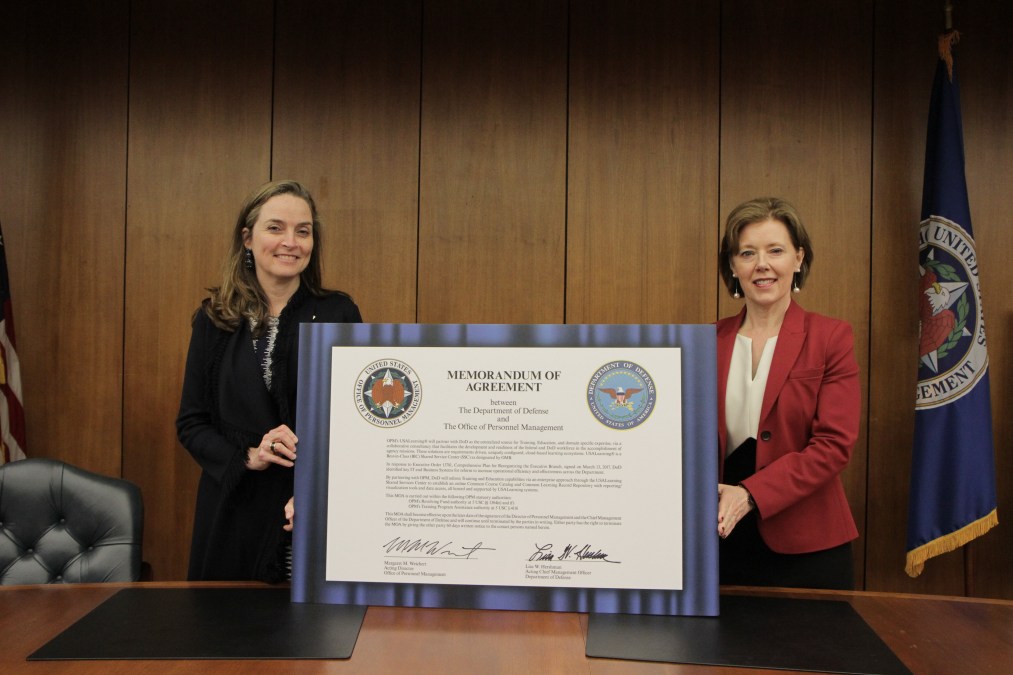 The Department of Defense entered into an agreement Friday to use the Office of Personnel Management's workforce training platform to streamline its own reskilling efforts.
USALearning began as an e-government initiative in 2004 and already supports more than 100 small agencies governmentwide with cloud-based learning systems.
Over 18 months, DoD's IT and Business Systems Reform Team identified more than 50,000 disparately managed learning courses across 161 distinct learning management systems it hopes to rein in by creating an online common course catalog and common learning record repository.
"Moving to the USALearning platform will reduce the redundancy in common learning courses and allow us to move to a DOD-wide common course catalogue," Lisa Hershman, acting chief management officer at DOD, told reporters at the signing of the memorandum of agreement. "This is a pivotal step in becoming easier to do business with."
The department estimates it will save $22 million in 2020 and $122 million over five years through cost-optimized training and education products and services. Hershman said she'd like to see the approximately 1,800 Pentagonwide business systems reduced to 25 in time.
DOD oversees the largest population in government, spending 304 million hours on learning annually. About 40,000 federal civilians change positions within DOD a year, a process that inevitably leads to unnecessary retraining that can run eight to 10 hours, said Margaret Weichert, acting director of OPM.
"If you change jobs and you did — let's say a cyber training in one job — it doesn't mean that you're going to get credit for that at your next job if it's on a different system," Weichert said. "You could actually be paying to train the same person twice in one year for a routine activity."
Kelly Sims will serve as program manager of category management for training and education, the functional lead of DOD's transition to USALearning. Her team is still being formed, but work is already being done to distill trainings down into competencies.
"Relative to the common course catalog, one of the challenges in DOD — and actually across government — is we all call courses different things, and a lot of those courses aren't specifically designed at the competency level," said William Peratino, deputy director of new and emerging human resources technologies at OPM.
"If you take that competency-based model, overlay it across the workforce, you can then distribute the workforce where you need them, when you need them, in specific roles and locations," he added.
USALearning is developing a career readiness portal for DOD so employees can get information on the courses they need to take to reach the next level of proficiency by searching for the relevant competencies.
DOD employees will have one learning record, and outcome data will be among the platform metrics looked at to determine what annual trainings are necessary.
"It's premature to say what's the right number of courses because there's a lot of redundancy that we need to identify," Weichert said.
DOD may find other competencies in areas like cybersecurity aren't being taught, leading to the creation of new courses, she added.
The department already has an advanced distributed learning initiative for testing emerging learning technologies, and USALearning will be able to deploy those across agency partners — a list that is expected to grow.
Weichert said there are "clear intersections" between what DOD is doing and the recently announced Federal Cyber Reskilling Academy, so OPM is seeking "highly interoperable, interconnected platforms."
USALearning's platform is "essentially a white-label solution," she added.