Trump budget requests small cut for IT in 2020
The White House has called for $87.79 billion in IT funding across civilian and defense agencies.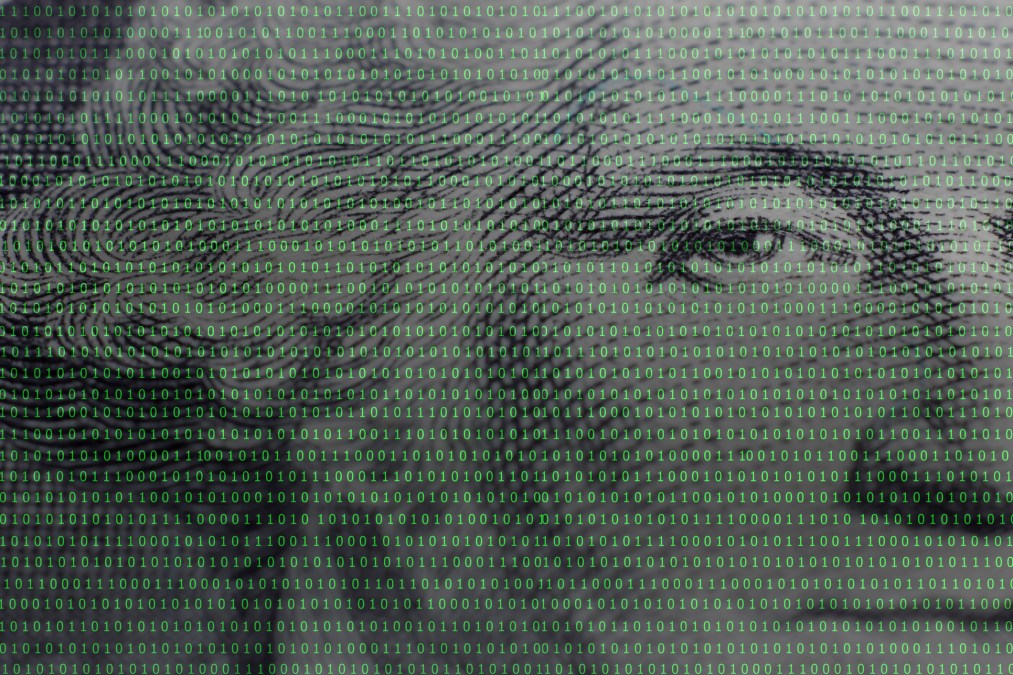 The numbers are in. A week after the soft launch of the president's budget request for fiscal 2020, it now appears the Trump administration may be looking to trim governmentwide IT funding next year.
The White House has called for $87.79 billion in IT funding across civilian and defense agencies, according to an analytical perspective released Monday. DOD's accounts would show some cuts, but it's unclear if that money might just be moved to the classified budget. Civilian agencies, meanwhile, would get a bump overall.
The fiscal 2020 top-line proposal represents a small dip from the estimated $87.97 billion the government plans to have spent on IT by the close of fiscal 2019, according to these latest numbers. Nevertheless, the roughly $182 million proposed cut is a notable one as it marks the first decline in requested top-line funding the IT budget has seen in years.

The cut appears to stem from the defense side of the IT budget, which dropped from 2019's $37.92 billion estimate to a proposal of $36.75 billion in fiscal 2020 — a difference of about $1.2 billion.
There's a possibility that the administration has proposed shifting that money to DOD's classified IT spending, which is not revealed in the public budget. In past years, the Office of Management and Budget estimated DOD's classified IT spending as part of its budget proposal. For its 2019 request, it didn't include DOD IT spending at all. This back-and-forth in reporting makes it difficult to consistently track spending proposals year to year.
Chris Cornillie, an analyst with Bloomberg Government, backed the assertion that DOD's dip in proposed spending may have to do with shifting it to classified IT. "Unclassified defense IT is down slightly, but I suspect it's just that more investments are being steered toward classified programs," he told FedScoop.
Asked about the cut, a senior administration official said it was "because classified IT investments is excluded."
This comes as the administration wants to increase overall defense spending by roughly 5 percent in 2020.
On the other hand, civilian-agency IT spending would continue to rise under this proposed budget — up from an estimated $50.05 billion in 2019 to $51.04 billion in 2020, which helps balance the drop on the defense side. The original fiscal 2019 IT budget request, which included only civilian spending, was for $45.8 billion.
(Reporting on civilian IT funding in the president's budget request has changed in recent years, too, namely with the removal of grants for state and local IT investments. Historically, that made up about 10 percent of the federal IT budget, about $9 billion.)
The proposed boost on the civilian side will certainly help the administration meet some of its broader IT goals. Mike Hettinger, a tech lobbyist and former congressional staffer, told FedScoop "the budget proposal hits all the highlights — IT modernization, [Tech Modernization Fund], cloud, workforce and cyber — all areas that deserve continued investment."
And ultimately, it's Congress that will make the final decision, through the appropriations process, on what the 2020 budget will be. The White House's request ends up as more of a policy document signaling the administration's priorities for the following year.
"Now it's up to Congress to make sure federal IT gets the right funding in the right priority areas," Hettinger said.
Breaking it down by departments, Homeland Security would remain the top civilian IT spender under this budget request with a proposed $7.1 billion budget. And notably, the Department of Veterans Affairs would see a big jump in proposed spending — up from $4.3 billion requested in 2019 to $6.1 billion in 2020, which would give it the second highest civilian IT budget, followed by the departments of Health and Human Services and Treasury. But most of VA's increase likely comes from its request of $1.6 billion for the modernization of its electronic health record.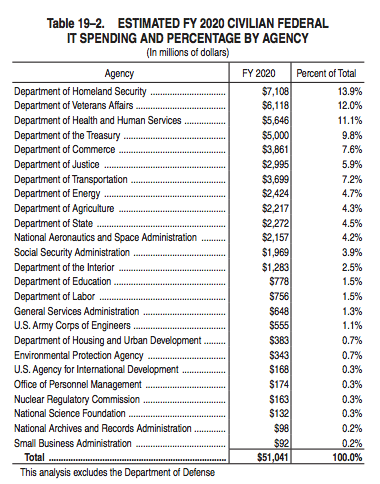 The bottom-five spenders account for only 1.3 percent of the total proposed IT budget for 2020.