FedScoop honors the 2018 FedScoop 50
Here are 50 leaders who made a significant impact in their departments, organizations and the country this year.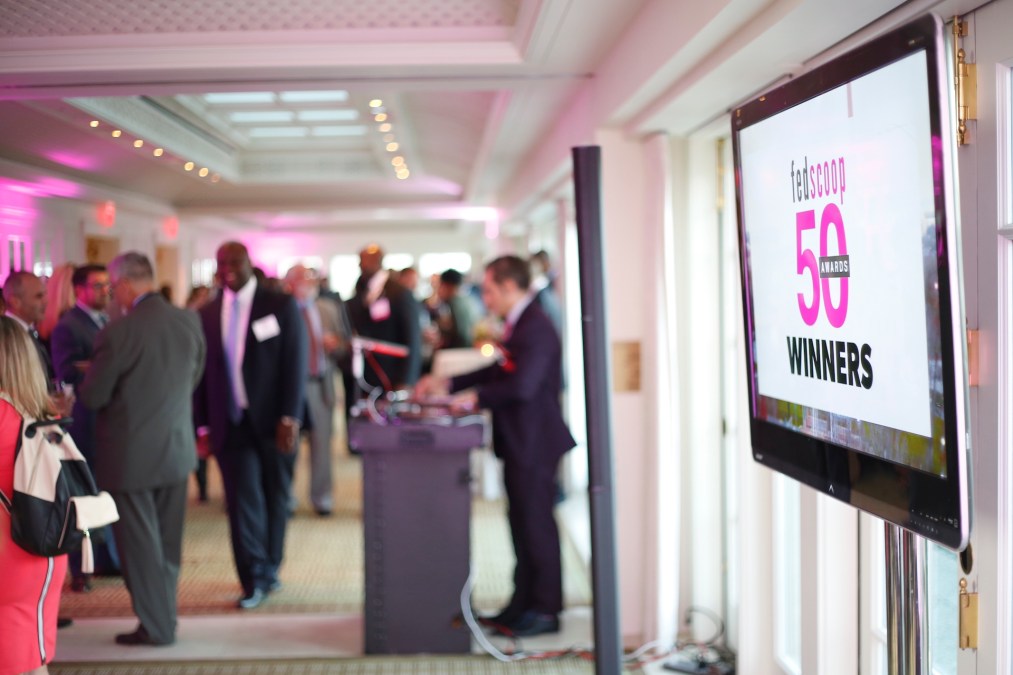 The past year has been a whirlwind of digital transformation in the federal technology community. And at the heart of the positive change are the brilliant leaders, innovative decision-makers and tireless workers dedicated to improving how the nation harnesses technology to better serve the American people.
Thursday night at the Hay-Adams Hotel, FedScoop and Scoop News Group honored the FedScoop 50: the top 50 leaders in the federal technology space who've made a lasting impact on the community, and the nation, in the past year.
FedScoop received more than 500,000 votes in September and October 2018, ultimately narrowing down more than 200 nominees to the top 50 leaders from the thousands of nominees in eight categories: Golden Gov, Federal Leadership, Cybersecurity Leader of the Year, Disruptor of the Year, Industry Leadership, Most Inspiring Up & Comer, Tech Champion of the Year, and Innovation of the Year.
Congratulations to the FedScoop 50 awardees and all of the more than 200 finalists who have made significant impacts in the past year.
This year's recipients, alphabetically by each category, are:
Golden Gov: Executive of the Year
Sue Gordon, Principal Deputy Director of National Intelligence, ODNI
Margie Graves, Deputy Federal CIO, Executive Office of the President
Kamala Harris, Senator (D-Calif.)
Suzette Kent, Federal CIO, Executive Office of the President
Chris Krebs, Undersecretary, National Protection & Programs Directorate, DHS
Chris Liddell, Deputy Chief of Staff for Policy Coordination, Executive Office of the President
Bill Marion, Acting CIO/A6 & Chief, Information Dominance, Air Force
Gen. Paul Nakasone, Director, NSA & Commander, U.S. Cyber Command
Vice Adm. Nancy Norton, Director, DISA
John Wagner, Deputy Executive Assistant Commissioner, Office of Field Operations, CBP
Margaret Weichert, Deputy Director, OMB & Acting Director, OPM
Dr. John Zangardi, CIO, DHS
Federal Leadership
Rafaa Abdalla, Deputy Chief, Transformation Delivery Division, USCIS, DHS
Gundeep Ahluwalia, CIO, Dept. of Labor
Guy Cavallo, Deputy CIO, SBA
Lt. Gen. Bruce Crawford, CIO/G-6, U.S. Army
Dana Deasy, CIO, DOD
Gregory Garcia, Deputy CIO/G-6, U.S. Army
Vicki Hildebrand, CIO, DOT
Carlene Ileto, Executive Director, Enterprise Business Management Office, DHS
Joe Klimavicz, CIO, DOJ
Frank Konieczny, CTO, U.S. Air Force
Matt Lira, Special Assistant to the President for Innovation Policy & Initiatives, Executive Office of the President
Gen. (Sel) Lorna Mahlock, CIO, U.S. Marine Corps
Nitin Naik, CTO, U.S. Census Bureau
Brig. Gen. (Ret.) Kevin Nally, CIO, U.S. Secret Service
Kelly Olson, Acting Director, TTS & Deputy Commissioner, FAS, GSA
Bobby Saxon, CTO, CCIIO, CMS
Grant Schneider, U.S. CISO, Executive Office of the President, OMB
Nancy Sieger, Acting Deputy CIO & Associate CIO, Applications Development, IRS
Lauren Thompson, Director, DOD/VA Interagency Program Office
Sean Torpey, Deputy Assistant Administrator for IT Services & Acting CIO, FAA
Gary Washington, CIO, USDA
Industry Leadership
Chris Balcik, VP of Federal, Samsung
Sean Berg, VP & GM, Global Governments and Critical Infrastructure, Forcepoint
Alexander Chapin, Executive Director, DOD/IC, McAfee
Ranil Dassanayaka, Director, Pre-Sales Architecture & Engineering, VMware
David Egts, Chief Technologist & Director North America Public Sector, Red Hat
Steve Harris, SVP & GM, Federal, Dell EMC
Don Maclean, Chief Cyber Security Technologist, DLT Solutions
Anthony Robbins, VP North America Public Sector, NVIDIA
Karen Terrell, VP of Public Sector, Adobe
Toni Townes-Whitley, President U.S. Regulated Industries, Microsoft
Chris Townsend, VP, Federal, Symantec
Cybersecurity Leader of the Year
Dan Commons, CISO & Director, Information Technology Risk Management, Federal Student Aid, Dept. of Education
John Felker, Director, National Cybersecurity & Communications Integration Center, DHS
Roger Greenwell, Chief, Cybersecurity, DISA
Disruptor of the Year
Gen. Garrett Yee, Acting Deputy CIO/G-6, U.S. Army
Tech Champion of the Year
Ashley Mahan, Acting Director, FedRAMP, GSA
Most Inspiring Up & Comer to Watch
Jordan Burris, Cybersecurity Adviser, OMB
Innovation of the Year
CXO Dashboards, USDA – Ted Kaouk(Chief Data Officer, USDA)