FedScoop's Top Women in Tech 2017: Sue Gordon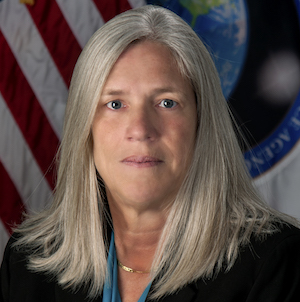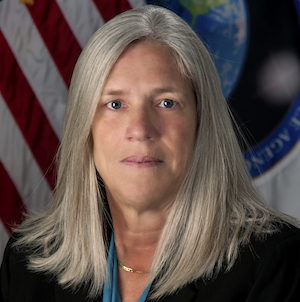 Sue Gordon, Deputy Director, National Geospatial-Intelligence Agency
Sue Gordon is the deputy director of the NGA, which serves the military and intelligence community and also assists in some civilian efforts, such as disaster relief.
Gordon gave her staff an aggressive timeline to move the agency to the cloud, and has also been pushing the department to focus on improving acquisition.
What would you say to young women who are thinking about a career in technology or related fields, or just starting out in their careers? What's the best advice you could offer for success?
One: do it because it's just totally fun. … But while you must command and be knowledgeable of technology, you will differentiate yourself if you always focus on what you will do with it. I find too many people get enamored with the technology, [but] the real value proposition is how do you use it. So my phrase is always, "you wanted to use it … have an idea in your mind of what you want to do with it." That does not diminish how good you have to be at the technology.
Two: Learn to make a decision. There are too many people who don't understand that every decision is a creative act. It involves some leap of some kind, otherwise, it would be called an equation. So learn how to make that leap. And learning how to make that leap, make that decision, is just having enough understanding of the issue that you believe you can bear the consequence.
What/who inspired you to get into your field of work?
I come from a family of public servants. My dad was a career naval officer, his dad worked for the Tennessee Valley Authority. So the first thing really is just serving my country. That is the big decision. … Also I can thank my parents who taught me to do my best. And this is a field that is so resplendent with opportunities, that if you do your best and kind of keep your head up and your nose down, you're going to find your way forward. So I think my inspiration was public service, insatiable curiosity, and a drive to be my best every day. And the rest I think was really just luck.
Why is it important to you to empower women and other minorities to join more technical and technology-related fields?
Because there's still so much creation to be done. And whether that creation is problem solving, or charting a new course, or discovering a new way to do things, that is the only thing that is going to carry us forward as a nation. And that depends on diversity of thought. It just does. And looking at things differently. And whether that comes from your family background … or whether we're all just wired a little bit differently on how we parse problems, to me, an advantage in technology is so necessary for national security. We have so much left to discover, and all of those discoveries require diversity of thought. I see it. I see it in the workplace … I saw it in a group of middle schoolers from Georgia, who had a summer camp opportunity to work with GIS. So they were from an underserved community, they knew nothing about geography or geospatial information. They were given an opportunity and some tools to learn about it and then they went out into the community and they thought of how they would apply it. And I saw these kids in one week pursue the questions that they were trying to answer so differently from how I would have done it. So here I am, I'm kind of a salty veteran … and these kids who knew nothing thought of pursuing it differently from how I would have. And not just, "oh isn't that cute," but relevantly differently.