FEMA plans new fire tracking system armed with machine learning and biometrics
The U.S. Fire Administration, a division of FEMA, wants to replace the National Fire Incident Reporting System in 2025.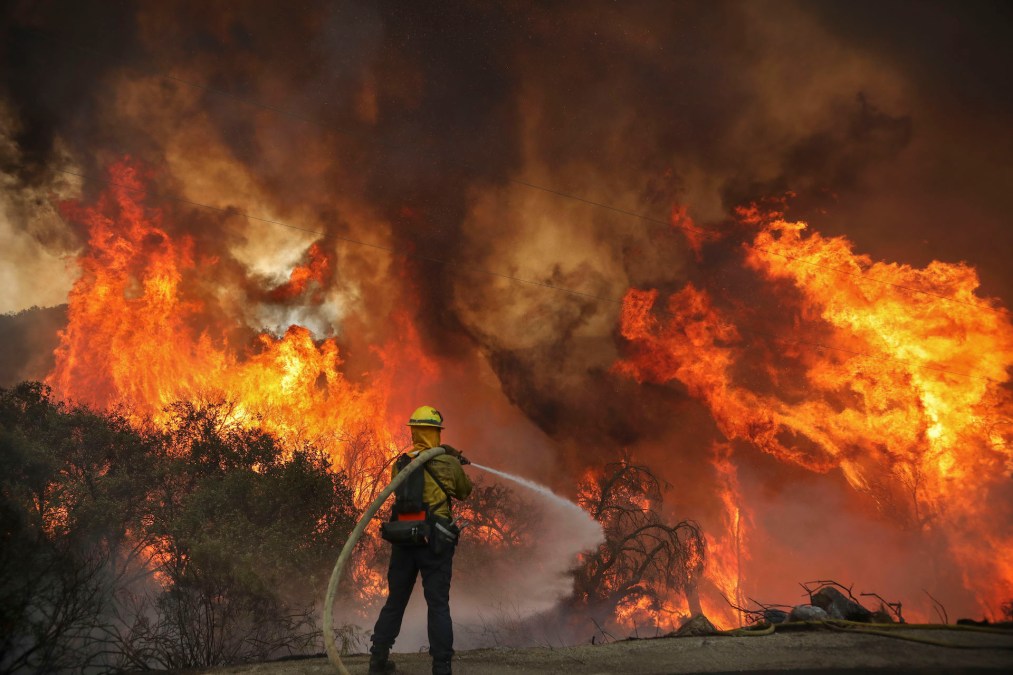 The Federal Emergency Management Agency (FEMA) has good reason to track fires across the country. Fires kill thousands of people and damage hundreds of thousands of homes across the US each year. Amid the battle against climate change, collecting data about these catastrophic disasters is more important than ever.
But there's a problem. The National Fire Incident Reporting System (NFIRS) — the government program used to track fires throughout the United States— is outdated. The tool, which originally relied on paper-based reports, was created by FEMA in the 1970s. The last time a new form of data was incorporated into the system was in 1995 when the Fire Administration started tracking Emergency Medical Services, or EMS, incidents. The system had its last technology update back in 2002.
As a result, NFIRS is wonky and ill-equipped for studying and combatting fires of the 21st century. At this point, the system doesn't allow fire departments to share information about the cause of the fires they encounter, which means the NFIRS only provides a limited amount of information. Another challenge is that only fire departments can access the NFIRS, blocking out other safety researchers from crucial data, said Michael Brooks, chief counsel for the Center for Auto Safety.
"For me to get data, I have to pull it off [and] put it on a DVD to share it with you," U.S. Fire Administrator Lori Moore-Merrell told FedScoop in a recent interview. "When Congress asks me something now, I have to say: 'I can't answer you for yesterday, but I can tell you 2021.' So you see the problem."
Now, the U.S. Fire Administration, which functions as a division of FEMA, is readying for a multi-year plan to completely overhaul its approach to fire incident reporting. The idea is to replace NFIRS with a new digital platform, announced in May, called the National Emergency Response Information System (NERIS).
NERIS is supposed to be technologically sophisticated and will involve machine learning algorithms, a new app for firefighters, and a cloud-based interface that's far more accessible. The goal is to make national fire incident data more robust — and more useful for dealing with the reality of climate change.
"A lot of the energy transitions happening across the U.S., whether it's with electric vehicles or […] micro-mobility products, these high energy storage systems all carry with them a lot of unintended fire risk," Moore-Merrell told FedScoop. "It's also imperative that we can track wildfires' movement."
But building NERIS won't be easy. Only some U.S. fire departments submit data to the current NFIRS system, which means only about 70 percent of fires that happen in the U.S. are actually recorded, according to Birgitte Messerschmidt, the research director at the National Fire Protection Association. In some sense, NERIS may mean starting from scratch, since fire departments across the U.S. will need to be onboarded. Firefighters will require training on how to use the new app for sharing data with FEMA.
Notably, the platform will sit outside the federal government and be operated by an outside contractor called Fire Safety Research Institute, a nonprofit arm of UL Solutions, a safety science company based in Illinois. The technology is supported by a contract awarded through DHS's Science and Technology Directorate program and has $2.2 million in funding for its first year.
There's also an ambitious timeline. The U.S. Fire Administration wants to have an initial system ready by early fall, start onboarding fire departments in 2024, and decommission the legacy program by 2025. Moore-Merrell told FedScoop that the program was already "a little behind anticipated," while Messerschmidt, from the NFPA, called the schedule "optimistic."
Still, both say the overhaul is critical. For example, the new data system could play a key role in tracking the fires created by batteries, a technology that will be key in stabilizing the electric grid and transitioning to electric vehicles. Right now, federal statistics on EV fires are relatively limited.
NERIS could also provide fire departments with new, real-time data to boost the efficacy of their responses more broadly. To make these improvements possible, NERIS will be set up to incorporate data sets from multiple federal agencies, such as data from the U.S. Census (including the American Housing Survey) and the National Weather Service. The system will also use Internet of Things components and physical sensors.
But one of the most important parts of the system will be the new app for firefighters. This app, which is also being built by the UL Solutions nonprofit, will allow firefighters to directly input information about incidents from their phones and then send that information back to the NERIS database. The system may eventually incorporate biometrics, which will allow firefighters to volunteer to share health data — like information collected from smart watches — and support firefighting safety research. The Fire Administration also plans to use machine learning to scour emergency data for patterns, which could inform fire chiefs' response to upcoming incidents.
"If there's a drought coming, or we've got weather forecasts saying, 'Hey, it's gonna be a particular red flag day,' we can identify 'Hey, there's a higher chance of wildland fires so we might need to restructure,'" explains Craig Weinschenk, a principal investigator on NERIS at the Fire Safety Research Institute. He added that any algorithms the system uses will be open source.
The government is slowly investing in ways to make better use of data collection, while also making that data more accessible. Eventually, researchers — and even Congress — are supposed to be able to request credentials so that they can access the NERIS system online, too.
In the meantime, Moore-Merrell said that the Fire Administration has not yet settled on a cloud provider for the system.
Time will tell whether FEMA will succeed in building NERIS — and according to schedule. Still, the new software is evidence that the government is investing in ways to make better use of data collection, while also making that data more accessible.
"What's becoming far more common is for there to be online data aggregators that pull together several of the raw data sources together and also serve them up visually, in usually a map format to the public," explains Kendra McLauchlan, a National Science Foundation program manager who focuses on wildfires. "Often, the case is that the raw data are in forms that cannot really be easily seen or used by the public."