In HHS Innovation Day speech, Kratsios offers a little insight into Trump's OSTP
The office is focused on getting regulatory "roadblocks" to innovation out of the way, he said.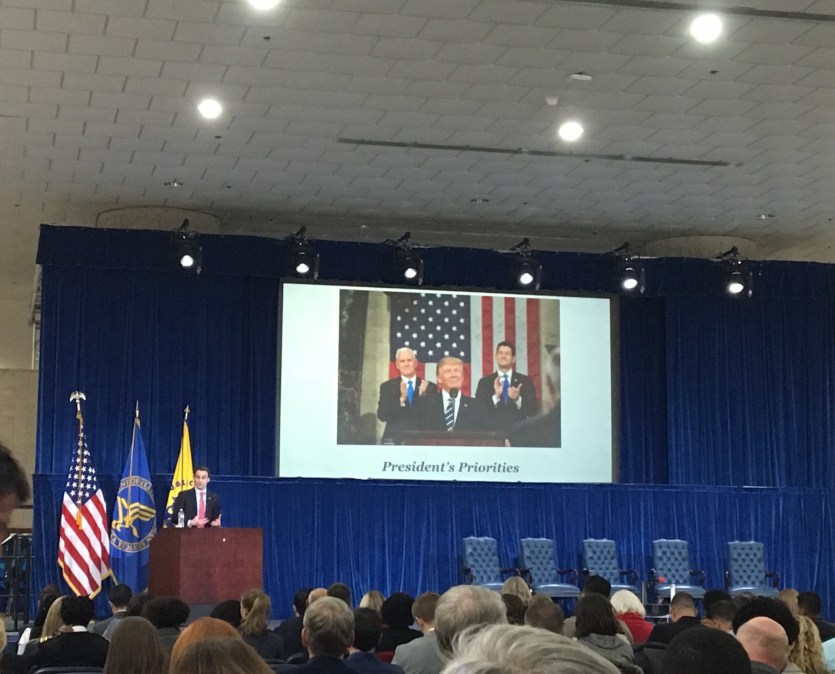 The White House's Office of Science and Technology Policy has been largely quiet under the Trump administration thus far, but according to Deputy CTO Michael Kratsios, there's plenty going on.
Kratsios spoke Wednesday morning at the Department of Health and Human Services' Innovation Day, a celebration of the agency's internal innovation accelerator Ignite. Kratsios used his time to outline the administration's tech and science priorities — among them expanding rural broadband, investing in nuclear energy and promoting STEM education.
It was another goal that got the most attention, though — a focus area Kratsios described as promoting emerging technology. In service of this, he told a crowd of HHS and other federal agency employees (with a few representatives of the private sector mixed in), the Trump administration is devoted to lowering what it perceives as a primary barrier to American innovation: regulation.
To illustrate his point, Kratsios brought up drones. Industry and government have often disagreed over what appropriate regulation of drone flight looks like. The Federal Aviation Administration is concerned with safety, while drone manufacturers argue that regulation can keep companies from testing their drones in the U.S., which in turn disadvantages them against international competition.
Perhaps not incidentally, one of the main events OSTP has hosted since President Trump was inaugurated was a forum on drones and other emerging tech during the White House's "tech week" in July. Then, in October, Trump signed a Presidential Memorandum aimed at encouraging the FAA to streamline the drone testing process.
This, Kratsios suggested, exemplifies the kind of work Trump's OSTP wants to do.
"If you're trying to do something innovative …" he told the audience, "and you run into these kinds of rules and regulations … we want to hear about that." It is the mission of his office, he added later, to "get those roadblocks out of the way."
Kratsios also spoke about the president's new space policy, something he said Vice President Mike Pence is especially excited about, and OSTP's interest in continuing to support the very early stage research that federal labs specialize in. He additionally reiterated the administration's commitment to modernizing federal IT — just as the Office of American Innovation unveiled its finalized IT Modernization Report.
Kratsios did not address the fact that, as Donald Trump nears one year in office, OSTP still lacks a director and CTO.