For some D.C.-area high-schoolers, government IT offers hands-on experience
In a time when government is concerned about recruiting and retaining more young people in its IT and cybersecurity jobs, a D.C.-area program called On-Ramps to Careers seeks to connect high school students with technology internships.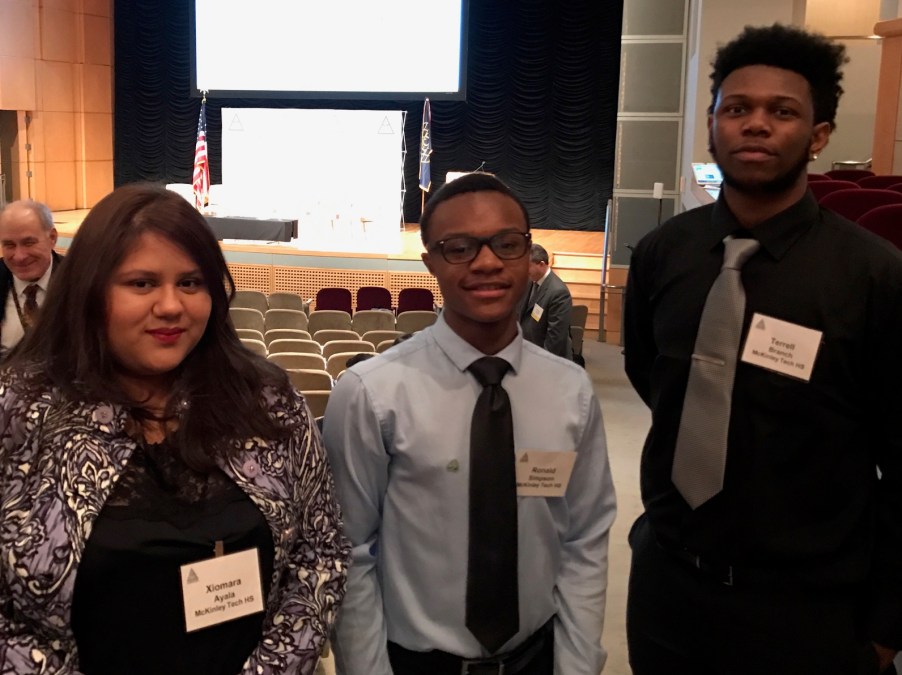 Washington, D.C.-area high school senior Ronald Simpson already has some impressive credentials on his resume.
Currently at Airbnb, he also spent time at Accenture and interned for the Department of Homeland Security's Cyber Security Incident Response Team, where he was able to conduct network analysis, white-box and black-box testing and penetration testing, he told FedScoop. He credits a D.C.-area program with giving him unusual opportunities for someone his age. In a time where government is concerned about recruiting and retaining more young people in its IT and cybersecurity jobs, the program called On-Ramps to Careers seeks to connect high school students with technology internships.
The program — which began in 2013 – is gearing up for its fifth summer of internships, many of which will likely place students in government agencies, or with government contractors. The program's students in the past have interned at the National Transportation Safety Board, the Federal Aviation Administration, the Federal Trade Commission and the Bureau of Land Management, and companies such as Microsoft and General Dynamics, said the program's founder, Robert Holm.
"They would have me test their network, and their methods of cyber defense against attacks," Simpson said of his time at DHS. "And once they gave me the materials to hack, they would try to have me hack their servers and stuff. Of course it didn't work because they had a good defense, but it still was a nice experience to see how that feels, because that may be a possible work field. So it felt pretty good. I didn't think the Department of Homeland Security would let a high school student have this kind of opportunity."
Accessing D.C.'s IT opportunities early on
The program serves eight D.C.-area high schools, partnering with businesses to facilitate the internships, Holm told FedScoop. There were 65 students interning last summer, and the program is aiming for 90 this summer, he said.
"This is the second-largest labor market for IT in the country and there are huge number of young people who don't have access to those kinds of jobs in this region, particularly young people of color," Holm said. "So the internships give them access to those networks, of course inspiration about the field, and experience to put on their not only their resume for jobs but for colleges. It helps them stand out for scholarships and college applications too."
He continued: "If they say, interned at Accenture and General Dynamics — you don't read that in most high school kids' [resumes]. I worked at Potbelly or Chipotle. So that's a huge helping impact."
Simpson is headed to West Virginia University once he graduates, where he plans to study computer science and graphic design.
Simpson concluded his internship with DHS in late February. When asked if he would ever work for government, he kept all possibilities open.
"If the government needs me for anything involving technology I would be there. I wouldn't mind checking to see if they're having any bad traffic in their networks and seeing if their information is secure. I wouldn't mind doing that. I just want to be versatile, in every field," he said.
Defining paths
Students also worked with local government. Through her internship with Accenture last summer, Senior Xiomara Ayala worked with the D.C. Office of the Deputy Mayor for Planning and Economic Development on social media and technology strategies.
"Getting to work with the deputy mayor, getting to see his side of points on current things, that was very impactful," she said.
Ayala wants to study graphic design and marketing.
"It's a great experience," she said of being a part of On-Ramps to Careers. "You'll get to network with a lot of companies, you get to meet a lot of different people. And it gives you an idea — when you intern with a company — of if you actually want to go down that road for the rest of your life, and if you love what you do."
Senior Terrell Branch said his internships through On-Ramps to Careers really helped him figure out what he wanted to do.
"I'm going to major in computer science and I'm going to minor in cybersecurity. It's definitely helped me because when I came into high school I thought I was going to be an engineer. That's what I thought I was going to be but different experiences brought me [to]: I can still be an engineer. But computer science is where my interest is at."