How wireless tech and Network-as-a-Service offer fast-track to modernization
Advances in 5G, Multi-Access Edge Computing, Fixed Wireless Access, small-cell and other technologies allow agencies to accelerate network modernization.
Federal IT officials have been actively updating their communications networks in recent years to take advantage of the convergence of IP-based voice, video, and data — and meet federal requirements to modernize their systems using the government's Enterprise Infrastructure Solutions contract vehicle.
What agencies have underestimated, however, is how rapidly network infrastructure is evolving. The expanding capabilities of 5G, Multi-Access Edge Computing (MEC), Fixed Wireless Access (FWA) that uses 4G and 5G radio spectrum, small-cell Wi-Fi extension technology, low-latency satellite connections and higher capacity broadband capabilities are collectively redefining the nature of network infrastructure.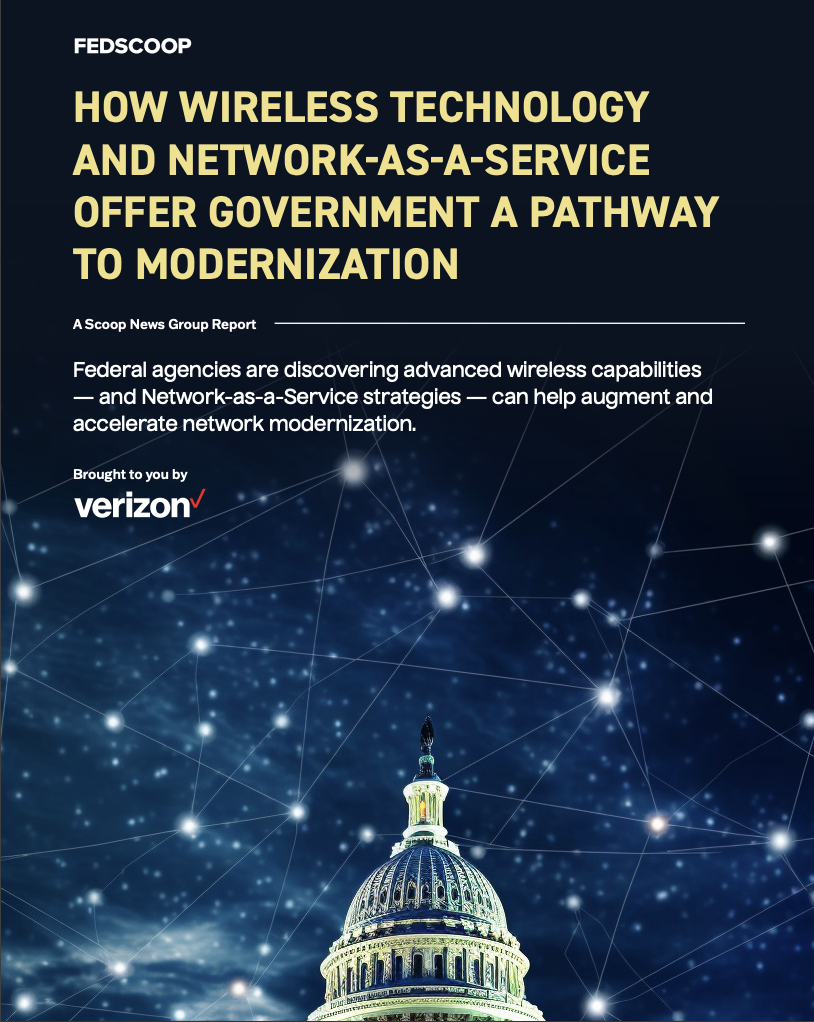 Collectively, those capabilities offer civilian and defense agencies a new generation of network versatility – and the ability to reimagine and rearchitect how they support their workforces around the globe asserts a new report from Scoop News Group underwritten by Verizon.
The report notes that federal agencies have made monumental strides in modernizing parts of their IT operations. However, without also modernizing their underlying network services to leverage those cloud capabilities, "agencies risk the prospects of maintaining the equivalent of a newly renovated office tower that kept the aging, sub-par wiring and plumbing in place behind the walls," the report suggests.
That prevents agencies from taking advantage of more agile networking and security capabilities and leaves them vulnerable to increasing strains on their networks, argues Brian Schromsky, Managing Partner, 5G Public Sector at Verizon, in the report.
He points to several critical factors that make network modernization more crucial than ever, including:
Growing pressures to handle data effectively.
The need for ubiquitous and resilient connectivity.
Support for a mobile and hybrid workforce.
Escalating risks of security breaches.
Fortunately, just as agencies discovered the inherent advantages of adopting cloud-based services for their infrastructure, platforms and applications, agencies have access to many of those same advantages by adopting a Network-as-a-Service (NaaS) model and by harnessing a new generation of wireless networking capabilities, the report says.
Recent advances in network technology are poised to give agencies a new kind of advantage by being able to augment and even leapfrog legacy networks rather than merely upgrade them, says Schromsky.
"It's now possible to establish high-speed, secure and reliable connectivity with fixed wireless access without requiring cable or fiber to run underground. Private networking is a great choice for government agencies, as well as the private sector partners who help them build, operate, and maintain public infrastructure because it provides high levels of security and reliability," he says in the report.
NaaS solutions, meanwhile, like those available from Verizon, allow enterprises to adopt agile, automated network platforms consumed as a service. For agencies, that means moving from vision to implementation more quickly — and connecting users to applications and data across evolving cloud and work environments more reliably.
The explosion of data and metadata accompanying artificial intelligence and machine learning work requires advanced levels of automation and network function virtualization (NFV) to optimize performance, the report argues. Turning over the mechanics of network management to a NaaS provider and taking advantage of newer wireless capabilities, offer agencies the means to roll out greater bandwidth capacity and increase network security more quickly, and focus more on mission outcomes and less on configuration bottlenecks.
This article was produced by Scoop News Group, for FedScoop and sponsored by Verizon.