Government leaders share strategies for embracing AI at federal innovation summit
Great innovation comes from partnering together, says Microsoft's Federal senior vice president at a gathering of federal leaders on harnessing artificial intelligence.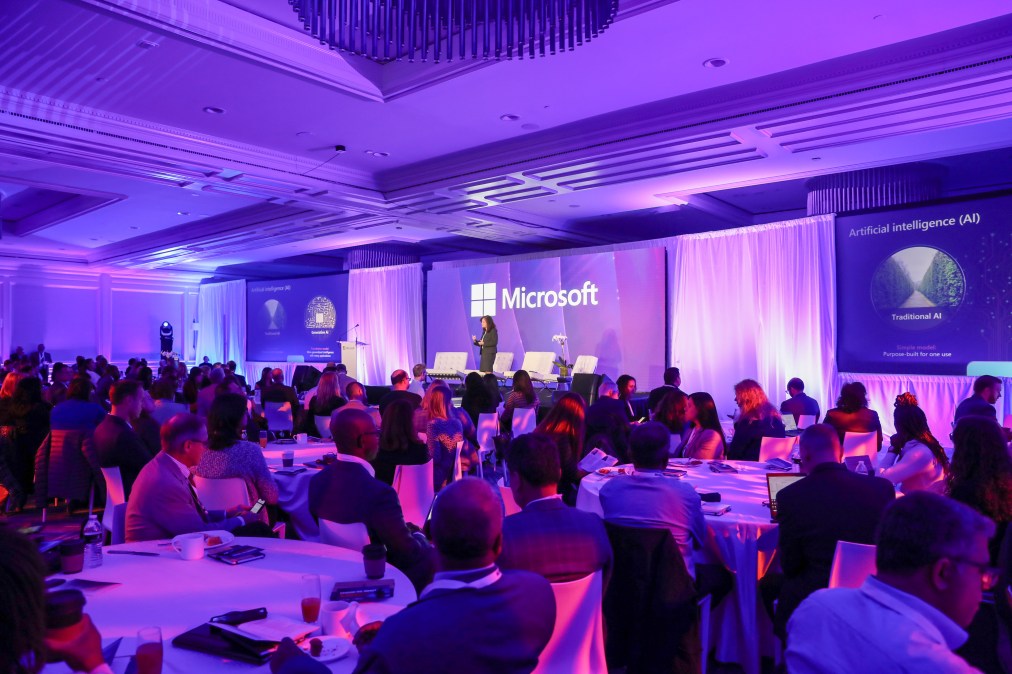 Technology and innovation leaders from the Office of Management and Budget, the Federal Reserve, the Department of State, the U.S. Air Force, the Pacific Northwest National Laboratory and other agencies highlighted how artificial intelligence (AI) is revolutionizing government operations and services at a federal forum on November 1.
In a series of panel discussions at the "Federal Innovation Series: Leading in the Era of AI" event, agency officials and technology experts from Microsoft touched on ways government agencies are harnessing AI to enhance mission support, ensure responsible innovation, and bolster cybersecurity. The event was presented by FedScoop and sponsored by Microsoft.
Candice Ling, senior vice president of Microsoft's federal business, kicked off the conference with a call to action for government agencies to embark on a transformational journey through a process of co-innovation and collaboration to modernize government operations. Ling highlighted Microsoft's commitment to responsible and ethical AI solutions to safeguard government systems. She stressed how the company's principles for responsible AI — including accountability, inclusiveness, reliability, safety, fairness, transparency, and privacy and security — and Microsoft's experience working with federal agencies can help agencies capitalize on AI to innovate faster and more effectively.
Eileen Vidrine, chief data and AI officer at the Department of Air Force, outlined the department's goals to provide the necessary framework to "operationalize data and AI for decision advantage" and to be "AI-ready by 2025 and AI-competitive by 2027." She also reiterated the importance of partnerships across the Air Force, the Defense Department, industry and academia to keep pace with AI's potential.
Federal Reserve System Chief Innovation Officer Sunayna Tuteja spoke about the importance of problem-solving and the need for appropriate guardrails when designing AI solutions. She encouraged government leaders in the audience to understand but get comfortable with the risks of AI and embrace innovation's inherent uncertainty. The public sector doesn't spend enough time thinking about the risk of not doing something, she told the audience.
Chris DeRusha, Federal CISO at OMB, Ginny Badanes, senior director at Microsoft Democracy Forward, and Glen Johnson, chief technology officer at the Department of State, delved into AI's role in revolutionizing government cybersecurity. AI dramatically expands the capacity of federal agencies to detect anomalies, analyze data, and automate responses to cyber threats, they said.
Pritha Mehra, CIO of the U.S. Postal Service, revealed how USPS is leveraging AI to provide "accurate predictions of where your package is, when it's going to be delivered and within the exact time." AI is also helping USPS to document and rewrite legacy code, automate customer calls concerning passport applications and increase its ability to detect fraud, she said.
Brian Abrahamson, associate laboratory director and chief digital officer at Pacific Northwest National Laboratory, urged attendees to educate themselves on the possibilities of AI. He emphasized the importance of pilot projects and shared examples of AI's transformative applications.
Michael Pencina, chief data scientist at Duke Health and vice dean for data science at the Duke University School of Medicine, joined Jennifer Rostami, assistant commissioner at the General Services Administration's Technology Transformation Services unit, to discuss the need for ground rules around AI. They underscored the importance of ensuring transparency, trustworthiness, and fairness in applying AI in government. Building trust through governance frameworks and developing blueprints for employees and partners are critical steps public sector leaders need to take, they said.
Also speaking at the event were Patricia O'Neill-Brown, senior advisor at the Defense Intelligence; Kimberly Sablon, principal director for trusted AI and autonomy at the Department of Defense; and James-Christian Blockwood, executive vice president at the Partnership for Public Service. Adding additional perspective from Microsoft were Corporate Vice President, U.S. Government Affairs Fred Humphries; Microsoft Federal General Manager Brian Keith; Director for AI Public Policy Danyelle Solomon; Federal Security CTO Steve Faehl; and Vice President Federal Civilian Heidi Kobylski.
The innovation summit came on the heels of a landmark executive order focused on artificial intelligence and new OMB guidance issued by the Biden administration earlier in the week.
Also noted during the event was a new research report, "Gauging the impact of Generative AI on Government," released by FedScoop last month, which examined how federal agency leaders are preparing to adopt AI. Microsoft underwrote the report.
Learn more about how AI can support government services from Microsoft.