Intelligence agency's hackathon casts a net for food security
Sometimes an intelligence agency has to care about fish transport in Morocco to make progress on delivering technology-driven intelligence.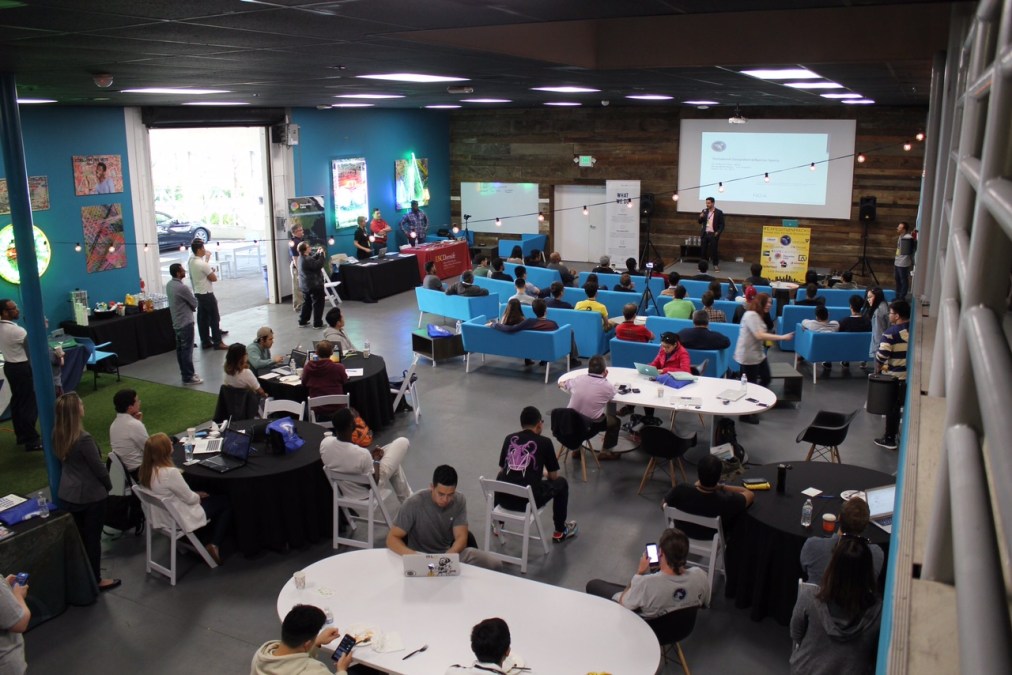 Sometimes an intelligence agency has to care about fish transport in Morocco to make progress on delivering technology-driven intelligence.
A team of students from the University of Southern California won the National Geospatial-Intelligence Agency's most recent hackathon in Los Angeles for creating a different approach to facilitating food security in Morocco through a proposed solution that optimizes the transportation of fish. The hackathon is one of many ways the agency is trying to find new approaches to its complex problems — and recruit talent when competing with the fast-paced, high-paying tech industry.
The agency set a goal for the two-day event of using geospatial information "to better understand, model, visualize and monitor the nexus between food security and regional stability in Morocco."
Food insecurity can be an indicator for potential crisis in a region, said U.S. Air Force Capt. Adam Satterfield, NGA's lead for crowd sourced-driven innovation.
"It's interesting because our mission is so broad that we touch a lot of the same areas that industry and academia are interested in, and financial institutions are pretty much doing the same thing with gathering information, we just use it for a different purpose," Satterfield told FedScoop. "And food security is important specifically because that's an indication of things that may be about to happen. For example, if you have individuals that don't have access to food obviously behaviors are going to change, maybe you're going to have some folks that will be moving regionally. So it's kind of a tipping and queuing for us to say: there's something here that we maybe need to focus a little bit more."
Starting Saturday and continuing through the night into Sunday, teams worked to come up with innovative solutions — using data — to address food security. The winning team snagged a first-place prize of $3,000, and a crowd choice award of $1,000.
"Because these events are so short, they really only get about 24 hours of actual coding and they're up all night, so we don't expect a full-blown product that's going to change the agency overnight," Satterfield said. "But what we do expect is to get some ideas that we then can take, develop out and then hopefully come back in the future, in the near future, and really integrate those to a level that's appropriate to actually change how our analysts execute their tradecraft."
The winning solution
About 40 percent of fish in Morocco get spoiled before they even reach their intended destination, Satterfield said. And the winning team's solution tried to address that.
"They were optimizing where the food went, to the area of most need, so they looked at optimizing routes… for example: If you have fish that's being harvested in a certain area, but being shipped all the way to the north, but there's people in the south that are hungry, why wouldn't you just send that there first, and then maybe send some other foods so that you can really address the issue at heart, which is the hunger issue," Satterfield said.
NGA analysts were interested in the winning team's approach, and what data it used, he said.
According to the team, its solution: "aims to create a fishery distribution network from the major fishing ports to the populated inland cities. A shortest path will be generated between the port and the city based on the road work analysis, and our algorithm decides the amount of fish that gets distributed to the city with reference to the population in that region."
Yao-Yi Chiang, assistant professor of spatial sciences at USC, was one of the hackathon's judges.
"The winning team, the fishery one, was really surprising because most of the other teams focused on crops. And this team had the angle of: We're solving the food security problem of not just crops. Morocco has nice fisheries. So how do we efficiently enable this, how do we show this in an interface that policymakers can understand?" Chiang said to FedScoop.
Other submissions to the hackathon included a way to predicted wheat and barley consumption, and a model for a Food Security Risk Index.
"They're all focused on one problem, but the way they tackle it and the data sets that they pull is so diverse," Satterfield said of the hackathon participants. "And that's one of the values of doing one of these types of events, is we really don't know what they're going to do. But they can key our analysts to say: maybe we should be thinking about that as well."
Hackathons: a recruitment opportunity
"Bring your resume if you're looking for a new career," said a website for the event. "NGA, Vencore, and others will be there looking for you."
Though secretive by design, NGA has been working to become more open to bring in industry innovations — and recruit talent.
Hackathons are one way for NGA to find potential talent, Satterfield said. The agency can't always compete in salary with companies like Facebook, Google or Microsoft, he acknowledged.
"But what we can offer, and what we try to do when we go to these hackathons by elevating our brand, is let them know that they have an opportunity to work on a problem that's really important, to work on datasets that are unique that these other companies don't have and to learn things that you wouldn't learn at a traditional tech startup," he said. "And you can take that experience and go somewhere else if it doesn't work out, which we encourage that as well, because that's going to make our tech industry that much better. But we also do hope that we retain and keep some of them
Chiang said hackathons are a great opportunity for students of different backgrounds to collaborate; teams could include coders and GIS experts working together, for example. And attending government-sponsored hackathons allows them to work on "real data sets to solve real questions."
"For a government to sponsor a hackathon, the main benefit I see here is the government provides us really nice, concrete questions," he said. "And it's real world questions that the students can one day build something that they feel like they can make an impact."