OSTP director stresses importance of AI talent search following executive order
Office of Science and Technology Policy and other consulting agencies have 45 days to plan a "national surge in AI talent in the federal government," per Biden's AI EO.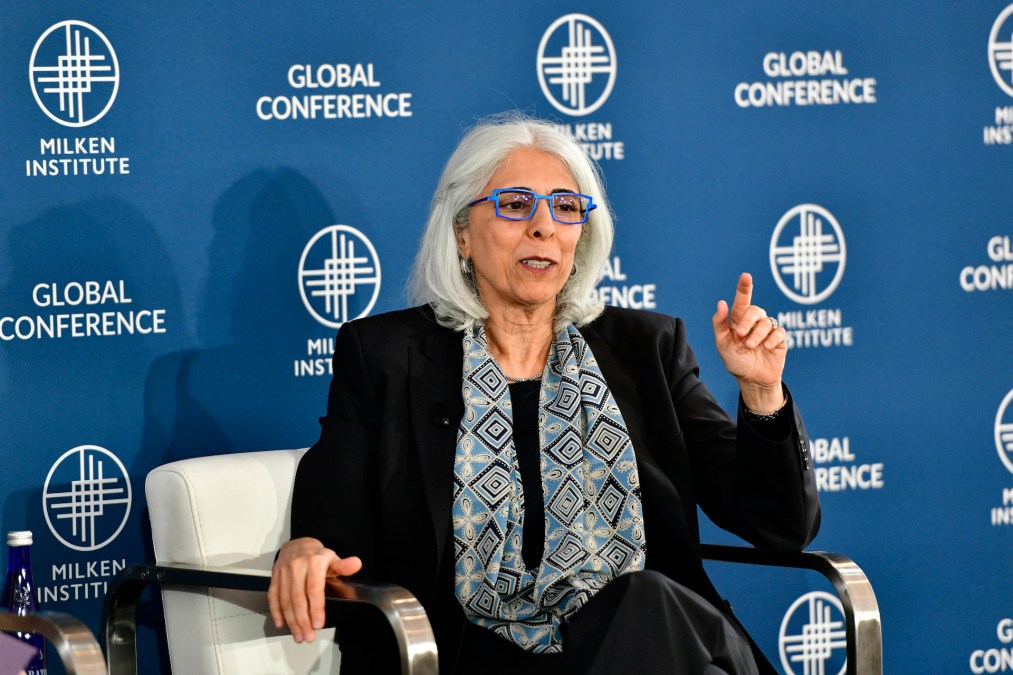 The talent search for artificial intelligence expertise has begun across federal agencies, and the clock set by the AI executive order is ticking.
Office of Science and Technology Policy Director Arati Prabhakar wants to get "great people into government" to assist in regulating and managing AI uses across federal departments and agencies, she said Tuesday in an interview with FedScoop. Prabhakar said that the office is excited to search for AI talent — one of OSTP's primary tasks as laid out in the long-awaited AI executive order.
One of the highlights of the order includes a push to increase AI expertise in government. OSTP, along with a handful of other agencies, has 45 days to plan a "national surge in AI talent in the federal government." The office is called to carry out the same talent recruitment task for other emerging technologies as well.
The AI talent search has already begun in other agencies and departments, including the General Services Administration, where Administrator Robin Carnahan is focused on hiring tech experts to update the agency's processes and systems, and at the Office of Personnel Management, where Director Kiran Ahuja said in a July memo that the agency would provide other agencies with "general and technical AI competencies" to be used for the hiring and training of AI talent.
Said Prabhakar: "We are looking for great people who want to serve their country and do big things. All kinds of AI expertise. That can be deep machine learning expertise about driving research, but also people who know how to think about how [AI is] going to affect people's lives and maybe be part of how we can regulate and manage it."
OSTP showcased different federal research and development projects across agencies and departments Tuesday during a White House "demo day." Prabhakar said she wanted "people to be able to sample and see everything" at the event.
Prabhakar attributed the beginning of the conception for the demonstration event to President Joe Biden and how he "always talks about how America can be defined in a single word, and that word is 'possibilities.'"
"That's why scientists and engineers come to work every single day. That's what we get to contribute, is pathways into the future that we want," Prabhakar said. "I know that federal [research and development] across so many different agencies and departments, it's just opening these vistas for the future and in so many different areas. … When you see it all together, you start saying, 'This is what a great nation does to create its future.' We want to give people that experience and celebrate it."
Biden's EO states that OSTP and consulting agencies "shall identify priority mission areas for increased federal government AI talent, the types of talent that are highest priority to recruit and develop to ensure adequate implementation of this order and use of relevant enforcement and regulatory authorities to address AI risks, and accelerated hiring pathways."
Carnahan, meanwhile, said earlier this year that the GSA is "laser-focused" on hiring experts to update digital services that the agency uses. The EO tasks the GSA with recruiting talent into government, and Carnahan plans to carry out this responsibility partially through the Presidential Innovation Fellows and the U.S. Digital Corps, according to an April interview with FedScoop.
Additionally, the OPM is set to coordinate the rapid advance of a federal AI workforce with OSTP and other consulting agencies, according to the EO.
Ahuja noted that a major aspect of Biden's executive order is recruiting tech workers that "can help us scale AI and the federal government." When asked whether hiring for AI is different from hiring for cyber or IT positions, Ahuja said no, pointing to competencies that OPM released in July for AI-related positions in government. "I think we have to perfect the model of how we hire and then incorporate AI into it," she said.
Talent acquisition is just one part of many agencies' involvement with the EO. Prabhakar said that now that it has been signed, the country has a responsibility to establish safe usage and risk management, while also focusing on the implications for work.
AI is "powerful, it's broad, it's fast-moving, it's going to change our lives in lots and lots of different ways," Prabhakar said. "It's a power that could be used for good and for ill. [Biden] was very clear from the beginning that our job, the country's job, is to manage the risk so that we can get all of the benefits that come with it."
And while the EO "takes some very important, substantial steps" with regard to safety, privacy, risks for bias and implications for work, Prabhakar acknowledged that "those are only the first steps."
Madison Alder contributed to this article.