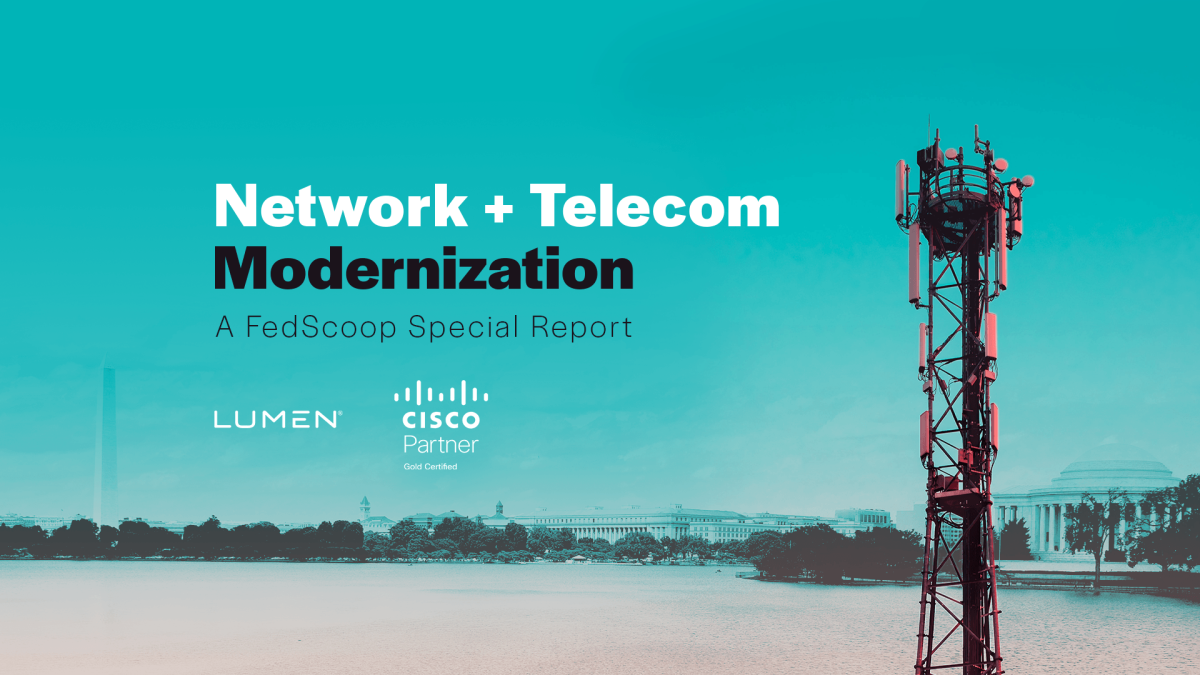 Network + Telecom Modernization - A FedScoop Special Report
The federal government has ambitious plans for digital transformation and technology modernization. But to rapidly adopt 21st century IT capabilities — things like DevSecOps, cloud computing, big data analytics and artificial intelligence — agencies must first modernize their networks.
The backbone of any organization's enterprise IT architecture, the network is the foundation upon which the rest of the IT stack sits.
Under the 15-year, $50 billion Enterprise Infrastructure Solutions (EIS) contracting vehicle, the federal government is poised to establish a next-generation network and telecommunications infrastructure capable of supporting the modernization it demands. And along the way, agencies will hopefully save some money too.
"EIS is a catalyst for IT modernization. To expand bandwidth, EIS will help agencies move away from time-division multiplexing technology to more modern services," Bill Zielinski, the former head of the General Services Administration's IT acquisition team, said previously. "It will replace legacy voice services with Voice over Internet Protocol or unified communications. Rather than having each agency design and operate multiple parts of a network, EIS will use cost-saving managed services, such as cloud migration."
Lawmakers and other watchdogs have realized the importance this contract holds to federal IT. GSA hit some early bumps in the road during the transition to EIS, worrying onlookers that it could be repeating previous struggles experienced during the move to its preceding network and telecom contract vehicle, Networx. The House Oversight and Reform Committee added agencies' progress transitioning to EIS as a category on its biannual FITARA Scorecard. The Government Accountability Office and inspectors general are also keeping tabs on the transition. And nonprofit and industry groups like ACT-IAC have a vested interest as well.
"EIS gives agencies forward-leaning and flexible contract solutions that have been designed in collaboration with industry partners and provides streamlined access to mission-essential, cutting-edge services needed to modernize IT infrastructure now and for years to come," wrote the authors of a recent ACT-IAC report on EIS. "EIS is especially important and timely to the Administration as they are implementing government-wide plans to modernize IT and telecommunications infrastructures while also improving security across all layers. The capabilities included in EIS are essential to agencies meeting those infrastructure and security requirements."
Three years into the EIS contract, there's still a great deal of work to be done. Agencies face several deadlines in the coming years: By the end of next March, they must be 50% transitioned off of the legacy Networx contract. By the end of the following March, that number must be 90%, before completely closing out their Networx inventory and services and moving to EIS by Sept. 30, 2022.
This special report, which will be updated in the weeks following its initial publication, will explore the move to EIS, other network modernization initiatives ongoing across government, and what progress has been made in setting the foundation for transformation.