Congressional AI proponent Ted Lieu pushes back on ChatGPT restrictions placed by House administrative office
Rep. Ted Lieu criticized CAO restrictions on ChatGPT use and said "my staff can basically do whatever they want."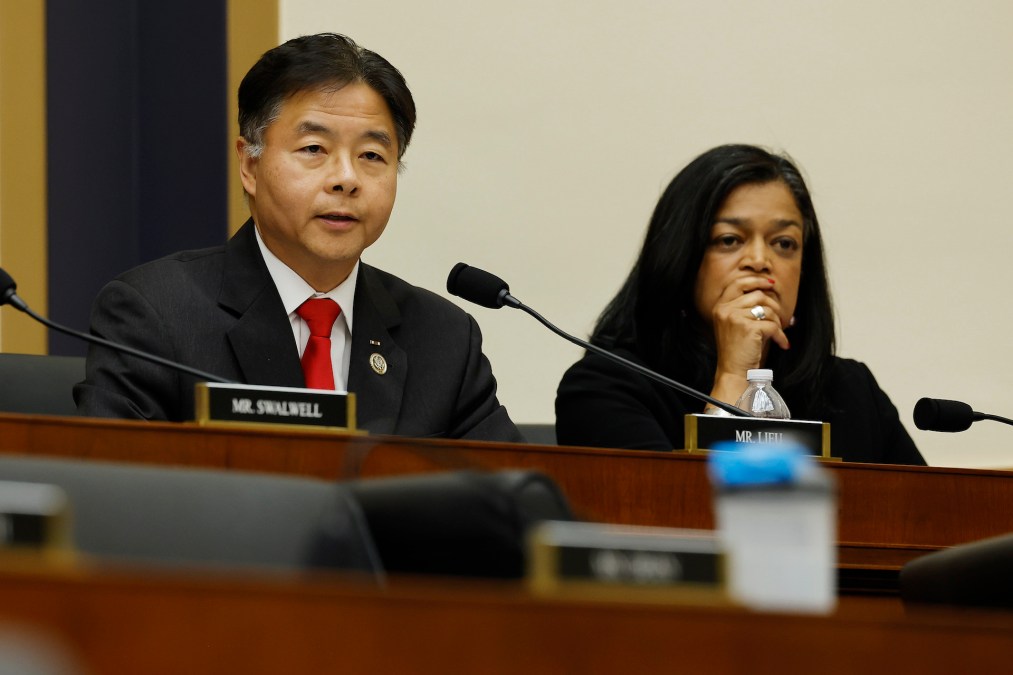 Rep. Ted Lieu, the California Democrat who's a major proponent of artificial intelligence policymaking in Congress, pushed back against the House Chief Administrative Office's new guardrails around the use of popular generative AI tool ChatGPT, telling FedScoop this week that congressional staff should be free to use AI tools for any purposes they see fit.
Earlier this week, Chief Administrative Officer Catherine L. Szpindor sent a memo to all House staff saying that offices are only authorized to use the paid version of the AI tool known as ChatGPT Plus, which has a $20-per-month subscription that "incorporates important privacy features that are necessary to protect House data."
Furthermore, Szpindor highlighted that offices are allowed to use the chatbot for "research and evaluation only" and are "not authorized to incorporate it into regular workflow" or use it for any official purposes.
Lieu — a member of the House Artificial Intelligence Caucus and one of three members of Congress with a computer science degree — pushed back on the CAO's new rules during an interview with FedScoop, saying he planned to reach out to the CAO with a number of questions on the decision.
"I don't believe all this is [necessary]. I don't understand why they're making any statements about workflow. I think that's something within the province of each member's office, and each member can figure out how they want the workflow of their office to function," Lieu told FedScoop during an interview on the subject of AI in Congress.
"And so if they've determined that ChatGPT is not a security threat, which it looks like they've determined that, then I think every office should use it as they deem fit," he said.
FedScoop first reported in April that the House of Representatives' digital service had obtained 40 licenses of ChatGPT Plus, the first publicized congressional use of the popular AI tool. House offices said they were using ChatGPT for generating constituent response drafts and press documents, summarizing large amounts of text in speeches, and drafting policy papers or, in some cases, bill language.
Earlier this year, Lieu introduced the first measure in Congress that was written entirely by ChatGPT with a nonbinding resolution on how to comprehensively regulate AI in Congress.
Similarly, he said he gives his staff immense freedom to use tech tools without restrictions.
"So I put an enormous amount of trust in my staff, and my staff can basically do whatever they want. So if they feel like looking something up on Google Bard they can do that. If they want to use ChatGPT to draft, do the first draft of a document [or policy], they can do that," Lieu said.
The California congressman said his staff regularly uses ChatGPT for regular day–to–day purposes but wasn't sure if they use the CAO-authorized ChatGPT Plus service. Lieu added that his staff would look into getting the paid version of the tool if they weren't already using it.
The CAO's ChatGPT guidance comes as lawmakers from both parties and in both chambers are rushing to craft legislation on how to regulate AI, including Senate Majority Leader Chuck Schumer, D-NY., and Lieu, who is pushing for a new bipartisan AI regulatory commission.
The House Chief Administrative Office said the memo is not enforceable by law but is intended to provide best practice guidance based on internal research and procedures.
"Our intent in providing this information on ChatGPT was to explain best practice guidance consistent with our approved processes and procedures," a CAO spokesperson told FedScoop. "Our House Cyber team will study this closely and continue to advise offices on the appropriate use of emerging technology."
The CAO memo regarding limits and restrictions on ChatGPT use in Congress was first reported by Axios.