The third Congressional Hackathon tackles openness and faith in government
People don't trust their government. Is there a hack for that?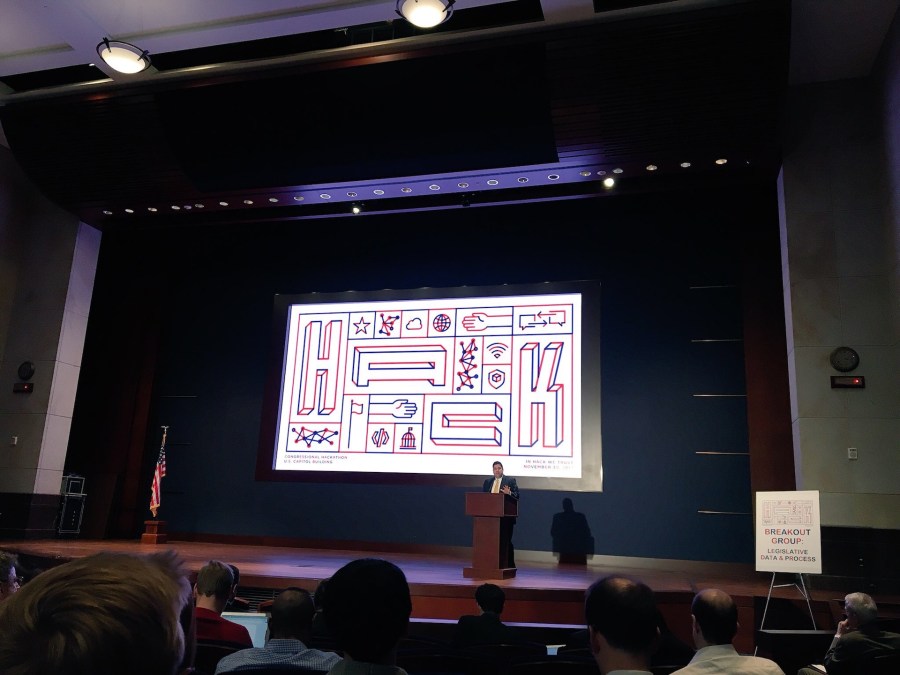 The third Congressional Hackathon didn't involve any hands-on hacking, but it attracted plenty of big shots and other participants who seemed to relish the opportunity to brainstorm anyway. The theme of the gathering? Trust, openness and collaboration.
These are pertinent talking points at a time when, according to Pew, public trust in government is "near historic lows." Just 20 percent of Americans trust the government to do what is right "just about always" or "most of the time," the organization found in May.
Attendees at Thursday's event divided up to answer questions such as: How can members of Congress be better at engaging with constituents on social media? How can we improve education on how, exactly, Congress works? And is there a more effective way to attract top tech talent to Capitol Hill?
There were lots of stickers, post-it notes and whiteboards involved. The attendees were a mixed bunch: current and former staffers; employees from the civic tech startup Quorum; tech officials from other branches of government such as the White House's Matt Lira and the acting director of the U.S. Digital Service, Matt Cutts; and representatives from advocacy groups like the OpenGov Foundation and the Sunlight Foundation.
Members of Congress, including Rep. Will Hurd, R-Texas, and Rep. Jacky Rosen, D-Nev., wandered through and stopped to listen in or offer their thoughts on the ideas at hand.
So what's the value in this kind of unstructured exchange?
"It's always nice to have people in a room talking about things I care about," Josh Tauberer, an open government advocate and creator of GovTrack, said. He admitted, though, that future versions of the hackathon could do a better job onboarding totally new participants so the group doesn't spend too much time treading old ground. A lot of similar ideas, he said, came up at the last edition of the event in 2015.
Joseph Nelson, founder of civic tech startup Represently, was a little disappointed the event didn't involve more actual building. But another major benefit to being present outweighed any second thoughts — the other people in the room. It's amazing and rare, he said, to have congressional tech staffers and people like Lira and Cutts all in the same room at the same time.
For Seamus Kraft, founder of the OpenGov Foundation, it didn't matter that there was no technical hacking. The day wasn't about that, he said; rather, it was about exposing issues in Congress and showing that they're solvable. It was about "showing people in the tech, design and data world that your country needs you, like, really bad," he said.
"These need to be happening every day," Kraft said.
In his introductory remarks, Lira — who organized the first Congressional Hackathon in 2011 when in the House Majority Leader's office — spoke about the importance of working together even when people don't see eye-to-eye. Next, Rep. Steny Hoyer, D-Md., told the crowd his goal for the exercise: more openness.
"The more people know, the better our democracy will be," Hoyer said.
Rep. Kevin McCarthy, R-Calif., finally, gave a shoutout to inclusion. "Everybody can be a part of making this government better," he said.