Once-experimental Congressional Hackathon gets new institutional support for fifth iteration
The event has provided a "rare" opportunity for Congress and technologists to sit down together and brainstorm.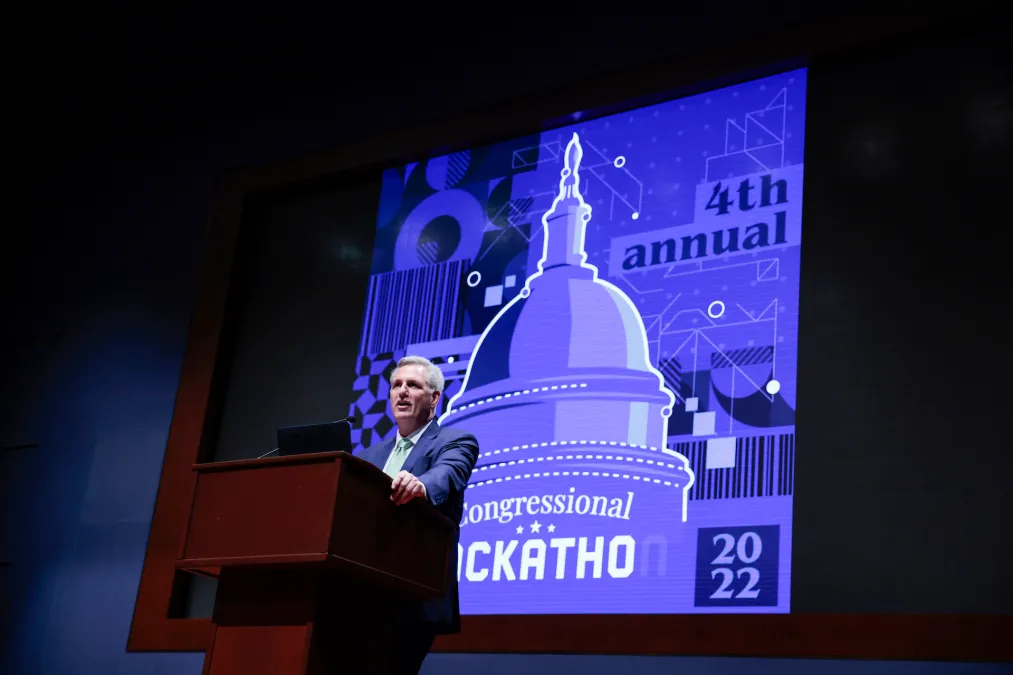 Lawmakers, staffers, advocates, and technologists will come together Thursday to share ideas about technological solutions for legislative branch issues in a forum that has gradually become a fixture for those seeking to modernize Congress.
The fifth Congressional Hackathon will be held Sept. 14 with new support from the House's Office of the Chief Administrative Officer, which is serving as a co-host for the first time alongside party leaders. That growing institutional backing is a milestone for the event, which was held for the first time in 2011 as an experiment and has endured through multiple majority changes and increasing polarization.
"It's a place where staffers and technological experts get together and brainstorm, completely beyond any silo of their individual affiliations, which is all too rare on Capitol Hill," said Matt Lira, who helped bring about the first hackathon as a then-staffer to House Majority Leader Eric Cantor, R-Va. "But each Hackathon has been defined by that, and it's been interesting to see that carry on through multiple different political eras and personalities."
In interviews with FedScoop, former staffers and tech advocates praised the event for providing a unique launchpad for a dialogue about technological solutions in Congress. Those discussions, they said, have contributed to major tech projects like providing public access to raw legislative data, digitizing casework processes for constituents, and even helping jumpstart an app for congressional tours.
"This is what's been helping Congress better manage all the different data silos that it has, and modernize its tools," said Daniel Schuman, policy director for the progressive tech policy advocacy group Demand Progress, adding "it's a surprising point of leverage."
The event's outcome, Schuman said, "has been a fundamental transformation of the way that Congress manages this information technology over the last 15 years."
Hackathon's beginnings
The environment at the time the first hackathon took place was not unlike today with the emergence of artificial intelligence, Lira said. At that time, new technological tools, including social media and other digital platforms, were inspiring ideas. "It was a really interesting time to be dealing with Congress," he said.
The concept for a congressionally hosted hackathon was initially suggested by Mark Zuckerberg, CEO of a Facebook that had yet to go public, at a meeting with Lira and Cantor in Silicon Valley. They took that idea back to Washington, where Lira said he later sat down with his counterpart in then-Democratic Whip Steny Hoyer's office, Steve Dwyer, to talk about what a congressional version of a hackathon could be.
"I'd say it's inspired by Silicon Valley circa 2010, but then Steve and I just sat down and really thought through what that could look like on the Hill," Lira said.
Whereas traditional hackathons are generally time-limited events with computer programming or app development as the objective, the congressional version, they decided, would apply a similar collaborative approach to policy and operations. Less focus on actual code-writing would open participation up to more congressional stakeholders.
That first event was sponsored by Zuckerberg's Facebook, now Meta, and was considered an experiment that wouldn't necessarily be repeated. But interest in the event evolved into subsequent hackathons in 2015, 2017, and 2022 — though only the first had sponsorship from the social media giant.
Lira — who subsequently worked for Majority Leader Kevin McCarthy, R-Calif, and later in the White House — said it's "been heartening to see that it's continued" long after he left the Hill and after "any of the original people involved are still in any leadership offices." Dwyer, too, shares that sentiment.
"I'm excited about all that is new with the Hackathon this year. Speaker McCarthy will be joining with new host Democratic Leader Jeffries. Additionally, we have institutional support with the CAO being an official host," Dwyer, who is now senior director for innovation at the CAO, said in an emailed statement. "The CAO's role helps us advance our mission of being Member Focused, Service Driven–as we try to advance innovative solutions within Congress."
Institutionalizing the hackathon was also among recommendations the House Select Committee on the Modernization of Congress made last year. It warned that the member-sponsored event could dissolve if people leave Congress and suggested institutional support would encourage other legislative agencies to participate as well.
Ideas in action
Among the ideas discussed at hackathons that have been implemented was the application programming interface (API) for Congress.gov which was launched in September 2022. That idea, which provides more reliable access to legislative data for third-party developers, was among the recommendations from the 2015 hackathon.
Prior to the API, people resorted to "scraping" Congress.gov or using "bulk data" collections from the Government Publishing Office, the Library of Congress said in its announcement at the time, acknowledging that those were "somewhat imperfect measures."
Other ideas that have become a reality include creating a digital version of "casework" intake forms for constituents requesting assistance from a lawmaker's office, and developing a way to convert draft legislation from PDFs into more usable formats.
The latter idea was accomplished through a project Schuman worked on called BilltoText.com. The tool, he said, was built "based on information that we learned at one of the hackathons to transform the bills from PDFs into text, so that people could download them and use them."
At least one company found early footing at a Congressional Hackathon. Melissa Dargan, a former congressional staffer who left the Hill to go to business school, started her company TourTrackr following interest in her idea at a hackathon. That app helps lawmakers' staff schedule tours for constituents and is currently being used in over 125 congressional offices.
Organizing tours, which can be requested through congressional offices, is often a time-consuming process for staffers — a process Dargan was personally familiar with. While in business school brainstorming ideas to innovate the industry she knew, Dargan learned many offices were still using paper records or Microsoft Excel to keep their records and began thinking of ways to improve that process. From there, the idea for TourTackr was born.
After her hackathon pitch, Dargan said she was immediately approached by companies that were focused on constituent relationship management, asking her whether the application was a real product yet and if they could work together.
She said presenting her idea at the hackathon "exponentially expedited" its progress because it was a place to get people on board, get feedback, and get beta clients. "The hackathon helped light the fire," she said.
Staying power
The fifth hackathon event comes amid the rising popularity of artificial intelligence, which has captured the imaginations of the public and private sector alike and is among the topics expected to be discussed.
"This year, we hope to build on the successes of previous Hackathons and draw on new ideas and fresh perspectives to truly reform how Washington works," McCarthy said in an announcement about the event. "I'm especially excited to see how we can incorporate Artificial Intelligence—a game-changing technology the House has already started to examine in bipartisan briefings with industry experts—into the legislative process.
The idea would be a continuation of a hackathon discussion, as using AI for the legislative process was initially discussed at the 2017 event.
The half-day event is expected to follow a similar structure to prior hackathons, including brief remarks from the hosts, breakout sessions for brainstorming on various topics, and a reconvening to share recommendations. In addition to AI, other topics are likely to include legislative workflow, constituent casework, and community engagement, according to the event announcement.
The event will also be the first without either of the original hosts of the event — Cantor and Hoyer. McCarthy has hosted several and Minority Leader Hakeem Jeffries, D-N.Y., will be a host for the first time.
"We look forward to brainstorming and developing new projects that have the power to transform our democracy and make Congress more transparent and accessible," Jeffries said in a statement included in the announcement.
Ultimately, Lira said, a lasting impact of the event is its help to change how people in Congress think about technology in the legislative branch and how it could be used in their daily lives.
The first hackathon, he said, "was a watershed moment, culturally, where you saw some of the more institutional actors in Congress — not just political leaders, but also just career dedicated public servants, people at the Library of Congress, in the CAO's office, or elsewhere — who sort of reflected on the event and said, 'I get it.'"