3 ways Emily Murphy's GSA is looking to innovate acquisition
GSA's role in helping to modernize the government's digital infrastructure has presented Emily Murphy with plenty of opportunities to improve how federal agencies buy technology.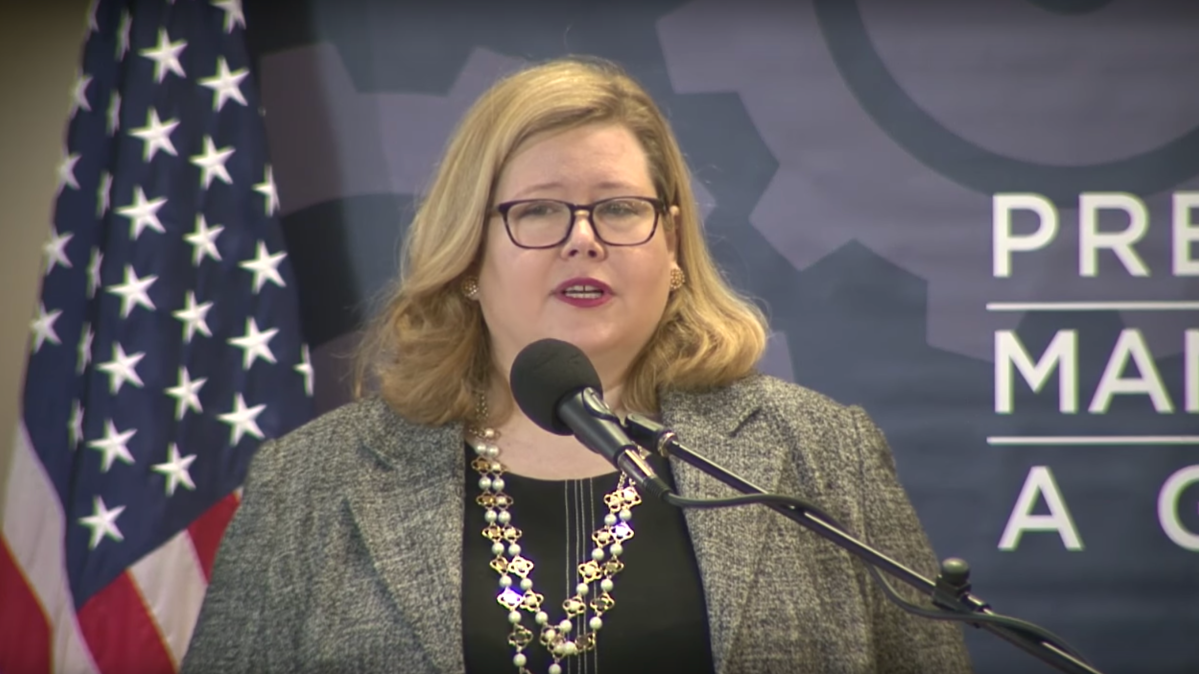 In the ongoing movement to transform the government's digital infrastructure, the General Services Administration is effectively the keystone — and that has presented the agency's leader Emily Murphy with plenty of opportunities to improve how federal agencies buy technology.
Speaking at the American Council for Technology and Industry Advisory Council's Acquisition Excellence conference Tuesday, the GSA administrator outlined several paths she'd like her agency to take to innovate acquisition.
"Acquisition innovation and technological innovation go hand in hand," said Murphy, a 2018 FedScoop Top Women in Technology winner. "The priorities that I have outlined — reducing duplication, increasing competition and improving transparency — can be accomplished through several key programs and initiatives that GSA is currently working on. These efforts also directly affect and involve the federal acquisition community."
Specifically, Murphy described three efforts underway:
Shared services
Like the cybersecurity executive order issued last year, the President's Management Agenda leans heavily on utilizing shared services to streamline tech procurement, including standardizing what agencies will buy.
Murphy said GSA is utilizing a 10-year plan to build the shared service apparatus behind its Office of Shared Solutions and Performance Improvement, starting with developing procurement standards that will work across agencies.
"The 10-year plan starts with doing an assessment of what the current standards are for services at each agency. So making sure we all agree on what it is we are trying to buy," she said.
But within those standards, Murphy added that she wants to build in transition fee structures to ensure agencies aren't locked into contracts.
GSA is also looking at 14 elements designated by the Office Management and Budget where shared services could be applied, ranging from payroll services to a contract writing system, Murphy said.
E-commerce portals
In its efforts to increase competition, GSA recently released the initial designs on a plan to create e-commerce portals that agencies can buy directly from.
Murphy said in an effort to capitalize on both current federal acquisition statutes and e-commerce terms and conditions, GSA asked Congress to raise the micropurchase cap to $25,000 and to designate GSA as a "portal of portals" that can locate the best price across e-commerce providers.
"Instead of having six or seven different commercial portals available and making it the job of the contracting officer or ordering officials to figure out which portal they are going to use, could we create almost like a Kayak-like experience where you go, look for one item and it would pull from all the various different portals," she said.
GSA will deploy the e-commerce plan in a multi-phase process through 2020.
Identifying innovation
Murphy also added that GSA has been in talks with the Small Business Administration to handle Phase 3 awards for its Small Business Innovation Research program, which identifies promising innovations through research and development grants.
The program offers three tiers of R&D funding for new technologies, but Murphy said GSA could be well-positioned to help SBA in the latter stages, when those technologies are close to market.
"That might be a really good sweet spot for GSA," she said. "Because by the time the product is in Phase 3 of the [SBIR] program, it's hit a commercialization point. So, it's something that GSA has had experience with and gives us a pipeline to bring innovative technologies into our contract vehicles, as well as assisting agencies in getting their products and services quickly."