ChargeX working groups led by representatives from Electrify America, GM, ABB
The three groups working on the national EV charging consortium will explore the following: defining the charging experience; reliability and usability of chargers; and developing solutions for scaling reliability.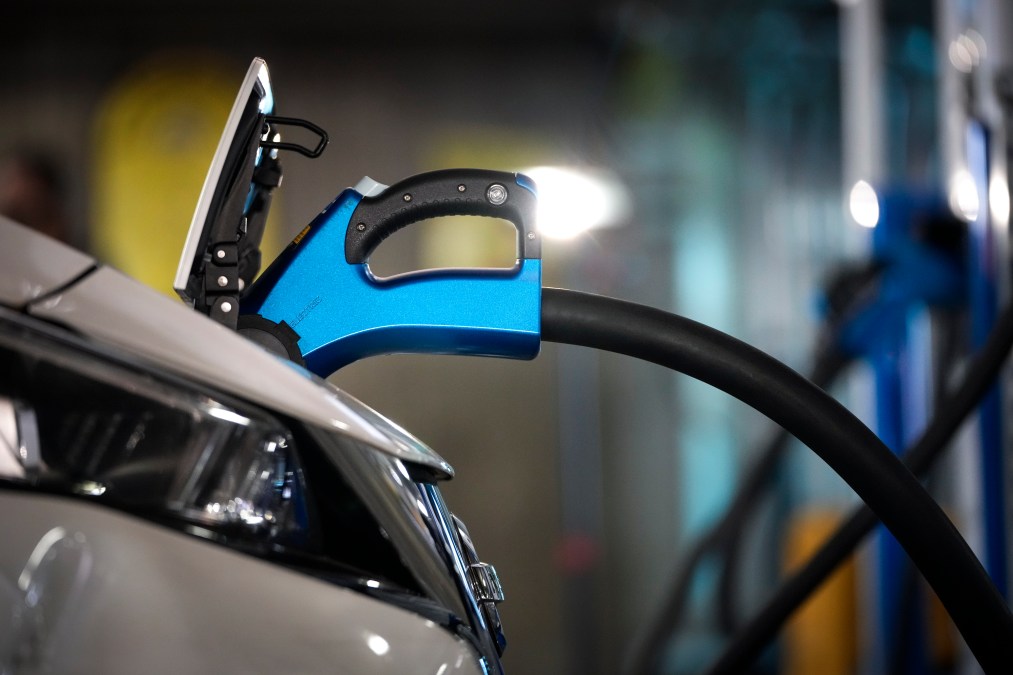 Working groups for a national consortium aimed at improving electric vehicle charging reliability in North America are being co-chaired by representatives from three key industry organizations: General Motors, Electrify America and ABB.
According to an organization chart shared with FedScoop, each of the three groups for the National Charging Experience Consortium (ChargeX) is being led by one national lab representative and one industry representative.
Those industry co-chairs are: Frank Marotta, an assistant manager for advanced CX solutions at GM for the "Defining the Charging Experience" group; Ken Tennyson, senior director of quality and conformance at Electrify America for the "Reliability/Usability Triage" group; and Cuong Nguyen, manager of industry affairs and standards at ABB E-mobility, for the "Solutions for Scaling Reliability" group.
The consortium — which is operated by the Department of Energy's Argonne National Lab, Idaho National Lab and National Renewable Energy Laboratory — met for the first time this summer. While it already had national lab co-chairs at the time of that meeting, industry co-chairs were selected shortly after and haven't yet been shared publicly.
The consortium seeks to measure and substantially improve public charging by June 2025, and comes as part of a national push to grow EV infrastructure. ChargeX is a product of the Joint Office of Energy and Transportation, which was established by the 2021 Bipartisan Infrastructure Law to oversee the legislation's $7.5 billion investment in an EV charging network.
The vision of the joint office and the consortium is "any driver of any EV can charge on any charger for the first time, every time," John Smart, director of ChargeX, said in an interview. "So the first time that anyone plugs in, it ought to work regardless of what payment method they're using, regardless of which vehicle they're driving, regardless of which brand of charger they're connecting to."
In addition to industry and the labs, the over 65 participant organizations include consumer advocates, academics and other stakeholders, such as the California Energy Commission and the California Air Resources Board — the only two government entity participants.
The first of the working groups, focused on defining the charging experience, will work on industry performance targets for charging and how to measure them. "We've decided that we want to produce key performance indicators with equations that are shared open source so that the entire industry can begin to describe and quantify the customer experience and reliability in the same way," Smart said.
In an emailed response to an inquiry about Marotta's leadership, a GM spokesperson said: "General Motors has long been committed to supporting EV infrastructure deployment and removing barriers to accelerate mass adoption of EVs. Our seat at the table with these influential national laboratories reiterates the importance of building the entire EV ecosystem. Charger reliability and customer experience are among the many areas GM hopes to help shape."
In addition to Marotta, that group will be co-chaired by David Smith, a senior laboratory relationship manager at Idaho National Laboratory.
Meanwhile, the second working group, Reliability/Usability Triage, is broken up into three task forces focused on developing solutions for payment and user interface, communications and hardware. Smart said that the group has created a list of technical issues that industry experts have identified, and is prioritizing those issues based on how quickly they would see benefits by solving them.
The national lab co-chair for that group is Kristi Moriarty, a senior engineer at the National Renewable Energy Laboratory.
And finally, the Solutions for Scaling Reliability working group is focused on preventing problems in the future. That group is broken up into two task forces, working on diagnostics and testing methodology.
"Right now, there's very little diagnostic information that's shared between products in the ecosystem — whether it's the car, the charger, the cloud, the charging network, right?" Smart said. Often that means field service technicians show up to fix something without information about what's broken, he added.
To help alleviate those issues, the working group recently put out a document with minimum required error code recommendations in hopes that companies start flagging issues in the same way, Smart said.
"ABB E-mobility is participating in the ChargeX consortium because we believe that as an industry there is more we can do together to improve the reliability and user experience of charging. In Working Group #3, we are focused on developing solutions for scaling reliability and improving charger operations. Through collaboration, we think the EV industry can deliver improved and more consistent charging experiences," Nguyen said in an email.
That third group is co-chaired by Dan Dobrzynski, a group manager at Argonne National Laboratory.
Going forward, ChargeX plans to recommend more best practice documents and work with industry participants to socialize the recommendations, Smart said. The group also shares updates with state and federal agencies at a standing monthly meeting.
While there aren't any public meetings currently planned, Smart said the consortium will make updates about the work of the consortium public on its website.
Electrify America didn't provide a response to a request for comment from Tennyson.
Rebecca Heilweil contributed to this article.