Mattis establishes DOD task force to protect critical tech, information
The military "must ensure the integrity and security of our classified information, controlled unclassified information, and key data," the secretary of Defense said in a memo.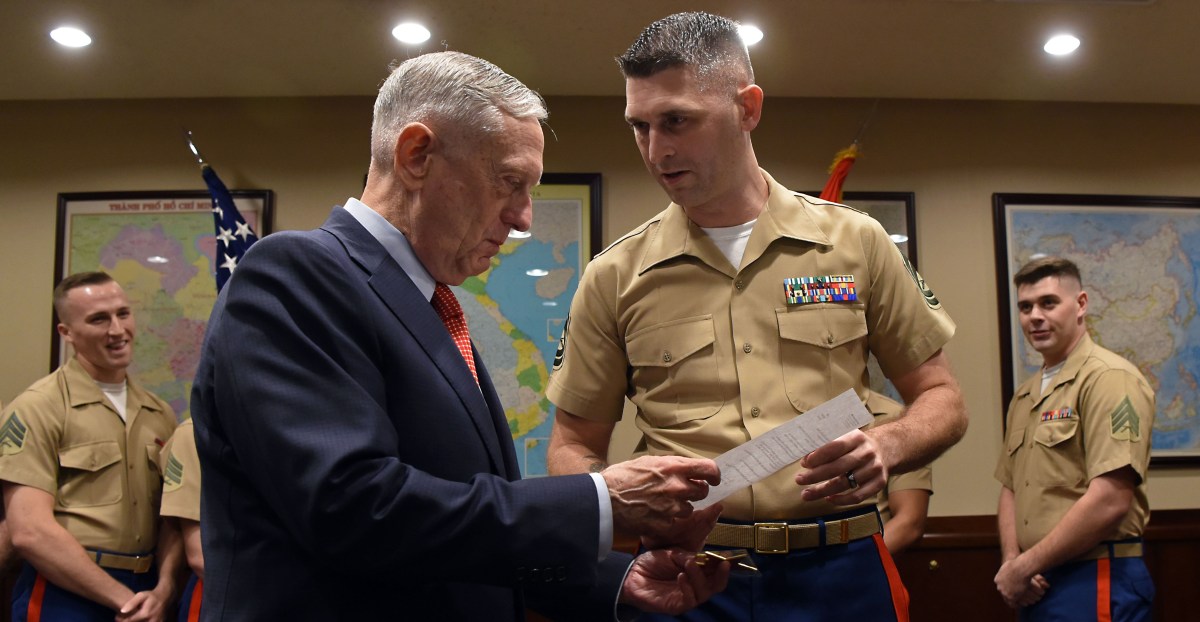 Secretary of Defense James Mattis has established a task force whose sole purpose is to better secure the Department of Defense's important technology and information.
Mattis issued a memo dated Oct. 24 creating the Protecting Critical Technology Task Force (PCTTF) to report to the deputy secretary of Defense and the vice chairman of the Joint Chiefs of Staff.
"Working with our partners in the defense industry and research enterprise, we must ensure the integrity and security of our classified information, controlled unclassified information, and key data," Mattis wrote in the memo. "The impacts of the loss of intellectual property and data cannot be overstated — we must move out to protect our resources and our forces."
Mattis cites the more than $600 billion American industry loses each year in "theft and expropriation," and "far worse, the loss of classified and controlled unclassified information is putting the Department's investments at risk and eroding the lethality and survivability of our forces."
He calls for "concrete action" to happen quickly. The task force will start working with two sprints of 30 and 90 days "to address a number of basic issues." He writes that "While the sprints are underway, the PCTTF will also address broader systemic issues, and to this end, leverage the previous work done by the Maintaining DoD Technology Advantage Cross Functional Team, which is now dissolved."
The deputy secretary of Defense, currently Patrick Shanahan, will also "assign resources to the task force and the DoD enterprise will share all necessary data, regardless of classification."
According to the memo, task force members will include:
Secretaries of the Military Departments
Chairman of the Joint Chiefs of Staff
Undersecretary of Defense for Research and Engineering (USD(R&E))
Undersecretary of Defense for Acquisition and Sustainment
Undersecretary of Defense for Policy
Undersecretary of Defense for Intelligence
Director of Cost Assessment and Program Evaluation
Chief Information Officer of the Department of Defense
Commandant of the Marine Corps
Director, Defense Intelligence Agency
Director, Defense Security Service
U.S. Army Counter Intelligence
Naval Criminal Investigative Service
Air Force Office of Special Investigations
The FBI and Office of the Director of National Intelligence also announced a new framework Thursday for federal agencies to identify insider threat and avoid leaks of sensitive or classified information.