Ghost Robotics CEO: Robot dogs could save lives at US borders
Gavin Kenneally says the technology can be used in extreme environments to identify humans in need of help.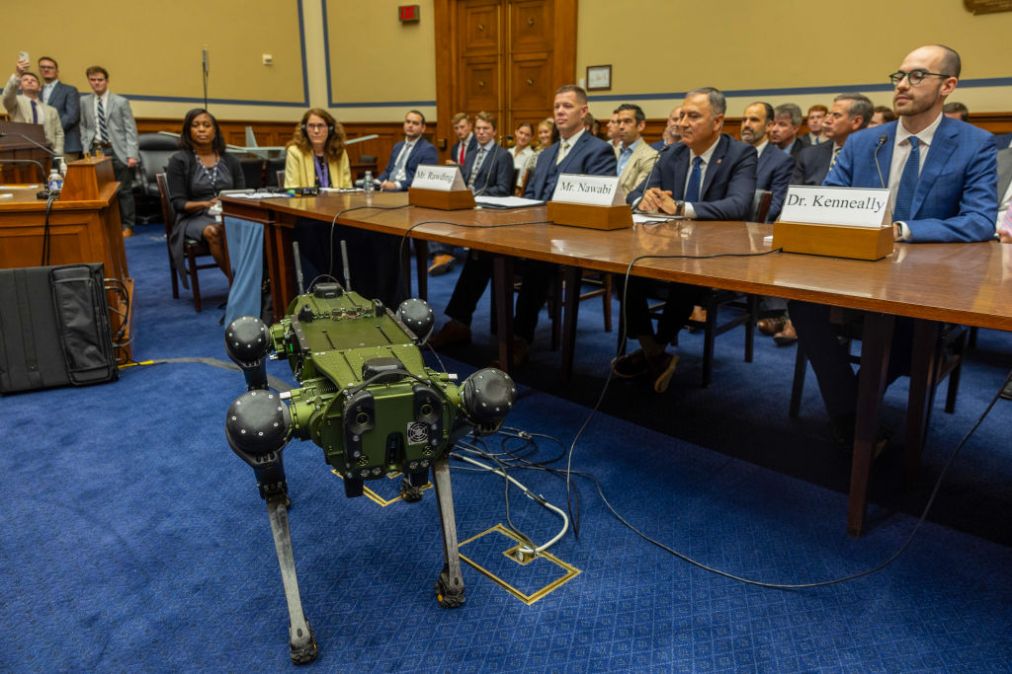 Robot dogs being tested by the Department of Homeland Security could be used at U.S. borders and by first responders to save lives, according to the CEO of a leading robotics manufacturer.
Speaking at a House Oversight Committee hearing last week, Ghost Robotics Chief Executive Gavin Kenneally said the ability of the technology to work in extreme environments while also detecting bombs, drugs and humans in need of help, could be a gamechanger.
He said: "The robots' ability to traverse difficult terrain in all weathers and extreme temperatures makes it ideal for environments found along the U.S. southern and northern borders."
Kenneally added: "Given that several hundred migrants die every year near the southern border from drowning or heat-related causes, a thermal camera could be equipped on the robot and used to identify them before it's too late.
Philadelphia-headquartered Ghost Robotics supplies robots to the federal government and allied foreign governments. A few hundred of the company's Vision 60 'robot dogs' are already in use by the Defense Department for conducting perimeter security checks at Air Force bases and by law enforcement agencies.
Each robot costs $165,000 and can function in almost any terrain including rocks, sand, hills, ice, snow and staircases, and can operate in temperatures of -40 to 130 degrees Fahrenheit. According to Ghost Robotics, they can operate for over six miles on one charge at speeds of up to six miles per hour and store all data locally on computing devices that have undergone cybersecurity penetration testing.
The device has multiple cameras and microphones built in and can interface with zoom thermal or infrared cameras to conduct more accurate analysis or anomaly detection of its surroundings before streaming video or information back to the human controller or a base station.
Some members of Congress including Rep. Nancy Mace, R-S.C., and Rep. Marjorie Taylor Greene, R-Ga., asked during the House Oversight hearing if there were ways to ensure that the robot dog or other innovative cutting-edge technologies can be stopped in the future from being used as weapons to hurt people physically or through cyber warfare.
Kenneally with Ghost Robotics said their robot dogs have no weaponry or harmful devices built into them and cannot take any action besides basic movement from one location to another without human input.
Furthermore, Wahid Nawabi, CEO of AeroVironment, a military drone and robotic systems company, said during the hearing that the devices his company makes are meant to use sensors with AI-driven algorithms to provide actionable intelligence for human beings like troops and engineers to make better decisions and are not meant to allow machines to make autonomous choices.
Ryan Rawding, the head of business development at Pangiam, a security and identity verification technology company for CBP and other agencies, added that his company creates software and tools using supervised machine learning models where the tools give risk-based scores to allow officers to make better decisions at the border while meeting CBP's rules on data protections.