Navy using real-time tracking system to stay ahead of coronavirus supply chain risks
The Navy is overlaying real-time data of the coronavirus's spread and resulting lockdowns on its supply chain management technology to monitor its acquisitions.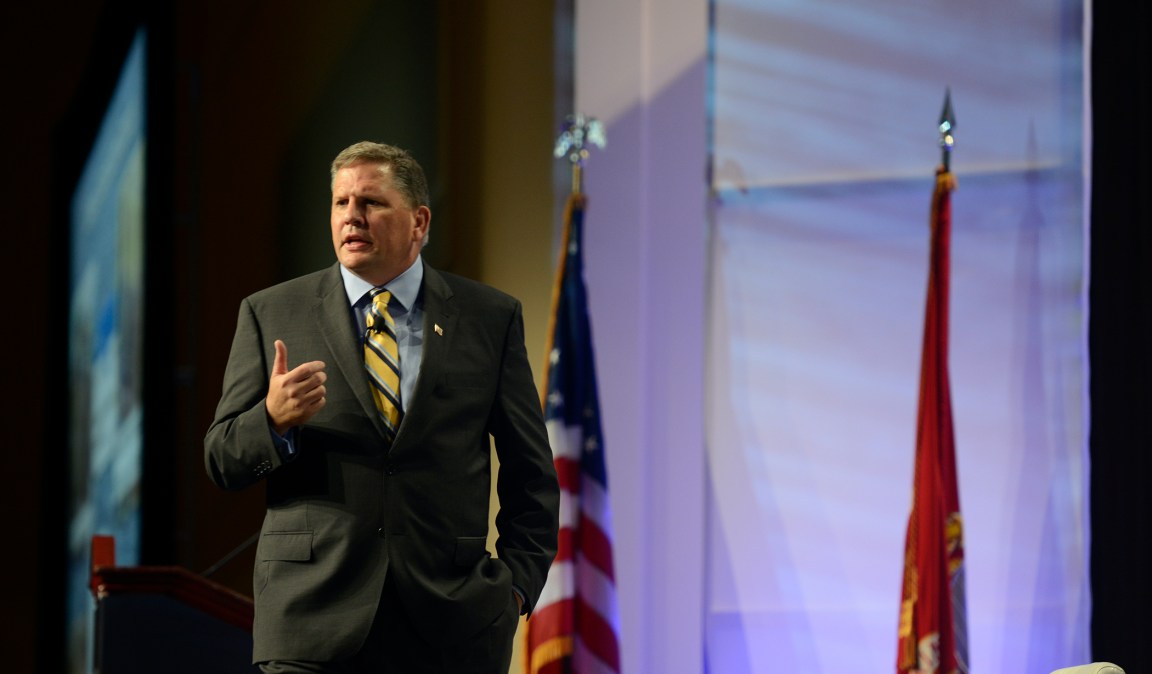 The Navy has turned its supply chain management systems into a COVID-19 monitoring tool that is allowing the department to "get ahead of" industrial base shutdowns.
The Navy is overlaying real-time data on the coronavirus and its impacts on the defense industry on top of its supply chain management systems to closely monitor where factory delays and lockdown orders could occur. When the Navy sees a potential shutdown impacting its supply lines, it can respond by ramping-up production elsewhere or shifting plans to account for the lapse, James "Hondo" Geurts, assistant secretary of the Navy for research, development and acquisition, said during a virtual Sea-Air-Space event.
It's a technical achievement that would not have been possible without recently modernizing the electronic tracking of the supply chain, Geurts said.
The seafaring force needs to meet critical shipbuilding and modernization goals as it tries to expand and upgrade its aging fleet. For IT projects, defense industry contractors say they have been able to get creative with the Navy to stay on-track with critical projects.
"This impacts us in many different ways," Geurts said during the virtual event, broadcast by Government Matters. "This data knowledge lets us make smart, adaptive decisions."
Contractors say that the Navy has been quick to communicate and worked to put in place creative solutions to meet the challenges coronavirus has put on operations.
So far, the Navy says it has not incurred any major impacts on its project timelines. Other services have also said their modernization efforts and supply chain — especially for technology — remain strong. But as the virus causes extended closures to suppliers, outside groups worry about its impact on the military's fragile supply chain.
The Navy has several supply chain management platforms, including the Enterprise Resource Planning system, that have been recently migrated to the cloud. Geurts didn't specify which management system the Navy is using for its coronavirus-tracking efforts, but he did say it was recently modernized to give his office a more detailed, real-time look at the supply chain. His description matches that of the ERP program. He also did not specify what data sources are being overlaid on the system. The Navy did not return a request for comment before publication.
Focusing on the long-term too
The data being integrated with the supply chain management system is also being used to ensure long-term research and development of emerging technology does not slow. While the critical focus remains on ensuring national security-critical production and modernization continues, Geurts said he remains optimistic about the Navy's long-term development.
"We can't afford to take a year or two off R&D," Geurts said.
The Navy partners with many academic institutions and technology companies to work on developing the department's future tech. Stopping that would be harmful to the long-term health of the force, Geurts said.
"The risk is being too risk averse in our approach," he added.
One of the Navy's biggest IT partners, Leidos, sang praises for the service's efforts to lean "forward to communicate, work together, and find ways to execute the many mission-critical requirements" during these challenging times.
Mike Rickels, the company's senior vice president for C4ISR operations, pointed to a number of projects between the Navy and Leidos that have continued on unimpeded because the service has taken measures stay connected and communicative and work smart. For instance, he said, the Navy Information Warfare Center "has done a great job collaborating with our Leidos team to support telework and social distancing strategies to ensure we can continue to support the mission within safety guidelines."
And when it comes to supporting the service's vessels out to sea, the Navy is "making near real-time decisions on items which impact the mission, such as extending the length of assignments, swapping out personnel that may be in a higher risk category, postponing non-mission critical events, or voluntarily quarantining prior to a mission critical event," he said.
"Leidos and the Navy customer are working closely together on a daily basis to ensure all of our people are protected, while executing the many critical missions and tasks to the maximum intent possible," Rickels said. "As with any critical emergency, in some ways, it brings out the best in all of us."