The gospel of shared services resonates across the PMA, say Kent and Murphy
The Federal CIO and GSA administrator said federal technology and policy standards are pivotal to both drive mission efficiency and modernize technology.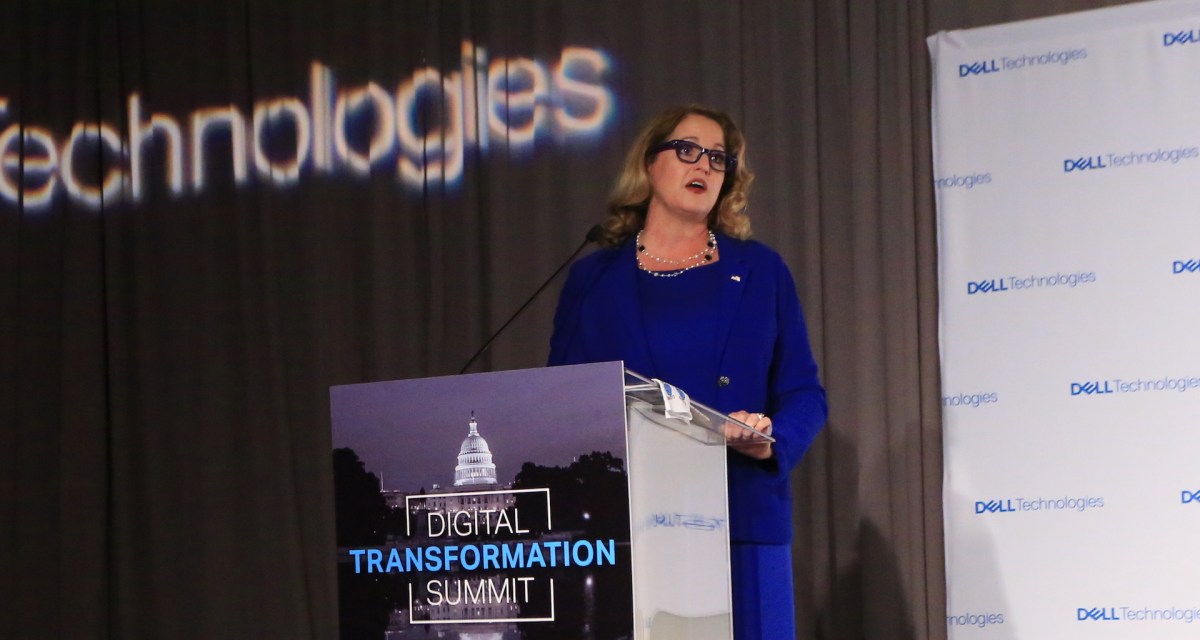 The President's Management Agenda was always designed to be an interlocking set of goals, with data, workforce and IT modernization projects dependent on one another to help agencies be more effective and efficient.
Federal CIO Suzette Kent and General Services Administrator Emily Murphy said Thursday that there's another understated element undergirding the PMA's cross-agency objectives: the Trump administration's desire to broaden shared services.
The pair, speaking at the Association of Government Accountants Shared Services Summit, pointed to efforts to establish technology and policy standards across the federal enterprise as an example of this. They're a pivotal piece of the Office of Management and Budget's plan to both drive efficiency and modernize technology, they said — and shared services are a natural extension.
"OMB, when they worked on the President's Management Agenda, they really came up with a well-linked set of initiatives," Murphy said. "[Instituting] Technology Business Modernization, which will help us do a better job of buying IT, which leads to doing a better job of acquisition. If we can do a better job of acquisition — and acquisition itself being a shared service — if we do that, then it frees up resources to support the other [cross-agency priority (CAP)] goals."
Both Kent and Murphy have been tapped to drive shared services reform as part of the PMA's CAP goal 5, but the U.S. CIO said that because so many agency IT systems are in need of upgrades, by establishing a shared baseline of standards, the CAP goal helps make that modernization more efficient.
"When we look at the full scale of what we need to modernize, it is a huge agenda," Kent said. "So I see the shared services agenda absolutely linked with the IT modernization because it's a way we can pick a common set of solutions and move a large group quickly to a more modern, more secure better service platform and, going back to the PMA, a better mission stewardship."
But the mission of shared service is not new, and the challenge for this administration, as well as previous ones, has been illuminating the commonalities between agencies that shared quality services can address, rather than their mission-specific differences.
Murphy pointed to the challenges in crafting GSA's shared NewPay system, which saw a $2.5 billion contract award in September. NewPay establishes governmentwide payroll standards that agencies can leverage with new technology solutions to make better-informed decisions. She said there was an initial heavy lift to develop those standards from their disparate predecessors, but the potential gain makes it worth it.
"It took two years to agree on what the standards were on how we pay people," she said. "My favorite example is that we pay some people 12 times a year, some people 24 times a year, some people 26 times a year and some people 27 times a year. The Centers of Excellence at the Department of Agriculture have created new dashboards to provide better insight into the workforce and part of that is fed by the payroll data. If we are able to replicate those dashboards across the government, that's going to give us the ability to have a shared set of data across agencies. Then it just becomes a force multiplier."
While both noted that the PMA's goals have been designed to be flexible enough to address and adapt to individual agency needs, Murphy said that GSA's own self-assessment of its payroll needs revealed the juice of common standards far outweighed the squeeze bridging them over individual needs.
"We found that we seemed to have 100 areas where we had unique needs. So that led to a lot of conversations where we found out that we don't have unique needs," she said. "It took some hard reckoning on our part to be honest about that and be willing to admit that, in many cases, the benefit from being special was going to be far less than the benefit we'd get from being part of the collective."