State Department sees IT modernization as a key part of agency 'redesign'
Legacy IT systems are sucking budget dollars, Deputy Secretary John Sullivan said on Tuesday during a House Foreign Affairs Committee hearing.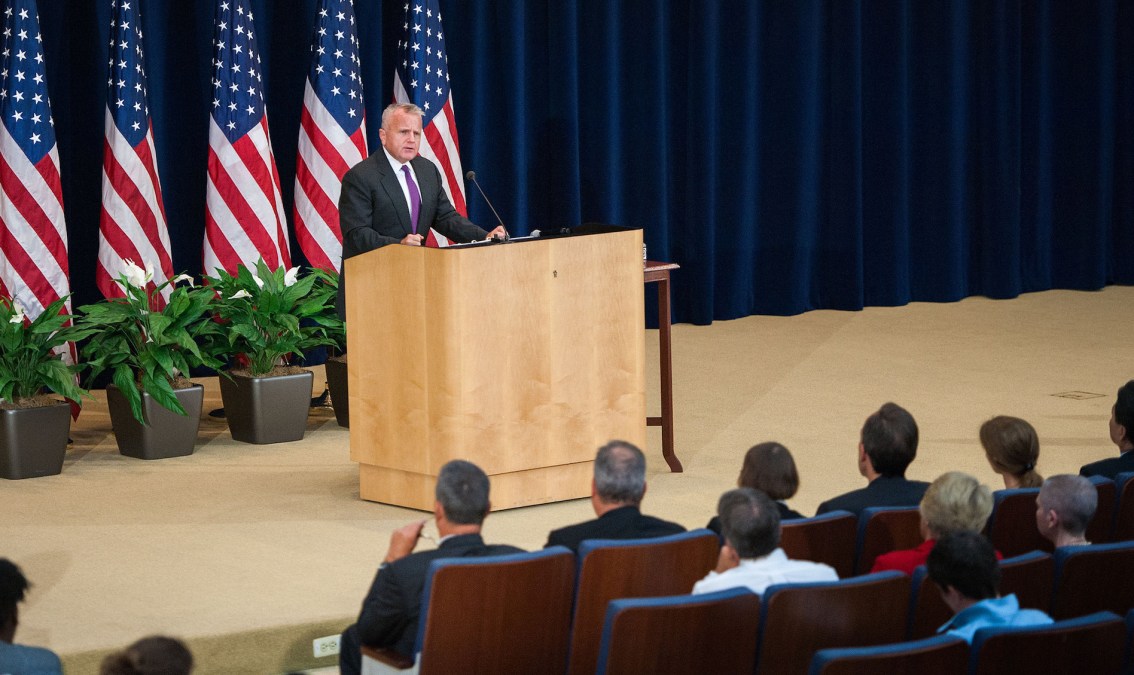 As the State Department reels from President Trump's proposed budget cuts and pushes for reorganization, leadership has come up with a plan for how it can, in fact, make the number work. The plan, dubbed a "redesign" by the agency, relies heavily on IT modernization for budget savings.
Deputy Secretary of State John J. Sullivan appeared in front of the House Foreign Affairs Committee on Tuesday to discuss the plan.
In his prepared remarks Sullivan highlighted five "key features" of the redesign, including IT modernization. "We need to improve our IT platforms, modernize legacy systems, and upgrade our technology infrastructure so that our employees can work anywhere, anytime, and as effectively as possible," Sullivan said.
IT modernization, overall, seemed a popular component of the Department's redesign plan. "I'm glad to read that you're going to upgrade IT," Rep. Francis Rooney, R-Fla., a former U.S. ambassador to the Vatican, quipped in his comments. "I think when I was serving in Rome we had like Windows minus one."
The comment was met with laughter in the chamber.
But modernization isn't just about capacity — it's about savings, Sullivan stressed. "Maintenance costs for outdated systems continue to rise," he said, later calling the amount that State spends on legacy IT systems "staggering."
Sullivan claimed that the redesign, including the IT modernization component, is expected to save a minimum of $5 billion over five years. "By upgrading our systems and modernizing our technology, we can save money in the long-run, reduce overall risks, and facilitate better decision making in the future."
One part of this modernization, Sullivan said, includes moving the agency toward more cloud computing "in the coming months." He did not comment on the specifics of this move, however, and the committee didn't pry further.
Lawmakers did question the agency's intention to move its cyber coordinator role to the Office of the Secretary to the Bureau of Economic and Business Affairs. Sullivan took pains to assure the committee that this doesn't mean a demotion of cybersecurity at State — rather, he and Secretary Rex Tillerson plan to create a role for cyber leadership at the "Senate-confirmed" level soon. Details on this, however, are yet to be determined.
Sullivan also did his best to assure the committee that the proposed redesign isn't just a top-down arrangement.
"From the very beginning our reform effort has been employee-led," he said in his remarks, citing the more than 1,400 submissions made to the online portal created for collecting employee feedback.
Still, he had to admit that not everyone at State is so hopeful about the agency's ability to work with a severely constrained budget. Is morale high at the agency, Rep. Gregory Meeks, D-N.Y., asked at one point?
"No," Sullivan responded, succinctly. "I think there's uncertainty."