Will Hurd wants a national AI strategy before he leaves office
An AI national strategy "is on my list for the next 14 months," the Texas Republican congressman says.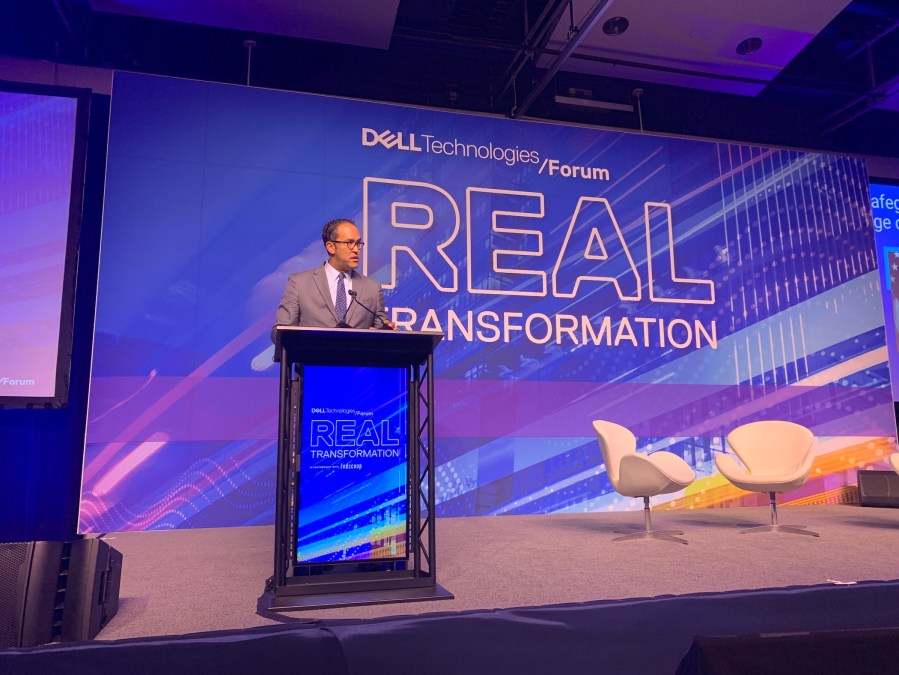 Rep. Will Hurd continues to campaign for an American national strategy around artificial intelligence, and the Texas Republican told FedScoop it's something he hopes to get done before the end of his final term in Congress.
After explaining his ideal outline for the strategy during a keynote at the Dell Technologies Forum on Thursday, he told FedScoop, "this is on my list for the next 14 months" before he leaves office. Hurd recently announced he won't run for re-election in 2020.
"We have to ensure America leads in artificial intelligence, quantum computing and other technologies that are going to define the course of this century," Hurd said. "That's why government should work on things like a national strategy to coordinate across government and academia and the private sector to advance research and development and adoption of artificial intelligence."
Hurd, and his colleague Rep. Robin Kelly, D-Ill., have been calling for a national AI strategy since late 2018. Hurd, a former CIA officer, is a member of the Intelligence and Appropriations committees and is a former chairman of the Oversight Committee's panel on federal IT.
In the wrong hands, Hurd said, advanced technology threatens American values, he said. "China is not using facial recognition to make it easier to buy groceries at the grocery store. They are developing it to continue to oppress their citizens."
"We should have a national strategy that would prioritize limited government resources and help to rapidly advance American leadership in this technology," Hurd said.
The government's AI role
The Trump administration has several initiatives around AI, and the White House earlier this week hosted a summit on government use of the technology. Hurd said a national AI strategy would clarify the government's role in developing and promoting the technology. "First we should increase the resources devoted to research and development — that's an easy one," Hurd said. "The government would also set an example and lead the way in adopting AI. This can save taxpayer dollars … and make the government actually more efficient."
He also wants it to push for the creation of standards, but "we can't let federal standards and onerous regulations get in the way of AI innovations," he said. Regulations instead should focus on "addressing ethical, security, privacy concerns that are not covered in existing frameworks," Hurd said.
The final piece is the workforce, he said.
"These efforts to advance emerging technologies would be nothing if we did not have enough qualified professionals to stay competitive in this new AI-driven economy," Hurd said. "We have to develop a workforce of tomorrow that's ready to tackle" advanced technology jobs. The nation and its future generations, he said, face "a disruption that we haven't seen since the last industrial revolution began. We have to train our kids for 21st-century jobs that don't exist today."
Never one to hold back how he really feels, Hurd said, "Hey, China's going to steal our technology? Let's steal their engineers. If you're at one of our U.S. universities, let's put a visa in your tube when you get your diploma so that you stay working here at great companies … and let's make sure you start companies here in the United States of America."
Another way to get brighter minds working on this issue is to fix the massive backlog of security clearances to work with classified government information, Hurd said. "I never thought I would have to work on such a basic issue as this: [Getting a security clearance] shouldn't take 9 months," he said. "I think we can do it in three days."
At a Center for Data Innovation event also this week, members of top AI companies — including Microsoft, Nvidia and Intel — discussed with federal officials the importance of American leading the global economy in the development and adoption of AI. U.S. CTO Michael Kratsios championed the Trump administration's work around AI and its development of the American AI Initiative, calling it "by far the boldest action the federal government has ever take on artificial intelligence." Hurd's strategy, in theory, would take that a step further by putting it into law.
Representatives from the AI companies sounded off on why it's important for America to lead in this technology. "It's the most transformative technology in the history of planet Earth," said Anthony Robbins, vice president of North America public sector for Nvidia. "That's why the U.S. should care about it."