With AI adoption, agency officials say they need an educated workforce that's not 'fearful' of the technology
Federal executives discuss AI's crucial role in data strategy and how to train staffers on best practices amid implementation of the White House's executive order.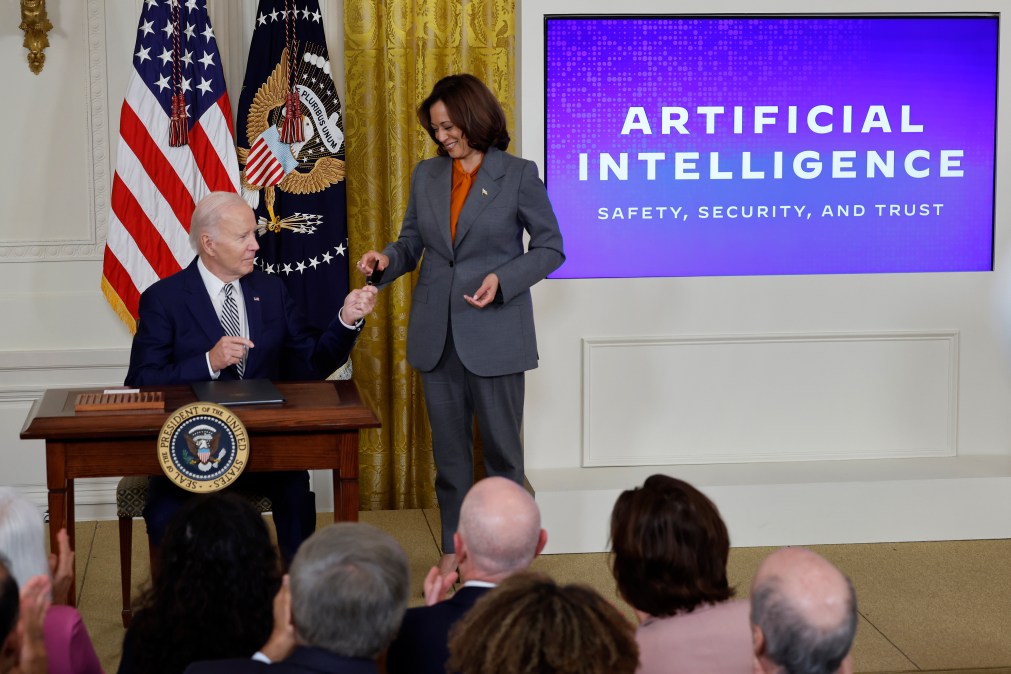 HERSHEY, Pa. — Every now and then, Sarah Moffat will get a message from a fellow Department of Housing and Urban Development executive seeking a bit of communications assistance.
"Can you ask our little friend to help me write an email about …"
The friend in question is ChatGPT, and Moffat — the chief operating officer at HUD's Office of the Chief Human Capital Officer — has made it her business to be "the AI person in the office."
While Moffat is happy to play the role of artificial intelligence sherpa, it's clear to her and many of her colleagues that government leaders need to do a better job of communicating AI's potential benefits to staffers and assuaging their fears about the technology.
"If we don't want them to be fearful, if we don't want them to be resistant, we must be proactive in giving good information," Moffat said Monday at ACT-IAC's Imagine Nation ELC conference in Hershey, Pa. "We must be proactive in how we communicate and what we communicate, not just about who we are, but about who they are. And what do these changes mean for them and their future course."
Many of the topics discussed Monday during the panel on "demystifying AI" were touched on in President Joe Biden's AI executive order, which he signed hours later at a White House event. The order pushes federal agencies to reduce AI-related risks while also leaning into innovation.
Much of that early innovation has been captured in a government database of AI agency use cases. At the Commerce Department's International Trade Administration, for example, use cases include everything from B2B matchmaking to a chatbot pilot.
Gerald Caron, the ITA's chief information officer, said the agency has held all-day offsite training sessions with select staffers "to educate them and demystify some of the things" about AI.
"We're working through and refining their use cases," Caron said. Staffers will say: "'I want to do AI and here's what I want to do.' Well, that's really a process improvement thing. So let's improve that process."
Several panelists spoke of the substantial AI potential in organizing and analyzing vast troves of government data. Don Bitner, the Department of Agriculture's chief technology officer, said that an agency's data strategy is inextricably linked to AI.
"If your data strategy does not mention AI, you're not prepping the battlefield," Bitner said. "Whether or not your organization is ready for it, it's not a huge deal. But if you're not at least looking down that road, that's what you've got to focus on."
The sheer magnitude of easily accessible data is a net positive — but it also makes agency decision-making that much more difficult and underscores the necessity of embracing AI.
Alexis Bonnell, chief information officer and director of the Digital Capabilities Directorate of the Air Force Research Laboratory, noted that in the past three years, "about 90% of the world's data came online. … So now I'm having to make five times the amount of decisions but with 1,000-, 100,000-times more information, right? And what is the one thing you want to do as a public servant? You want to make good decisions, good evidence-driven decisions on all categories."
As agency officials dig further into the executive order's requirements and move forward in experimenting with AI while simultaneously protecting the public from the potential risks of those systems, recognition has set in among government leaders that there's no turning back.
Anil Chaudry, associate administrator in the Department of Transportation's Office of Planning and Analytics, mused that he spends "less time working on a $200 million contract" than trying to get approvals for his staffers to take "a $1,500 training course." With AI, will common government barriers of that kind inhibit full-scale adoption?
"If we're doing this, how do I make sure my workforce is educated, ready to take on the challenges of when generative AI is institutionalized?" Chaudry said. "And that's what I struggle with now is, how do I make sure that they can supervise what's going on? And that starts with trying to get them to play, experiment, innovate [and] learn, now."